CEDIA is looking to help integrators better understand and untangle a complex technology that is continuing to gain more of a foothold in high tech residential installations: HDMI 2.1. In its new white paper, "HDMI 2.1 Technology for Integrators", CEDIA includes a comprehensive overview of HDMI 2.1 use cases, specifications, improved capabilities, and design implications for industry professionals.
"When you think of HDMI 2.1, higher bandwidth and increased performance come to mind first," says CEDIA senior director of technology & standards Walt Zerbe.
"What this white paper will also demonstrate is the technology's seriously high versatility and its full scope of significance for gamers, viewers, and integrators. This white paper is one of our most detailed, digging into all facets of considerations, applications, and connectivity for this technology, which takes a giant leap forward for the integrator and the end user."
With HDMI 2.1, the data ceiling vaults from 18Gbps to 48Gbps, opening the door for larger video formats, reduced need for compression, and a more robust pipeline for gaming and activities that require heavy data resources. Additionally, HDMI 2.1 includes clever link training that can establish supportable link speeds to aid in reliable installations.
"HDMI 2.1 Technology for Integrators" will explore what using the technology means for system designers and integrators, detailing factors including differences with previous HDMI, bandwidth, video formats, "quick" frame transport modes, audio and eARC, connectivity, among others.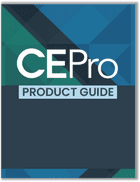 CE Pro's 2022 Product Guide showcases some of the latest and innovative solutions from manufacturers serving the custom electronics industry in a cross-section of categories.
Download the guide now!
The white paper follows other recent releases like " Workforce Development 101 for Systems Integration Industry Employers," "Wi-Fi 6," "HDBaseT for 4K & 8K Video," " AV-Over-IP Systems," and "Quality of Power."
CEDIA members receive complimentary access to "HDMI® 2.1 Technology for Integrators" ($99 for non-members) and more information on CEDIA's portfolio of white papers is available by clicking here.