HDMI Forum Inc. has announced a mandatory certification program for all Ultra High Speed HDMI cables. The initiative is designed to help ensure quality 4K and 8K HDMI cables reach the market tested and ready for use in homes, and follows similar certification trends from companies like UL and DPL Labs.
According to a press release, all certified cables of any length must pass certification testing at an HDMI Authorized Testing Center (ATC). Once certified, cables will be required to affix an Ultra High Speed HDMI Certification label to each package notifying consumers of the certification status of the product.
"The Ultra High Speed HDMI cable is the only way to ensure all the features and capabilities of the HDMI 2.1 Specification are delivered from a source device to a display. Ensuring Ultra High Speed HDMI cables are compliant with the HDMI 2.1 Specification is essential to the HDMI eco-system," says David Glen, president of the HDMI Forum.
"The HDMI Forum's mandatory ATC-only certification requirements are designed to ensure cables are compliant with the HDMI 2.1 Specification. And the anti-counterfeit Ultra High Speed HDMI Certification Label and its scanning results provides a visible verification of certification that a product meets the HDMI Forum's requirements."
Over 140 cable manufacturers participate in the existing Premium Certification Program, and resellers have come to rely on the anti-counterfeit authentication label, regular cable audit testing and supply chain verification scanning app. The new program expansion will be available soon.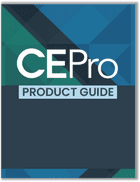 CE Pro's 2022 Product Guide showcases some of the latest and innovative solutions from manufacturers serving the custom electronics industry in a cross-section of categories.
Download the guide now!
This program will be administered by the HDMI Forum's authorized agent, HDMI Licensing Administrator, Inc. (HDMI LA) as part of its existing certification program.
"The industry has had five years of experience with the HDMI Premium Certification program and many HDMI cable manufacturers are already testing and certifying their High Speed HDMI Cables and applying the anti-counterfeit labels," says Rob Tobias, CEO of HDMI LA.
"Expanding this program to include the new Ultra High Speed HDMI Cables provides a seamless verification experience."