CE Pro Podcast #25: Growing Connectivity Opportunities from COVID-19, 5G
SureCall's VP of Sales Frankie Smith discusses with CE Pro how the work-from-home environment has given a 'boost' to cellphone signal boosters.
Listen to this podcast using the embedded player below.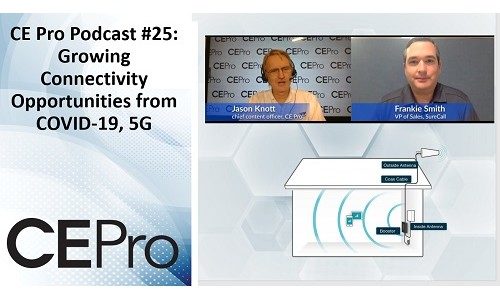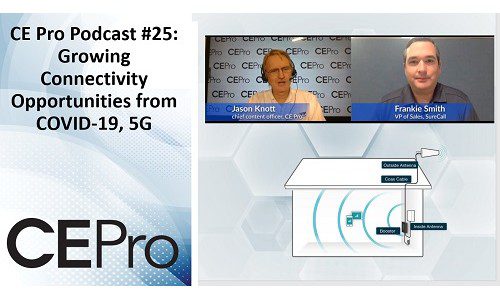 Numerous product categories installed by custom integration companies have been on fire since the coronavirus pandemic hit. Outdoor entertainment, home network upgrades, home theaters, streaming media and security systems are just a few of the niches that have been spurred to new heights. One other peripheral category given a tremendous "boost" by the market conditions is cellphone signal boosters.
"It's been a crazy time of transition and fluctuation in the market, especially the drastic differences between the commercial installation and residential installation market," says Frankie Smith, vice president of sales at SureCall. "When the pandemic started, people are afraid to have workers inside their home, so the residential market slowed down. But the commercial market kept going because it was almost seen as an opportunity.
"As people shifted to working from home, the buildings were empty, so it was a great time for installers to do their work and not disrupt the business flow. But over time, as COVID-19 moved to a long-term work-from-home situation, companies started to reallocate their funds because they really didn't need better cellular connectivity inside of a building if all the workers are going to be working from home," he says.
Currently, the focus for integrators is putting in cellphone signal boosters in residences for improved connectivity for home-based workers.
"They need to outfit their home office to make sure they can make reliable cellular phone calls and make sure they can stay connected. So, the residential market is really booming now and the commercial installation market still continues to be on a downward slide," he concludes.
Smith says the upcoming 5G cellular network does not change the design or the equipment that dealers should be installing right now for 4G LTE.
"The ultrawide bands are way up there in frequency and that is where 5G tends to operate. The signal does not go very far. It has a lot of capacity, so you can send a lot of data, but you have to be much closer to that antenna source compared to where cellular towers are now. The good news is that signal boosters being sold today are not going anywhere.
"Our 4G LTE boosters are compatible with the 5G phones and will do so for years to come. Some carriers have mentioned 5G dynamic spectrum sharing, which means they take the 5G protocol and transmit those signals over the existing bands today and 4G. So the products we have today have a very long shelf life," he says.
Smith iterated that dealers will not have to change the way they design or deploy boosters with 5G. To find out more about 5G and how it relates to boosters, check out the full podcast on our YouTube page!