PhaseTech, founded in 1955, and one of the few vertically integrated American speaker manufacturers, has recognized three manufacturers rep firms at the recent CEDIA Expo in Denver.
Digital Sales Group Metro, who clinched the title of "Rep of the Year," showcasing an unwavering commitment to excellence and a standout performance throughout the year, every year for the past two decades.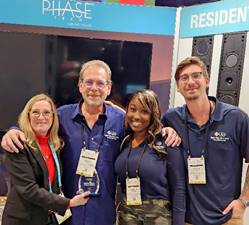 AWA Reps were lauded for its high levels of performance, winning the "Most Improved Territory" award. The rep firm's dedicated efforts have led to significant growth in their region, setting a benchmark for others to follow says Phase Technology.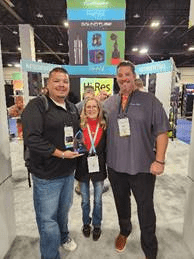 In addition to Digital Sales Group Metro, on the individual front, the "Outstanding Individual" award was bestowed upon Hector Molleda from Phoenix Marketing, recognizing his exceptional dedication, innovative strategies, and significant contributions to PhaseTech's growth journey.
"It's an immense pleasure to recognize and honor the outstanding efforts of our sales reps," adds Kate Sipe, regional sales manager at PhaseTech."
"Their dedication, innovation, and hard work have been instrumental in pushing the boundaries of what we achieve at PhaseTech. Congratulations to all the winners; their success truly embodies the spirit of excellence we strive for."
More news from Phase Technology: Western Lighting and Energy Controls new MSE Audio Rep