Yamaha, MusicCast Join SnapAV OvrC Ecosystem with 'Deep Integration'
SnapAV to distribute and integrate Yamaha A/V receivers, amps, wireless speakers, soundbar, CD player and MusicCast networking platform.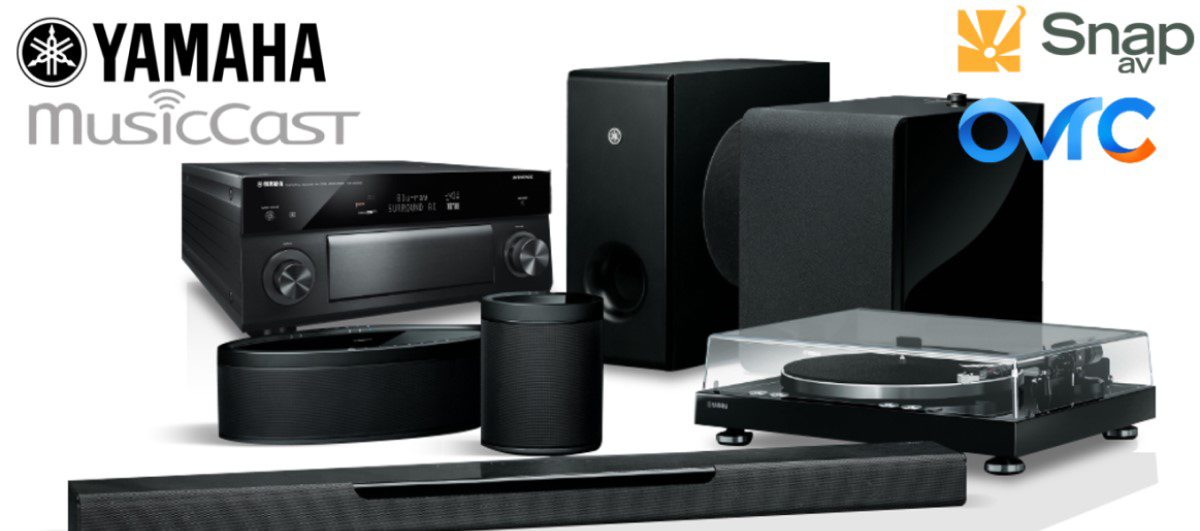 SnapAV is distributing a full line of Yamaha A/V products, and integrating them with the OvrC managed services platform. Twenty-six Yamaha products including receivers, amps, wireless speakers, a soundbar, and CD player will join the SnapAV line card, and they will have some of the "deepest" OvrC integration available, thanks to Yamaha's MusicCast networking platform and rich API.
This will be the first time Yamaha has made its custom-oriented products available online through a national distributor.
SnapAV already carries competitive products, including A/V receivers, from Pioneer, but "this will be our first partnership with AVR and streaming," says SnapAV EVP Eric Harper, in an interview with CE Pro.
Yamaha's MusicCast is a networking platform that supports content streaming, multiroom wireless, and third-party integration.
Yamaha has a "strong API," according to Harper, who says the tools will help SnapAV implement advanced OvrC features soon after Yamaha is available through the distributor in mid-June.
RELATED | Hands-On: Yamaha XDA-QS5400RK Quad Streamer
"We'll have OvrC Pro support on day 1," Harper says. "Our team is actively developing deeper integration through the MusicCast network for a much richer experience."
SnapAV product manager Andras Balassy says the integration will deliver "a lot of data, a lot of troubleshooting capabilities" to integrators who service their clients remotely via OvrC.
For example, dealers can select sources and zones through receivers and multiroom music systems, according to Balassy.
"On streamers, they can select the streaming source and see the actual file being streamed," he adds. "So if a customer calls that they're not getting video or something's not working, the dealer can verify they're on the right source, and they can identify exactly what's getting played."
That kind of insight is no small matter, according Bob Goedken, Yamaha VP of consumer channel sales.
"No one else utilizes [the API] to that extent," he tells CE Pro. Others may integrate with Yamaha products but "more at a high level."
Yamaha vs. the Competition
As mentioned, SnapAV already carries competitive products from Pioneer. Here is where the company's ownership of three large distributors – Allnet, Volutone and MRI – comes in handy.
"We're giving dealers a choice. If you have a smaller system, you might go with a streaming AVR. Yamaha is more complementary than competitive."
— Eric Harper, SnapAV
"Our distributors are all Yamaha dealers," Harper says. "The feedback from them has given us a renewed vigor."
And besides, Yamaha's MusicCast gives SnapAV a "differentiated offering with streaming AVRs," Harper says.
SnapAV also sells product from Autonomic, the streaming-media leader it acquired in 2016. Harper explains Autonomic is "positioned as a different breed," usually sold as part of a whole-house control system.
"We're giving dealers a choice," Harper says. "If you have a smaller system, you might go with a streaming AVR. Yamaha is more complementary than competitive."
Control4, too, has its own streamers and a wide range of integration partners that compete with Yamaha (also a Control4 partner). SnapAV and Control4 announced last month an agreement to merge, which would introduce additional overlap. Because the merger is still in play, Harper would not comment on anything related to Control4.
Speaking of competitors, what about the other distributors that sell Yamaha products? Won't the be a little irked that the product line is going online nationally through SnapAV?
Goedken says the SnapAV deal is "directly in alignment with our customer-first" approach to business, and distributors "know that we're always putting the customer first."
Even through SnapAV, Yamaha will own the dealer relationship, according to Goedken: "It's a protected line and we want to know who our dealers are."
At the branch level, "the plan is to grandfather in the existing accounts," Harper says. "For anyone else not currently approved for Yamaha, it's a pretty easy process. We tried to make it easy."
So what about MusicCast? Does the Yamaha deal portend a bigger play for the wireless streaming platform? Will SnapAV incorporate the technology into its speakers and other A/V products?
Goedken says Yamaha allows control partners to "do whatever they want to do with MusicCast."
But SnapAV is taking it slowly, says Harper: "It's early in the relationship, and we have a lot to learn. We have the benefit of not going into the business cold because we know what the three local distributors know. We'll leverage their experience and see where it goes."