Any time a new category of equipment helps an integrator open up a new market opportunity, the value of that product escalates exponentially.
That's exactly the case for Mountain View, Calif.-based integrator GreenMarbles, which discovered Yale's line of smart locks line when it was looking for a smart lock that integrated well with the Alarm.com platform. A few years later, the integration company is effectively using the complete family of Yale smart locks to expand its presence in the multi-dwelling unit (MDU) space. Green Marbles
"Yale's smart locks have enabled us to actually provide a complete, top-to-bottom solution especially when it comes to the multi-family market," says Teddy Meyer, vice president of marketing and customer experience at GreenMarbles.
"A key feature we love is that Yale's lock store user code schedules locally on the lock itself. While this may seem trivial, it's a critical feature for the larger experience to work. This drastically reduces the amount of commands being sent to the lock to save battery life, and enables both tenants and property managers to easily and automatically create time gated user codes."
GreenMarbles is a diverse integrator and solutions architect focusing on IoT, smart home, smart property and smart business solutions for clients across the country. The company specializes in both self-setup and professionally installed solutions to allow its clients to target multiple markets, including new construction and retrofits of single-family homes, MDU properties, small businesses along with assisted living and healthcare facilities to name a few. The company also has clients across a variety of commercial verticals such as insurance, utilities, and education.
"Yale has taken steps to streamline the install process which saves our installers critical time such as pre-filling communication chips, color coding installation steps, simplifying enrollment into a controller, etc."
— Teddy Meyer, GreenMarbles
In MDU applications, Meyer says one particular function using the Yale smart locks that is valued by clients is the ability to automatically create a unique, time-gated user code for the property's maintenance team when a tenant requests service.
"Not only is this more secure, it saves time, money, and streamlines operations for our clients. No more master keys and re-keying a properties lock. On top of that, tenants know exactly when anyone from the property management team enters and leaves their unit. It's small features like that which provide not only a great value proposition to our clients, but most importantly, an awesome customer experience which folks can't help but rave about."
Streamlined Installation Process
For GreenMarbles, the smart lock product line from Yale is "offers the full package" in terms of its installation ease, compatibility with other products, and user interface.
"Especially with Yale's newer line, installation and programming is a breeze for both new construction and retrofits," comments Meyer. "The locks themselves are intuitive out of the box. Any installation issues we have are typically with door alignment, which is no fault of locks themselves.
"Yale has taken steps to streamline the install process which saves our installers critical time such as pre-filling communication chips, color coding installation steps, simplifying enrollment into a controller, etc. A lot of thought has been put into how to make these as easy to set up as possible," he notes. In terms of compatibility, Meyer says the seamless integration of the Yale smart locks with Alarm.com is a big plus for Green Marbles.
User-Friendly Interface Wows Clients
Meyer notes the feedback from end-user customers is positive.
"The customer experience of the locks themselves really help differentiate them from what else is available on the market. Simple things like the way the lock's keypad lights up on the touchscreen model gives their products polish. It shows the lengths that Yale's engineering team went through during their product development. Having a product that requires almost no customer education allows us to focus on the unique experiences their new lock can provide instead of explaining what buttons do what," says Meyer.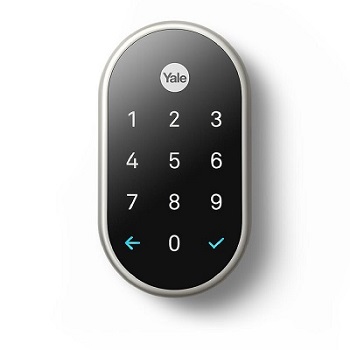 He says that quite often, clients are wowed with the interface.
"After it's installed and we are going through customer education, you constantly see these 'Ah-ha' moments. Their eyes light up, they try it themselves and almost immediately respond with 'Why didn't I get this years ago.' Simple things like putting in your user code on the lock which then immediately disarms the system. Nothing makes me feel better than seeing those lightbulbs go off above a customer's head," comments Meyer.
Meyer says smart locks are key to opening up the broader mass market to the wonder of smart home technology.
"Products like Yale's smart locks provide new, amazing experiences the mass market is really starting to catch up on. With the lock being one of the most, if not the most interacted with product in the home, it's an easy gateway to provide your typical mass-market customer the beginnings of smarter home. It's value proposition for every consumer is a no-brainer," concludes Meyer.