As the smart-home industry still grapples with IoT standards, there seems to be one sure thing: Wi-Fi.
That's because Wi-Fi is the surest way to the Internet, given that it speaks directly to the router over the home network. Z-Wave, ZigBee, DECT ULE, not even Bluetooth/BLE can say that (see "Bluetooth as IoT Standard").
"Nobody wants a home-automation hub," said no one in particular at CES 2019, but it's clear from home-tech manufacturers that Wi-Fi is the simplest way to get smart devices into customer hands and deployed in the home (until, perhaps, 5G comes along).
The simplest and most animated explanation for Wi-Fi as a "home automation standard" comes from Charles Lavene of Jem Accessories, which boasted a full line of Wi-Fi-enabled smart devices under the Energizer Connect brand at CES.
"You want to be able to give people something easy to use straight out of the box," he says, "without having to worry about …." (Well, the video says it all.)
Energizer's smart devices include cameras, video doorbells and other wired devices, but also small battery-operated products down to a $19 Wi-Fi motion sensor.
Everything connects through the Energizer app (not too shabby), and there's no hub to worry about. The whole line-up is IoT-enabled by Tuya, the "biggest IoT framework the U.S. has never heard of."
You know what you DO have to worry about? Battery life. At CES, Levine said the aforementioned sensor will give users a "good solid four months" of battery life. Probably more, but for sure no less.
Wi-Fi is inefficient, total overkill for simple battery-operated smart devices, clobbered by a network shared with 4K video streams, and bereft of any kind of smart-home standard.
Wi-Fi is inefficient, total overkill for simple battery-operated smart devices, clobbered by a network shared with 4K video streams, and bereft of any kind of smart-home standard.
And yet, at CES 2019, we saw more love for Wi-Fi among smart-home manufacturers than we've ever seen before, despite so many great, power-optimized radios and protocols that were purpose-built for home automation.
Newer IoT-device makers like iDevices, Belkin (Wemo), Samsung (SmartThings), TP-Link and others started life as Wi-Fi adopters, but when the smart-home stalwarts — the ones who grew up on X10, ZigBee, Z-Wave and Bluetooth/BLE — shift to Wi-Fi, there must be something going on.
Kwikset, Schlage Launch Wi-Fi Door Locks
Kwikset finally took the Wi-Fi plunge in 2019. At CES, the company introduced its first Wi-Fi locks under the new Halo brand, after years of embracing lighter-weight protocols like ZigBee, Z-Wave and Bluetooth.
Calling Wi-Fi the "next evolution" in smart-home integration, Kwikset senior product marketing manager Ali Atash says the wireless technology "allows us to create our own cloud and connect to our partners much easier."
He also says Wi-Fi makes it simpler than usual to push over-the-air updates to end devices.
Keith Brandon, VP sales and marketing for Kwikset's parent company Spectrum Brands, tells CE Pro that consumers made them do it. It's hard to ignore a solution that connects so easily to the network without the need for a hub.
The products come in keypad and touchscreen versions, with four different finishes. Pricing should be about the same as other Kwikset locks, according to Brandon, but the new products have expanded feature sets, like the ability to support up to 250 user codes instead of the usual 30.
Brandon concedes that Wi-Fi schemes are less efficient than the lightweight protocols Kwikset supports, but the company is "looking at different ways to generate power" for the locks. The first-gen Halo devices will run about six months to one year on four AA batteries, he says.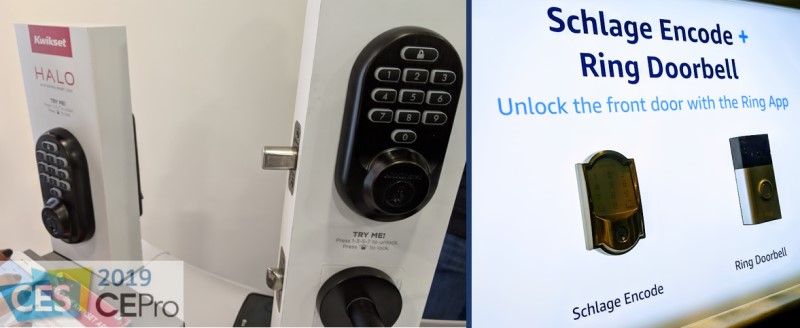 Lock competitor Schlage, an Allegion company, is in the same boat. After years of supporting ZigBee, Z-Wave and Bluetooth, the company is ditching bridges and gateways with the new Wi-Fi-enabled Schlage Encode lock.
At CES, the product was demonstrated with a Wi-Fi video doorbell from Ring … at the Amazon Key booth.
Users will be able to control their Encode locks via the Ring app. Furthermore, Amazon will be supporting both the Ring and Schlage Wi-Fi products for its Amazon Key service.
Previously, only specialized ZigBee-enabled locks (from Kwikset and Schlage) would work with the Key access-control service for Amazon deliveries, and these locks required Amazon's own ZigBee/Wi-Fi Cloud Cam – the evil "home automation hub" in this case.
"We like the idea of Wi-Fi," says Kris Bowring, global business development manager at Amazon Key.
At launch, the Encode locks will still require the Amazon Cloud Cam to support Amazon Key, Bowring says, "but eventually it [Key service] will be able to use Ring or other cameras."
As in most cases, even if the whole ecosystem is Wi-Fi, communications is still cloud-to-cloud, rather than device-to-device over the local network.
Light Switches and Other Smart Devices Go Wi-Fi
Wi-Fi adoption for home automation was evident in many more categories than door locks at CES 2019.
Both Leviton Manufacturing and Legrand – two big names in lighting control and home automation – have embraced the protocol after years of deploying products based on the usual smart-home standards, as well as proprietary wired and wireless technologies.
Last year, Leviton introduced an entire Wi-Fi ecosystem – switches, dimmers, smart plugs — under the Decora Smart brand, along with a DIY friendly app called My Leviton.
The company went on to develop HomeKit-enabled products, and at CES 2019, Leviton doubled-down on Wi-Fi ecosystems with the Decora Voice Dimmer, featuring a built-in mic and native Amazon Alexa.
"Leviton recognized early on that cloud-to-cloud connectivity would be the way of the future," says Greg Rhoades, director of marketing for Leviton Controls and Automation. "The architecture enables manufacturers to create product integrations via cloud APIs, allowing for swift updates as technology improves."
He explains that Leviton has taken a razor/razor-blades approach to Z-Wave and ZigBee devices in the past, enabling Wink and SmartThings and other home-automation providers to sell one hub at a time, while Leviton sells bunches of end devices.
The strategy hasn't changed much now that Wi-Fi is emerging as a sort of standard for home control. Only, now the "hubs" are in the cloud.
Decora Smart Wi-Fi products enable "simple yet powerful connections via the cloud to Amazon, Google, Samsung and others that are vying to become the central controller of the smart home," Rhoades tells CE Pro.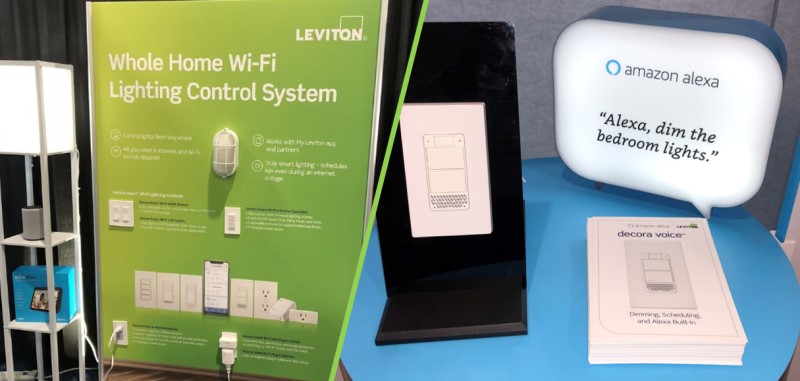 Likewise, Leviton rival Legrand is just now getting into the Wi-Fi connectivity groove for its smart products.
Last year, the company introduced a line of "Wi-Fi Ready" products. The products are "ready" because they communicate over proprietary RF to a Wi-Fi bridge for "app-based lighting control."
So basically, they are "hub compatible," like Ring's new "Ring Bridge Enabled" line of smart lights.
Just in time for CES 2019, however, Legrand introduced Wi-Fi-enabled (not just "ready") dimmers and switches under the Radiant brand.
"The fact that these are Wi-Fi is getting a lot of attention for contractors or end users who want an easy solution to do just a few rooms," says Desiree Webster, senior marketing communications manager for Legrand. "There's still a place for other types of networks and home-control protocols, especially for more customized installations or larger homes."
Legrand got a big boost on the Wi-Fi front recently when it acquired long-time collaborator Netatmo, which makes a wide range of smart devices including thermostats, climate sensors and video doorbells.
The duo introduced at CES some new smart dimmers with native Amazon Alexa, but those won't be available as standalone Wi-Fi devices, at least not in round 1.
Wi-Fi's Power & Protocol Problems
It's no wonder some vendors have gone into Wi-Fi only begrudgingly. The scheme sucks the life out of batteries, collides with other traffic on the home network, and doesn't have a home-automation framework to call its own (unlike, for example, ZigBee and Z-Wave).
Furthermore, for most Wi-Fi smart products, they stop communicating if the network goes down.
Here's what's being done in Wi-Fi camps to mitigate these and other Wi-Fi challenges.
Intelligence Inside
Companies like Leviton are incorporating certain smarts into their end devices, so they maintain some level of intelligence even without a network connection (they're kind of famous for this).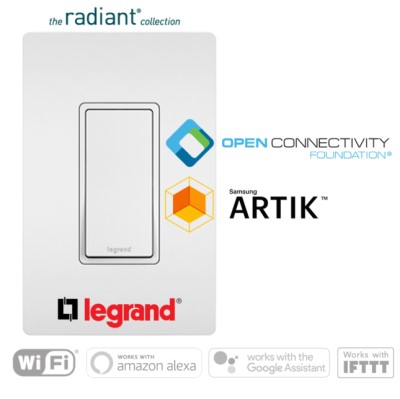 "All of our Decora Smart Wi-Fi device schedules will continue to operate even during a temporary internet outage," says Leviton's Rhoades. "They remember their settings thanks to on-board memory. The front porch switch knows it is Sunday at 7pm, and knows it is supposed to be turned on at that time."
'Standards' Efforts
Since Wi-Fi doesn't have a home-automation stack, per se, private companies and consortia are taking it upon themselves to develop and propagate something that resembles a standard.
Samsung Artik + SmarThings Cloud is an example, as is the Open Connectivity Foundation (OCF), which provides a device-discovery and -connectivity framework. For its part, Legrand announced, just before CES 2019, the first-ever OCF-certified Wi-Fi smart light, powered by Artik.
So too is Tuya, a Chinese juggernaut in the IoT space. These initiatives are making it increasingly compelling to go with Wi-Fi for smart devices.
Power-Efficiency Improvements
With the rapid pace of development in super-charged, super-small batteries, will energy-inefficiency continue to be such a major impediment to Wi-Fi as a home-automation vehicle?
Bigger still, long-range wireless-power technologies could disrupt everything we know about smart-home deployment, making energy-optimization requirements a thing of the past.
Wireless Charging Could Empower Wi-Fi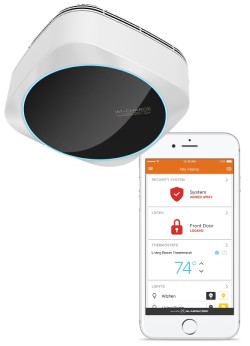 At CES, Wi-Charge demonstrated a prototype Schlage/Allegion lock being powered over-the-air with Wi-Charge's infrared light transmitters. Security and home-automation giant Alarm.com was in on the demo, and is bullish on the technology.
"We believe that long-range wireless power will unlock innovative new uses for the smart home and business where devices don't always have easy access to power," said Alarm.com VP of products Steve Chazin in a statement.
He calls the Allegion/Wi-Charge effort a "significant milestone for the connected device industry."
Wake-Up, Latency, Crowded Network, Peer-to-Peer … Wi-Fi 6 … 5G
There's still work to be done on Wi-Fi on many fronts if it's to thrive as a home-automation "platform."
Wi-Fi 6 (802.11ax) is supposed to overcome many of the impediments, with better wake-time algorithms (for improved battery life) and more intelligent allocation of network resources in saturated areas.
Wi-Fi 6 was kind of an IoT no-show at CES 2019, although it appeared in a few routers. Even so, the revision could very well boost Wi-Fi's appeal as an end-point IoT solution.
But wait: Will 5G derail Wi-Fi as the "next big thing" in IoT? Stay tuned.
Implications for Home Tech Pros
Wi-Fi sounds lovely as a home-automation carrier, especially with all of the wonderful improvements promised by Wi-Fi 6.
But the fact remains: Wi-Fi was never meant to be a home-automation"thing."
For starters, the typical consumer-grade router can only support about 30 Wi-Fi devices, which isn't much if you count all the smart switches, sensors, light bulbs, cameras and other IoT fare that would comprise a smart-home ecosystem. More advanced routers can support 250+ devices (with VLANs), but consumers wouldn't know this; nor would they be inclined to splurge on such a thing.
So at some point, they add one too many sensors to the Wi-Fi network and the ecosystem crumbles. Only then do they call in the pros … after dozens of phone calls to every single device manufacturer, every single app developer, every retailer, every department of every TV and Internet service provider, and every neighbor, friend and relative fails them.
The 1st law of smart-home states: The likelihood of ecosystem failure is directly proportional to the number of things that touch the home network.
"Those that buy consumer-type IoT devices are going to put them on junk routers, which will only be stable at about 30 devices max."
— Joe Whitaker
The Thoughtful Home
This axiom does not change with Wi-Fi 6. That doesn't mean Wi-Fi won't succeed as a home-automation "standard," only that more consumers will require the ongoing (recurring) services of a home-tech pro.
"Those that buy consumer-type IoT devices are going to put them on junk routers, which will only be stable at about 30 devices max," says longtime integrator and CEDIA board member Joe Whitaker of The Thoughtful Home. "If Wi-Fi does become the de facto standard for home automation, we are going to be selling more high-performance routers and more network-service programs to more customers than ever before."
We the people of the industry recognize that purpose-built IoT protocols are there for very good reasons, whether ZigBee, Z-Wave, Crestron Infinet, Lutron Clear Connect, or Mr. Beams' NetBright RF, adopted by Ring for its new Smart Lighting system.
Avi Rosenthal, former integrator and now principal of the consulting firm CE/IoT Partners, sees some inevitability in the new Wi-Fi order — for better or worse.
"It is unfortunate that manufacturers are jamming a system into a protocol that was never meant to support this type of application," he says. "All over the cost and purported 'hassle' of a $50 hub."
---
RELATED

: IoT Standards at CES 2019

If you enjoyed this article and want to receive more valuable industry content like this, click here to sign up for our digital newsletters!