Do you know what to expect when 8K and 5G become the industry standard? That was the key question asked at this years MRI Expo in Sturbridge, Mass. With 8K and 5G on the horizon, an emphasis was placed on getting integrators prepared for these "disruptive technologies."
The charismatic Jonathan Brawn, principal of Brawn Consulting, kicked off the keynote with some quick banter with the audience, and afterward delved into the topic of 8K. He assured attendees that the leap from 4K to 8K will be both important and lucrative.
As Brawn put it, the initial reaction towards 8K we are currently seeing is not dissimilar to what happened a number of years ago when 4K was first rumored to be on the horizon, "and we don't see anyone debating why 4K was a good upgrade from 1080p, do we?"
Brawn emphasized patience while more 8K content becomes available. There are already initiatives by major companies like YouTube and Amazon to support and produce 8K content.
"Everybody wants bigger displays, but people's homes aren't getting any bigger," says Brawn, implying that integrators can use 8K displays as a way of improving smaller spaces in a home since 8K TVs don't lose detail when placed close to a seating area.
5G: Coming to a Home Near You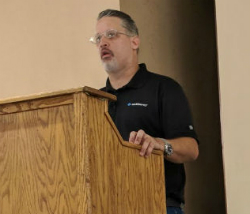 "5G is coming, and it's coming fast. Look around and everywhere you go today, there's something [or someone] discussing 5G."
— Joe Wood, WilsonPro
5G was also discussed during the keynote thanks to director of WilsonPro, Joe Wood.
Wood set the audience's expectations off the bat, saying, "One of two things is going to happen today: Either you are going to walk out of here a little smarter, or you are going to walk out of here more confused."
In order to avoid confusion, Wood stressed that 5G is important, and even if integrators don't currently install a lot of cellular products or boosters, they would be wise to be ready to adapt.
"5G is coming, and it's coming fast. Look around and everywhere you go today, there's something [or someone] discussing 5G."
Wood believes 5G will see a major rollout around 2020 due to chip manufacturers still needing time to test the new tech (though the SnapDragon X50 chip is being produced now).
Wood also mentioned a few of the key reasons 5G is a meaningful switch, including higher speeds, higher throughput, and higher capacity.
5G is also significantly more secure than wired connections, which proponents of 5G are hoping to phase out altogether.
8K Projector and Stellar Sony Demo
The event featured a number of training sessions from household names like Sony, Samsung, and Sonos, and housed over 30 unique booths showing off the latest and greatest in residential A/V technology.
One of the most visually impressive trainings was Sony's, which focused on its projectors. The training began with an immersive, cinematic demo of Gran Turismo Sport, a video game released on the Sony PlayStation 4 back in 2017.
The game is known for being a racing simulation focused on graphical fidelity, and boy did the demo deliver! The glare of the sun beaming down on the cars gave them a lifelike look, and the sleek rendering gave a serious sense of speed when viewed through Sony's tech.
Another notable training was JVC's, which featured an 8K projector deemed, "the world's first Professional Series home theater projector with 8K e-shift technology."
Read Next: How A Luxury Manufacturer Got Interior Designers to Love Home Tech
As expected, the visuals used in the demo were crisp, clean, and as picture-perfect as possible. This demo/training definitely created the most buzz among attendees!
On the showfloor, exhibitors took advantage of the smaller setting to talk more personally with visitors, including making time for individualized demos of products.
One standout was the IC Realtime ella box, which allows users to search security footage for specific words or phrases.
For example, when a user wants to see if a package has been delivered, they can search "FedEx" and the interface will show all results where a FedEx truck or carrier was seen, thanks in part to some pretty clever machine learning.
If you enjoyed this article and want to receive more valuable industry content like this, click here to sign up for our digital newsletters!