Smart Lighting System Sales Forecasted to Reach $945M by end of 2018
Smart lighting controls have been steadily growing in market share, and currently accounts for 63 percent of smart lighting sales, according to a new report.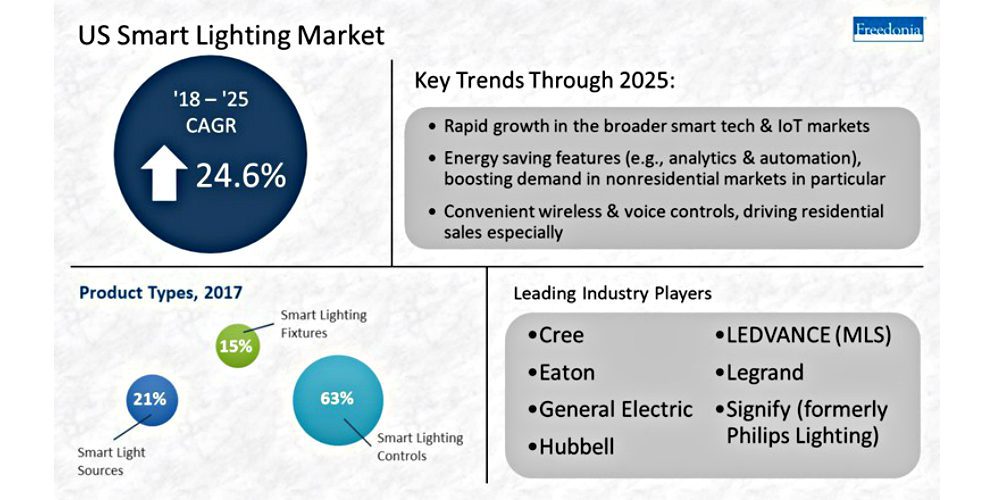 Smart lighting controls accounted for 63 percent of smart lighting sales in 2017, according to a new report by research firm Freedonia Group.
Smart lighting controls include lighting-specific control devices separate from any light source or fixture, such as centralized lighting system control boxes, lighting-specific smart home hubs and bridges and smart light switches and dimmers.
Smart lighting controls are critical for energy savings in nonresidential applications, using large networks of sensors and advanced analytics to reduce energy consumption. Some of the conveniences of consumer smart lighting (e.g., voice control, away-from-home remote control) often require a bridge or hub.
Related: Demo—Crestron's New SolarSync Daylight Sensor Automates Lighting to Simulate the Outdoors
Building control suppliers have readily expanded their product offerings to incorporate smart lighting capabilities into broader building automation and Internet of Things (IoT) systems, according to the study, titled "Smart Lighting in the United States."
Smart Lighting Projected to Reach $4.4B by 2025
Demand for smart lighting (lighting sources, fixtures and controls) in the U.S. is forecast to increase to $945 million by year-end 2018. By 2025, demand is expected to reach $4.4 billion, driven by:
Rapid growth in the broader smart tech and IoT markets, including smart home devices, nonresidential building automation, and smart city infrastructure.
Consumer interest in the convenience of smart lighting capabilities, such as wireless, away-from-home, and voice control.
Energy saving initiatives, especially in nonresidential applications.
Suppliers can capitalize on consumer views of smart lighting as a convenience and a novelty by emphasizing its advanced control capabilities, including automated features, wireless control (including away-from-home), and voice control, according to the report.
Suppliers should also emphasize their products' seamless compatibility with smart home speakers, hubs, and apps for smartphones, as well as color temperature and light color options that can be customized to suit different activities (e.g., watching a movie, settling down for sleep, getting out of bed).