Lutron's 'Hi-Fi Lighting' Automates both Color Temperature and Brightness for Best Daylighting
At ISE 2018, Lutron shows "two-channel" lighting to control both color temperature and intensity for optimal daylight simulation.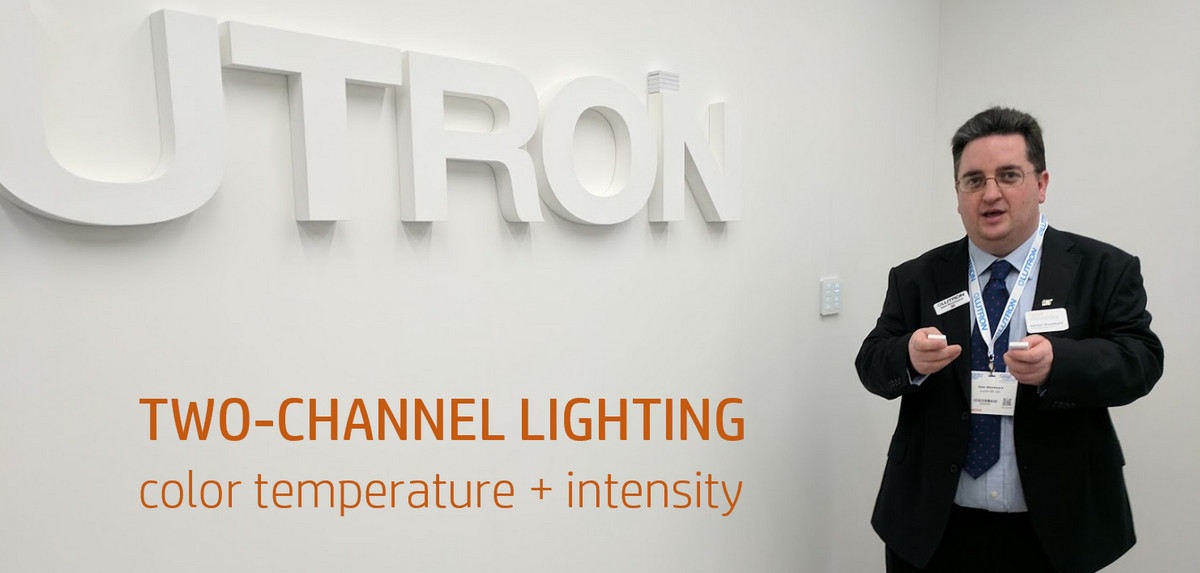 More about Lutron
Lutron Electronics designs and manufactures energy-saving light controls, automated window treatments, temperature controls, and appliance modules for both residential and...

Lutron Company Info
Julie Jacobson
·
February 7, 2018
At ISE 2018 in Amsterdam this week, Lutron is demonstrating "two-channel lighting" for controlling color temperature and brightness separately and simultaneously -- a process that can help simulate daylight from dusk til dawn.
Tunable white lighting is all the rage these days, as experts demonstrate how altering color temperature can improve productivity and focus (cooler hues), as well as sleep and relaxation (warmer tones).
But it takes more than color temperature to simulate natural lighting. The intensity of lighting (dim levels) also must be considered. And when you change one, you affect the other.
At ISE, Lutron's Sam Woodward demonstrates a process he likes to call "high-fidelity lighting," involving the separate and simultaneous control of both color temperature and intensivity -- no small feat, he says.
"It's a massive deal," he tells CE Pro. Check out the video demonstration below.

About the Author
---
Julie Jacobson, recipient of the 2014 CEA TechHome Leadership Award, is co-founder of EH Publishing, producer of CE Pro, Electronic House, Commercial Integrator, Security Sales and other leading technology publications. She currently spends most of her time writing for CE Pro in the areas of home automation, security, networked A/V and the business of home systems integration. Julie majored in Economics at the University of Michigan, spent a year abroad at Cambridge University, earned an MBA from the University of Texas at Austin, and has never taken a journalism class in her life. She's a washed-up Ultimate Frisbee player currently residing in Carlsbad, Calif. Email Julie at jjacobson@ehpub.com
Follow Julie on social media:
Twitter · LinkedIn · Google+
Julie also participates in these groups:
LinkedIn · Google+
Control & Automation
eZLO Acquires Smart Home Platform MiOS
Why Noon Home Wants You to Bring Light Bulbs to CEDIA Expo 2018
Smart Lighting System Sales Forecasted to Reach $945M by end of 2018
Savant and Dolby Atmos Turn Flooded Basement into Stunning Home Theater
Product Briefs: RTI RTiQ; Metra HDMI Discussion; Simply Reliable; Capitol, Russound at CEDIA
View more on Control & Automation
Take Our Latest Quizzes
How Well Do You Understand Ethernet Cables and Connectors?
Quiz: Is Your Company Performance Above or Below Average?
How Much Do You Know About Cell Phone Signal Boosters?
How Efficient Is Your Service Department? Take the Quiz
5G and the Need for Cellphone Signal Boosters—Do You Know Enough?