Smart home technology today covers an array of categories, but without a solid interface that engages the customer it can be for naught.
That is the key message from Savant, which has moved deep into both the lighting control and energy management categories in recent years.
Savant is working closely with USAI Lighting, bringing its intuitive interfaces that enable integrators' clients to manipulate not only light levels, but colors.
"We've seen a natural evolution in what technology represents in a home," says Ian Roberts, director of education and customer experience at Savant.
"It started on the audio/video switching side because that was what was complicated. But now the homeowner wants to enjoy their space and put the focus on that."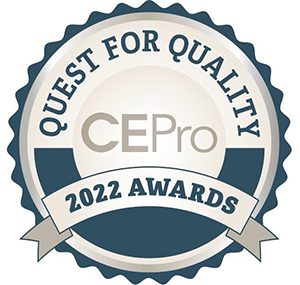 CE Pro urges integrators to recognize their suppliers that go above and beyond to deliver premium support and service. Cast your vote today to recognize the services (not the products) from your favorite manufacturers and distributors.
Cast your vote today!
Roberts cites the partnerships Savant has developed in smart lighting, specifically with color technologies and fixtures, as a way that homeowners can focus on the quality of light in the home for enjoying all the smart home technologies (and non-smart amenities) in their home.
"Savant's role in that is to present the most intuitive interface possible to access those features and make it simple," notes Roberts.
The company is also focusing on its interface related to energy management.
"Energy is on the forefront of a lot of minds, from conservation to management. Look at all the people who might have hybrid or electric vehicles and are looking to put some sort of battery backup solution, or solar panels, attached to their home," says Roberts. "We need a smart way to automate those systems too."
To that end, Savant is working closely with its sister company, Racepoint Energy, and has developed an interface that allows homeowners to control the energy in the home. Racepoint makes an intelligent breaker control system that installs directly into a home's breaker box.
The interface will allow the homeowner to direct the energy in the home through load shedding and optimizing electricity usage to avoid higher time-of-day billing rates by utilities. The system can control the home battery storage usage and backup power systems.