CES 2018 will be bigger than ever, and you might need a little help navigating the enormous event. Once again, we present the "Ultimate Preview" with 91 pages of smart-home trends, new products and insights. The Powerpoint presentation adds substantially more technologies, pages and links than the Dec. 20 Webinar that started it all. The Webinar, which includes color commentary from myself, as well as industry veterans Avi Rosenthal and Joe Whitaker, is available for review.
We cover a huge range of product categories including audio and video, but the bulk of the content here relates to the smart home and subcategories including lighting, security, IoT, networking, wellness, AI, home automation standards, cybersecurity, energy management and more. We keep it lively with some of the more interesting discoveries as well.
For the first time, we created a "sight unseen" award for products and technologies that look amazing on paper. I alone am to blame for those "honors" because, as we know all too well, things are never the same as they appear online, and most new products never make it to market.
CE Pro thanks CES producer Consumer Technology Association, as well as CTA's TechHome Division, for sponsoring this presentation. We also appreciate IoT providers Fibaro and remo+ for their support.
Below the slideshare is the raw text of the presentation, making it simple to search for specific companies or technologies.
Please keep us posted on your CES and other home-technology news. You can follow our coverage at www.www.cepro.com/ces.
Slideshare: CES 2018 Preview, expanded Powerpoint from Webinar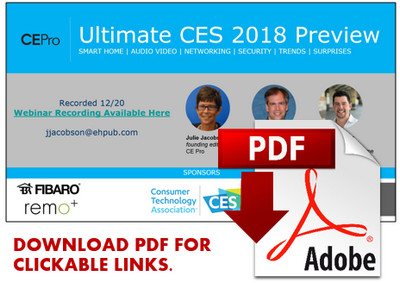 Julie Jacobson's Ultimate CES 2018 Preview – Smart Home Trends & Products
1. Ultimate CES 2018 Preview SMART HOME | AUDIO VIDEO | NETWORKING | SECURITY | TRENDS | SURPRISES SPONSORS Julie Jacobson founding editor CE Pro Avi Rosenthal principal IoT Consulting Joe Whitaker principal The Thoughtful Home Jan. 9-12, 2018 Las Vegas www.ces.tech Recorded 12/20 Webinar Recording Available Here jjacobson@ehpub.com
2. Agenda • Showfloor overview • Smart Home, IoT – Home automation – Security – Lighting – IAQ & Energy • Networking, Cybersecurity • Audio, Video • Custom • Interesting Finds • Q&A Webinar Recorded on 12/20 Available here. CES Shaming Companies marked with ❌ Not exhibiting at CES jjacobson@ehpub.com | @juliejacobson Go ahead and click. The links are live. NEW! Stuff that looks cool on paper
3. CES Venues
4. LVCC – Westgate – Renaissance TECH EAST
5. LVCC – South Hall Downstairs Halls 1 and 2 Gaming & VR AR Drones RoboticsAI MP Meeting Places iProducts wireless BELKIN Upstairs Halls 3 and 4 Wireless, Robo, AR/VR TECH EAST More than 170,000 attendees expected
6. LG SAMSUNG SONY QUALCOMM INTEL PANASONIC LVCC – Central Hall Big CE TECH EAST > 3,900 companies exhibiting
7. Auto & MobileLVCC – North Hall TECH EAST WHY VISIT: WHERE INNOVATION HAPPENS – Voice assistants – Integration with smart home – Computer vision – sleepy driver, etc. – Handsfree Uis – Car charging at home – AI – Lighting innovations 3D Printing
8. Westgate – Smart Cities TECH EAST
9. Sands Expo – Venetian – Palazzo – Wynn – Encore TECH WEST High-end A/V Eureka Park Smart Home Venetian Ballrooms Wellness
10. High-Performance A/VVenetian Suites Levels 29 – 31 TECH WEST
11. EUREKA PARK OEM Eureka Park, OEMsSands – Level 1 TECH WEST 800 companies @ Eureka Park vs. 600 in 2017
12. SMART HOME Z-WAVE HEALTH & WELLNESS FAMILY WEARABLES FITNESS SPORTS SLEEP WIRELESS Smart Home +Sands – Level 2 TECH WEST 221 exhibitors in Smart Home Marketplace, up 28% since 2017 Innovations Awards Showcase Tech West, The Venetian Venetian Ballroom E/F
13. Smart Home 75% of connected-home devices are purchased through service providers today, due to strong go-to-market access. McKinsey & Co.
14. Smart Home Trends • Security still the key driver • Voice assistants drive adoption ► • AI / machine learning / predictive analytics • Return from cloud to edge? ("fog" computing) • No real movement towards a standard • Rethinking ecosystems – open, closed, curated • Wellness – lighting, IAQ, sleep, smells, sounds • Deployment (install, retail, etc.) SMART HOME VOICE CONTROL DRIVES IoT ADOPTION Among Amazon Echo owners, 48% bought their first home-automation product only after acquiring the Echo. Among Google Home owners, 57% purchased their first IoT device after the smart speaker entered their lives. NPD, 2017 GOOD READ: 7 Smart Home Trends at CES 2018
15. "Standards" • Full Stack – Z-Wave – ZigBee 3.0 – IP – DECT ULE – Bluetooth Mesh – Insteon • Other Layers – Thread – Open Connectivity Foundation (OCF) – IoTivity (OCF) – Nest Weave – DotDot (ZigBee) – Samsung Artik Z-Wave Highlights • Just acquired by Silicon Labs • S-2 Security Framework – Mandatory • SmartStart device commissioning – a pretty big deal • 2,100 Z-Wave devices from 700 mfrs certified interoperable ZigBee Highlights • ZigBee 3.0 in motion – Guaranteed interoperability • Must past certification for logo • Numerous products certified, mostly lighting • Philips Hue will have ZigBee 3.0 in Q1 2018 • ZigBee PRO 2017: first dual-band mesh network, simultaneous bands: 800-900 MHz for regional; 2.4 GHz for global. • Splitting out application later to create DotDot Z-Wave Alliance NEW LOCATION! Tech West (Sands) – Smart Home Marketplace ZigBee Alliance Venetian, Level 2 Titian 2206 SMART HOME
16. Ecosystem: Open vs. Closed • Open ecosystem and APIs – More interoperability and options – Potentially worse user experience – Potentially more security vulnerabilities – Consumer confusion and frustrations – Tech-support challenges • Closed – Traditional home-technology roots – Main vendor and carefully vetted partners – Controlled consumer experience – Potentially more secure and reliable – Potentially better tech support • Curated – A good compromise … but noncommittal OPEN Samsung SmartThings • ZigBee, Z-Wave, IP • Platform also used in ADT security product • Samsung ConnectHome router • All things to all people CURATED Amazon Echo Plus – ZigBee • 'Simple Set-Up' ZigBee devices • 87 curated devices so far • 'Alexa, discover my devices' SMART HOME GOOD READ: Pros & Cons of Curated vs. Open Smart-Home Ecosystems
17. • Cloud – Powerful computing platforms up there – Learnings from huge populations, not just one household – Enterprise-grade security not available to most consumers – Speedy implementation of security patches – Lower cost hardware, cheaper replacement when obsolete – Needs always-connected LAN and Internet – Constant Wi-Fi exchange drains battery – Privacy concerns among many consumers • Fog – Does not require a connection to the Internet – Low latency, message retransmissions if failure – Security/privacy advantages – less data leaves device – Reduce burden on network, no extraneous data shared – Distributed processing for system-wide learning & sharing Cloud Moving to Edge ('Fog') SMART HOME Oh what an SoC can do at the edge! Movidius VPU (visual processing unit) Myriad 2 powers Google Clips camera • Always-on processor • Machine learning locally, no cloud • Improves power consumption (less Wi-Fi use, no extra data sent) • Reduced latency • Offline use New SoCs combine: • Neural engines • Voice processing • Computer vision • On-device learning • Wireless • Multi IoT protocols • Security provisions • More
18. Cloud to Fog (Edge) • Ring ▻ Ring Protect – ZigBee, Z-Wave (post-ADT lawsuit) • Wink 2 ▻ more local processing • Google Home ▻ Google Home Max with Nest Weave? • Nest ▻ Nest Secure with Thread/Weave • Nest IQ Cam ▻ More processing locally • Amazon Echo ▻ Echo Plus – ZigBee SMART HOME FUN FACT: 'The Cloud' was a CEPro Top 5 Trend in 2012.
19. AI / Machine Learning ONE PREVENT ❌ • It's really happening. • Distributed computing > smarter decisions • Dialing up the sensitivity – motion, sound, environment • Anomaly detection • Examples – Vacation lighting (the early days) – Voice recognition (Alexa) – Facial recognition (Google) – Pre-fire detection (One Prevent) – Infrasonic sound (Cocoon) – Motion patterns (Alzheimer's detection)
20. Expanded connectivity options • 4G, LTE – Back-up for security systems – Cameras, access controls where networks unavailable • 5G • LPWAN – LoRa – LoRaWAN (e.g., Globalsat) – Ultra Narrow Band (Sigfox, NB-IoT) SMART HOME LPWAN at CES • Wi6labs • Flexwave • Ingenious Things (Sigfox) • Lineable Inc. • Wearable trackers • LoRa Alliance • Sagemcom Broadband (LoRa) • Neosen Energy (LoRA) • Wireless power beam • Semtech (developer of LoRa) • Technonia • Sensors, GPS trackers • Sigfox • Axible (Sigfox) CES KEYNOTE: Mobile Innovation – How 5G Will Enable the Future, with Baidu, Qualcomm & Verizon
21. Extending smart home tech to out-of-home • Automobile • Personal safety devices – GPS, 2-way talk, cameras, panic buttons, mPERS, siren • Travel security products for hotel rooms • Personal firewall – IT on the road (Keezel) • Personal pollution, air quality devices (Plume Labs) • 360 cameras – Great for parties & concerts RIPPLELAIPAC LOOK OCCLYATHENA ROAR KEEZEL PLUME LABS
22. Remote Controls • Neeo • URC • UEI • Logitech Harmony • Savant • Control4 • SmashToast ► – App + BLE-IR Pucks • SURE Universal (Tekoia) – First with OCF SMART HOME SmashToast + Puck
23. New in Home Automation LYNKY i-Home (Beijing) Technology 'First touchscreen HA hub with Google Assistant built in' • Wi-Fi, Bluetooth, ZigBee • IFTTT • Multiroom Sync ANGEE • 360° camera rotation • Voice control/recognition • BLE motion sensors on doors and windows • 2-step authentication: Bluetooth phone + voice • Audio Analytic sound detection • Sky-Light imaging & video analytics • Angee knows who comes and goes. 'World's first truly autonomous home security system' SMART HOME VIAROOM from ATES Networks • ZigBee, Wi-Fi, Bluetooth • 'Industrial-grade' security by Trend Micro • Miracast – send smartphone content to TV • HDMI • 'Self-learning, hands-free' • Works with Alexa and Google Assistant • Available Jan. 2018. 'Most advanced, self-learning home automation product' More Newish HA Hubs at CES • Blaze B-One – Does very single thing in the world • Centrica – Hive Home, spinoff of British Gas • ControlAny BEAK – ZigBee, Z-Wave, BLE, IR • EZLO – Devices configured at factory • nCube – special privacy + security features • Samsung Connect Home Pro – SmartThings + mesh Wi-Fi • SmartBeings WooHoo – Everything on the planet • Vemmio – Z-Wave HOMEY Music, IoT, Z-Wave, 433 MHz, sensors, tags & logic, analytics GOOD READ: Home Automation Hubs are Sold All Wrong
24. OTODO Hub with Ugo handheld controller Working with Otodo One home-automation hub, Ugo "Magic Wand" features fingerprint ID, an LED ring for feedback, built-in speaker to provide info to users, and a gyroscope + altimeter + accelerometer to detect and analyze gestures. MORPHEOS Momo Lamp • Sensors. Ambient light, temp, humidity, IAQ, smoke, gas, barometric • AI. Motion, facial recognition, smart sound detection; learns habits and environmental preferences • 360-degree camera, mic array, speakers, lamp. • BLE, Wi-Fi, Z-Wave SOMFY MyLink Gateway, App & API Integrate with any Somfy RTS-enabled motorized shades and awnings via MyLink Wi-Fi bridge and cloud service. HOGAR CONTROLS Home Controller Pro (Z-Wave Pavilion) • ZigBee • Z-Wave • Wi-Fi • 3G/4G • Alexa, Google Assistant, Apple HomeKit • Also video doorbell, switches, dimmers ABODE Security & Automation One of the original DIY security and home automation systems UL-rated for life-safety with back-up battery, cellular and IP connectivity, ZigBee, Z-Wave, 433 Mhz, IFTTT, pay-as-you go security monitoring. ASUS SmartHome Gateway (HG100) • ZigBee, Wi-Fi, Bluetooth • 'Industrial-grade' security by Trend Micro • Miracast – send smartphone content to TV • HDMI SMART HOME
25. • Complete HomeKit ecosystem – no hub required • Extensive range of Z-Wave sensors and controllers • Long-Established Fibaro Home Center hub – Local processing, not cloud – secure, always connected – Works with Amazon Alexa, Google Home – New integrations! Lutron, Bose, Sonos, Russound, Musaic, Samsung Appliances, Honeywell, IFTTT, Hunter Douglas – New! Third-party marketplace for more drivers: Sony Bravia, Yamaha MusicCast and Amplituner, B&O Beovision, more … • Huge selection of user interfaces – Multi-purpose buttons, voice, apps, keyfobs, Swipe gesture pad … or nothing at all, just true home automation • In-house engineering, manufacturing, quality control • Now shipping to 110 countries around the globe SPONSOR fibaro.com/en/ Fibaro Button Coming to HomeKit
26. SPONSOR fibaro.com/en/
27. SPONSOR fibaro.com/en/ BOOTH #40952 Sands, Level 2 Smart Home Marketplace SUITE 30-125 Venetian Tower 30th Floor
28. Universal UIs Hogar Controls Pebble • Control up to 10 actions • Z-Wave Pavilion SENIC – Nuimo • BLE for standalone control • Third-party integration via Covi (with Alexa) or Hub WiFi gateway • Integrates with Alexa-enabled systems (via Covi), incl. Crestron, Caseta Wireless, Lutron, Savant, Control4, KNX KNOCKI Transforms ordinary surfaces (walls, tables, doors, furniture, countertops, & more) into remote controls through vibration sensing SMART HOME / UI NodOn + Partners Z-Wave Octan ClicMe SigFox LoRa NIU Bluetooth Fibaro Button • Z-Wave today • HomeKit coming soon Enocean Self-Powered LOGITECH Harmony Pop Works with Bridge or Harmony Hub
29. Swidget / Calm Technologies SMART HOME / UI
30. Moduware MODUWARE Modular Phone Cases • Formerly Nexpaq, a CE Pro fave • Modcase framework for phone case • Modpack portable power • Snap-in modules • Implications for keypads, home control systems SMART HOME / UI GOOD READ: Nexpaq's Modular Framework: How Home Automation UIs and UXs Should be Built
31. E-Ink, E-Paper, Digital Paper • Going full color, 2018 • Low power • Bright from every angle • Fast response • Inexpensive CLEARLINK SONY + E INK joint venture– Linfiny for laptops and tablets (GoodEreader.com) QUIRKLOGIC QUILLA 42 inches, E Ink technology, <$4,000 SONY 13.3" Digital Paper – $700 SAN DIEGO AIRPORT E Ink tiles RESOLUTION PRODUCTS Security keypad SMART HOME / UI
32. Projection UIs • Sony Xperia Touch – Apps – Sony SXRD short-throw projection – Stereo speakers – Auto calibrates up to 80 inches – IR sensors, 10-pt. multitouch • Bosch Sensortec – Optical Scanner • Vivint patent application – Project keypad onto wall SENSORS • Mic • Accelerometer • e-Compass • GPS • Gyro • Ambient light • Barometer • Temperature • Humidity • Human detection SONY Bosch Vivint SMART HOME / UI
33. Smart Home Deployment – Trends • Independent installers • Retail – Lowe's, Best Buy, Sears, Target – TreeHouse • Configure online, commissioned by seller • Mass-market installs – Amazon Smart Home Services – Dish Smart Home Services ❌ – Best Buy Smart Home Services – Cable and security companies • Installation companies and aggregators – Installernet • Amazon + CEDIA • New players – Insurance, Utilities (again) TreeHouse SMART HOME / INSTALL
34. Security 40% of security systems sales include at least one smart home device, most often IP cameras and smart smoke detectors. Parks Associates
35. Security Trends • Pro security still strong • DIY install, pro monitoring, no contracts • Fewer sensors, more multisensors, non-invasive CV • Anomaly detection • New authentication methods (biometrics) • Converging physical security & data security: 'CSO' • Extending home security to mobile/personal safety • Water detection and shut-off • Fire detection and warning systems • Insurtech influences SMART HOME / SECURITY 2017 GOOD READ: Parks Associates: Security and Smart Home Research for 2017
36. Pro Security SMART HOME / SECURITY 2GIG Rely (Nortek) Small, self-contained security with SHaaS by SecureNet, Interlogix ZeroWire (Carrier Cor for HVAC channel) Security and Z-Wave with SHaaS by Interlogix's UltraSync Johnson Controls – DSC Iotega (from Tyco acquisition) Self-contained security with SHaaS by SecureNet Resolution Products Helix 'Headless' security + Z-Wave, shown with low-cost keypad with e-paper display. SHaaS by ipDatatel. (Dotdot booth) • Pro Security System Trends (all UL-rated for life-safety) – 'Headless' systems – like the old days, with hidden hubs and standalone Uis – Stripped-down self-contained systems – low cost, simple to configure – User-installable, pro-monitoring
37. DIY + Pro: The Latest • The Latest – Nest Secure – Honeywell – Indiegogo – Amazon Echo Plus – ADT + SmartThings – Wink (Will.i.am) ❌ – Ring Protect (after ADT lawsuit) – Abode • Features – Pro monitoring optional – ZigBee, Z-Wave, Nest/Weave – Cellular back-up – Voice control – Built-in cameras – Built-in sensors – Back-up battery – Some UL-listed for life-safety SMART HOME / SECURITY
38. Remo+ DoorCam • Easy retrofit, no wires, no drilling, perfect for rentals • Only outdoor camera with indoor Wi-Fi connectivity – Antenna and Wi-Fi chipset inside the user's home – Limits wireless interference and reduces latency • Wide field of view – 160º peripheral + optimal position above door • Simple battery change – Three D batteries last up to 12 months. – Battery case is inside for easy changes. • Formerly Olive & Dove SPONSOR Remo+ DoorCam https://remoplus.co/ DoorCam • Over-the-door smart camera • Motion detection • HD video • 160-degree wide angle • Night vision • 2-way talk • Wi-Fi inside home, no obstacles • Up to 12 months with 3 D batteries • Cloud recording • Lifetime theft guarantee
39. SPONSOR Remo+ DoorCam https://remoplus.co/
40. SPONSOR https://remoplus.co/ BOOTH #40047 Sands, Level 2 Smart Home Marketplace
41. Non-invasive video analytics (computer vision) SMART HOME • Less is more – Before: Cameras showed more – Now: Cameras show less, reveal more – Images processed locally for analytics, not shared • Examples – Thermal imaging – Spatial analytics – disruption of RF waves, light, pixels – Facial analysis, mood recognition • Use cases – Seniors: changes in activity, gait, other behaviors – Recognize unknown people, gestures, facial expressions – Capture, analyze activity not seen by the naked eye FLIR Thermal imaging can detect people, water leaks, drafts, critters, other 'invisible' activity.
42. Non-Invasive Computer Vision COCOON CAM – can home in on heartbeat AURA HOME/COGNITIVE SYSTEMS – RF disruption, now on a chip with Qualcomm @ CES • Apical (Acquired by ARM for $350M) • Cherry Labs • Cocoon Cam • Cognitive / Aura (+ Qualcomm SoC) • Crea.vision • Flir • Legrand (with Ivani) • Smart Me Up • Vayyar • Vayyar SMART HOME VAYYAR – see through walls, fog, etc.CHERRY LABS
43. Non-Invasive Computer Vision LEGRAND JUST ANNOUNCED Don't miss Legrand's latest ELIOT IoT developments, and integration with network presence sensing. CREAVISION TECHNOLOGY • Location services • Activity monitoring, analytics • Auto-activates devices • Follows user • Local, on-device processing
44. Computer Vision • Signall sign language translation – Hand shape, movement, orientation – Facial expressions – Innuendo and nuance – And then natural language processing
45. Audio Analytics / Voice Extraction • Recognize specific sounds – Baby crying, gunshot, smoke detector siren • Isolate and layer sounds – Hearables – Bragi with Audio Analytic; Orfeo with InnerMic – Intelligent conversation detection, voice extraction – Applications for voice control – Examples: OnVocal, Stages, Alango, Cypher (Cirrus) ❌, Doppler Labs ❌ • Learn sounds and patterns, anomalies – Subsonic (low frequency) – Cocoon ❌ – Ultrasonic (high frequency) – Lisnr / Cerevo – Example: Mitipi • AI example: Vivint front-door listening patent COCOON LISNR (CEREVO) SMART HOME / SECURITY AUDIO ANALYTIC ai3 sound recognition software + Bragi wireless Dash Pro recognizes conversations, changes volume and external sound transparency.
46. Water: Leak Detection, Water Shut-off • Water Damage Facts – #2 most filed insurance claim in U.S. – Claims by 37% of homeowners – 93% of water damage is preventable – Average residential claim from a broken pipe >$10,000 – Mold starts to grow within 24 hours of standing water • Monitoring & Mitigation – Water sensors installed near pipes, appliances, etc. – Flow monitor on main water line detects anomalies – Optional water shut-off valve – End-user analytics for water conservation SMART HOME / SECURITY
47. Water – Leak detection, water shut-off, conservation SMART HOME / SECURITY Leak Detection at CES Flo Technologies • Analytics + water shut-off Guardian by Elexa • Sensors + non-invasive water shut-off: Torques valve when leak detected; Z-Wave, Wi-Fi Conservation Labs H2know • Analytics for conservation StreamLabs • Analytics + water shut-off Robeau • Flow meter installs at taps – LoRa Buoy Labs • Analytics + water shut-off FlowBox • Analytics + water shut-off, primarily for property management Wally Home ❌ • Analytics + water shut-off; adds humidity & temperature sensors for AI; spikes could signal mold conditions; Wally Rapid Response monitoring service, can triage and send techs. ROBEAU GUARDIAN BY ELEXA can switch off water if leak is detected by indoor water sensors ENOCEAN energy-harvesting water sensor needs no batteries. Liquid spills onto a piece of cork, which begins to expand, generating enough energy to fire off one quick RF message.
48. PHYN: Belkin + Uponor $40M JV PHYN, LLC $40M JV – Belkin + Uponor "Scale and deploy an intelligent water solution that sets a new bar for reliability, accuracy and intuitive user experience right out of the gate." Technology Based on never-deployed Wemo Water sensor technology acquired from Zensi Mission – Mitigate damage from leaks – Water conservation – Insights on water usage PROFILE
49. Access Control • Unattended access – August (Assa Abloy/Yale) – Walmart trial – Amazon Key – Phrame – like Amazon Key for car – Realtor replacements (NterNow ❌) • Biometrics – Securamasys – finger vein detection – Bio-Key –Windows Hello biometric sign-in • Outside the home – Decayeux – postal boxes • Ekla, Havr – [stealth] 'First light enabled smart lock' Huh? Trends in Unattended Access – New vetting and authentication methods – On-demand trends – 'Drop-off zones' in new homes – New paradigms in real-estate showings – Buy stock in refrigerators NterNow ❌ (formerly Call-a-Key) The new Realtor • Find NterNow home • Download app • Provide verifiable identify info (NterNow has unique process for user verification) • Receive one-time-use access code for lock • NterNow tracks data on shopping behaviors SMART HOME / SECURITY
50. Phrame – like Amazon Key for the car 'PHRAME's trusted network of on-demand automotive pros and valet partners will refill your gas, wash your car, change your oil, and maintain your car. You'll be updated when your car is ready, and you can choose to have your car parked or delivered to you curbside.' PROFILE
51. Community / Crowd Sourcing • Ring – Neighborhood alerts – suspicious activity, shared video • Sfty – connected smoke detectors – Smoke detectors with motion sensors and Wi-Fi – Triggers other smoke detectors in complex – Accessible data for emergency crews to find fire • Nextdoor – Private social network for neighbors and communities – Recommendations, help find lost pets, safety alerts • Pollution data sharing – iBebot – 'facebook of IAQ' – Mann + Hubbel (OurAir) – BreezoMeter (location-based air quality) • Fing – Crowd-sourced device discovery SMART HOME / SECURITY SFTY
52. Smoke Detection, Fire Mitigation • Old days of "smart smoke detection" – 'Smart' listeners detect sound of dumb smokes – User conveniences like silencing by voice – Blinking lights, additional sensors, bells & whistles • Today's "smart smoke detection" – Earlier detection • CV – Identify fire by color, heat, motion, more • AI – Analyze conditions amenable to fire (One Event ❌) • Better smoke-detection technologies (Nodon Eye ) – Loss mitigation • Positioning systems to locate people • See through smoke (Vayyar) • Stove turn-off (inirv ❌) • Close doors (LifeDoor – next slide) • Alert neighbors (Sfty) SMART HOME / SECURITY INIRV React turns off stove in dangerous conditions ❌ LIFEDOOR closes the door in the event of a fire. Read more at CE Pro. Either of these could have saved lives in the Bronx apartment fire
53. Smoke Detection, Fire Mitigation • Safer Alarms, Inc. (Levin Consulting) ► – Two-piece system with heat sensor and companion alarm. – Heat sensor installs near potential fire source. – Sensor sends warning to alarm unit before smoke detected. – Meets OSHA and building code standards. • LifeDoor – Non-invasive motorized devices slides into door hinge. – Device listens to siren sound/frequency – Respond by shutting door, flashing bright LEDs, sounding siren • Nod-On EYE – Z-Wave chamberless, uses infrared and blue LEDs. – Better accuracy, fewer false alarm, discreet size • OneEvent ❌ – Algorithms to detect when environmental conditions might portend fire. SAFER ALARMS two-piece fire detection system. Heat detector installs near potential source. SMART HOME / SECURITY
54. IT / Physical Security Convergence • New paradigm in corporate security – Convergence of physical security (people and property) and digital security (data and privacy) – Blends security director with CIO, CTO, CISO – Strategic, risk mitigation • Securifi Almond Guard ❌ – Home automation, smart home, cybersecurity in one – Intelligent arming & disarming – Monitoring, diagnostics for network & connected devices SMART HOME / SECURITY SECURIFI Almond Guard protects against both physical and digital threats. Why aren't the major home- security mfrs doing this? ❌ MORE ON CYBER Skip ahead for more on networking & cybersecurity.
55. Who Will be First Home CSO? • ADT? – Acquires DataShield, launches ADT Cybersecurity for biz – Next stop: home? • Vivint? – Created its own CSO position three years ago, hiring experienced government IT/security exec. – Hints at implementing CSO-type biz for the home • Comcast / Xfinity? – Already installs alarms, home automation, networking – Launched xFi routers and modems with IoT and cybersecurity built in. – Experienced in remote monitoring and diagnostics. – Existing call centers, support for security, home automation, networking, Internet connectivity SMART HOME / SECURITY Becoming a Major Home CSO Provider PREREQUISITES – EXISTS FOR SECURITY CO'S TODAY • Feet on the street • Security/alarm expertise, licensing • Already touching the customer's network, modest expertise • Central-station infrastructure & mentality • Remote monitoring framework • Business models for recurring revenue (RMR) NEEDED: IT monitoring station – third-party or home-grown – similar to security central stations
56. Lighting & Comfort, Wellness
57. Lighting Trends • Smarter bulbs that do more – mics, motion sensors, cameras … • UI's for controlling smart bulbs, solving the local switch problem • Smarter switches that do more – Brilliant, Plum ❌, Lucis Nubryte ❌ • User-replaceable switches & outlets – Deako ❌, Swidget, Legrand • Tunable white lighting – Plus human-centered lighting • No neutral or ground required – Cmoo • Lighting as a Services – Gooee + Evrything ► • LiFi coming along – OLEDcomm, VLNComm SMART HOME / LIGHTING GOOEE + EVRYTHING
58. Wellness • Benefits of environmental stimuli – Sleep – Productivity – Metabolism – Mental health – Overall health • Circadian rhythm simulations – tunable white lighting – Sounds – Smells ► – Temperature – IAQ SMART HOME Aroma Systems @ CES • Agan Aroma • Aromabit • AromaRest • iHome – Zenergy • Moodo • Nanoscent (Israel pavilion) • Noso • Scentee Japan • Sensorwake • Shenzhen Mossloo • Witti Design – Rossi AROMAREST "From sunset to sunrise and all through the night – sleep like nature intended." IHOME Zenergy Light, sound, aromatherapy And this … AROMABIT 'World's first compact odor sensor.' Odor database platform … post smells on the Internet. SCENTEE JAPAN "Scentee Machina is the first and smartest room diffuser in the globe, the next generation diffuser equipped with AI technology."
59. Tunable White Lighting / Human Centered Ltg • What is it? – Fixtures + controllers – Control color temperature – warm to cool – Simulate natural lighting for circadian rhythms – Sensors measure intensity, spectral composition of light for simulated human centered lighting (HCL) • Benefits – Health: sleep, moods, physiology – Productivity – Aesthetics SMART HOME / WELLNESS TUNABLE WHITE @ CES DIY • Adurolight, Adurosmart – ZigBee • Wiz – Wi-Fi, IFTTT, Alexa, Google • Revogi Delite • Leedarson • Z-Wave, First ZigBee 3.0 • Sengled • Jasco • Osram (automotive @ CES) • Philips PRO • Lutron • Legrand • Vantage, Wattstopper, Eliot • Philips • LumaStream ❌ • Colorbeam ❌ • Smartika ❌ • Ketra ❌ • USAI Lighting ❌ AVI-ON (JASCO) Morning Daytime Evening
60. Seniors • Aladin + Predical – Smart lighting gradually lights up path – Built-in sensors detect motion and falls – Analytics track activity, gait, other behaviors – Potentially predict dementia SMART HOME / WELLNESS
61. Indoor Air Quality (IAQ) Ambi Climate • Controls AC units via IR • Measures temperature and … • Humidity, sunlight, online weather data • Time of day to account for metabolic cycles • Multi sensors + AI • Learns from behaviors, temperature adjustments, especially at night • Considers multiple members of the household – children and pets SMART HOME / WELLNESS • Sensors, Monitors, Controls – Temperature – Humidity – Ventilation – VOCs – Allergens – Other pollutants • Trends – Mobile pollution devices – Shared pollution metrics – AI for smarter HVAC controls
62. Indoor Air Quality (IAQ) SMART HOME / WELLNESS IAQ @ CES AerNos AirGloss Breezio Breezometer • Location-based air quality data Dension Senses eLichens Mann + Hummel OurAir Engie AirNode • X-ray glasses for air quality LG Electronics Coway Meersens HiberSense • Smart HVAC registers Dyson (works w/ Breezometer) Plume Labs • Mobile air quality MANN+HUMMEL MANN+HUMMEL OurAir app BREEZOMETER
63. Energy • Storage + time- and place-shifting – Watts Battery – modular storage – Lancey (LoRa) • Radiator stores energy for peak-time usage – Qarnot • You put their servers on your network, they'll heat your space for free. • Load Disaggregation – Whisker Labs – Sense – Smappee – Neurio ❌ • Smart Grid-ready electrical panels – Koben Systems (KSI) SMART HOME WATTS BATTERY Personal storage packs LANCEY Radiator with battery SENSE Load disaggregation GOOD READ: How Qarnot Provides Free Heaters: Distributed Computing's Most Interesting Biz Model at CES 2017
64. Networking & Cybersecurity 44% of all Americans are "very concerned" and 27% "somewhat concerned" about their information getting stolen from their smart home. Icontrol
65. Home Networking Trends • Wireless mesh • Higher-performance networking • IP traffic analytics • Remote systems monitoring • Integrated networking + IoT • Integrated networking + cybersecurity • Wi-Fi Certified Home Designs with network mapping • Reduced wiring in new homes: "It's all going wireless" – The case of Lennar NETWORKING
66. Cybersecurity Protection Points ISP Cloud services Web hosts Apps Remote Network Management Services End-user apps for self-monitoring • Guidelines, Regs, Cert. (NIST, UL, FCC) • Manufacturer Updates • Curated ecosystems • IoT Standards (ZigBee, Z-Wave, OCF…) • Alliances (IoT Security Alliance) • Consumer education • Edge processing • Integrated SoCs with security Security appliance IoT devices & hubs Computer & mobile devices Traffic Analyzer Local networking pro / CSO Training, career paths, business models, consumer awareness • Cybersecurity stds (CableLabs, OCF) • Data analytics • End-user tools Modem/gateway with Cybersecurity built in Router with cybersecurity SERVICES • Firewall • Antivirus • Parental controls • Password mgmt • Network speed • Network traffic • Suspicious activity • Device discovery • Quarantines • VPN NETWORKING Best practices Network service plans Parental controls End User CEPro
67. Network Security Ecosystem • Regulators and guidance providers – Government – Certification bodies (UL) – Key standards bodies (CableLabs IoT) – Alliances • Service deployers – ISP – Cable, satellite, mobile • Product suppliers – Modems/gateways – Routers – Security Appliances – Tools & analytics – IoT devices – Silicon makers • Installers • Remote monitoring services SECURITY APPLIANCES • Network Watchdog • Daplie • Keezel • Fortress Security • Cujo • Bitdefender • Feyzilogic (Krypton) ROUTER + SECURITY • Eero Plus • Luma • Norton Core (Symantec) • Comcast xFI • Asus Routers w/ Trend Micro • Google WiFi • Phicomm with Intel • Amped Wireless (Chime OS) ❌ NETWORK MONITORING, DEVICE ID Fing Monitor-IO Ihiji ❌ SnapAV OvrC ❌ NETWORKING
68. Fing • Device recognition • Threat detection • Device blocking • Remote monitoring • DigitalFence (detect nearby Wi-Fi users) • Presence detection • Alerts • Pause User • Internet security check • Wi-Fi strength analyzer • Bandwidth analysis • Internet speed tests • History logs • Traffic analysis • OEM • Parental controls • FingKit for developers • $129 PROFILE
69. Router/Modem + IoT: a New Thing in Networking • Pros & Cons of embedding IoT in Router/Modem (potentially) – Improved remote monitoring, management, troubleshooting (view all IP and IoT functions at once) – Better bandwidth/network optimization, QoS – Better cybersecurity with one integrated service – Easier installation with a single piece of hardware – Less hardware and wiring – Easier provisioning by a single source – When one goes (network or IoT), so goes the other – Not best-of-breed for BOTH types of service (network, IoT) – Inability to switch out one piece of the system – router/modem, IoT • Examples – Samsung HomeConnect Pro – Mesh Wi-Fi router with SmartThings inside – Asus Blue Cave – Router with IFTTT – Systech – modular routers with IoT cards – Comcast xFi Advanced Gateway – Modem with Bluetooth LE, Zigbee, Thread – Sagemcomm – Routers, modems gateways – Rigado – Wi-Fi, BLE, Thread, Zigbee, and Ethernet w/ PoE. Cellular & LoRa expansion options are coming soon – Greenwave AXON – Implemented in millions of gateways from Verizon and others, multiple protocols supported – Volansys HomeBridge – OEM IoT Home Automation Gateway – Arris, Ruckus routers and gateways – ASRock X10 – router with ZigBee, IR (but not X10) ❌ NETWORKING COMCAST xFi Advanced Wireless Gateway BLE, Zigbee, Thread 8×8 antenna array 160 MHz
70. CTA – Connected Device Security Tools CTA Cybersecurity Checklist NETWORKING
71. Audio
72. Audio Trends • Wireless – multiroom • Wireless – multichannel • Immersive audio (object oriented) – MPEG-H 3D Audio – Dolby Atmos (invite only) – DTS:X (under Xperi) – Auro 3D ❌ • High-resolution audio (HRA) – Content, products • High performance audio AUDIO FRAUNHOFER Reference design of MPEG-H enabled immersive soundbar. MPEG-H Audio launched in S. Korea with 4K TV broadcasts over ATSC 3.0. LG has licensed.
73. Hi-Res Audio • Venues – Dirac Research – Westgate, Ste. 630 • Dirac Live, Gen. 2 – Hi-Res Audio Pavilion – LVCC Central 14734 – Venetian Suites – Floors 29-31 • Content – Qobuz – Linkplay offers Wi-Fi HRA platform – No Deezer ❌ or Tidal ❌ HI-RES AUDIO PAVILION Audeze AudioQuest Bluesound Data Conversion Systems Ltd (dCS) MQA Qobuz Sony Music Entertainment Universal Music Group Warner Music Group AUDIO
74. Wireless Audio • Multiroom – DTS Play-Fi (Xperi) – Google Cast – Sonos ❌ – BluOS (NAD) – Denon HEOS (Sound United) – AirPlay ❌ – Amazon Echo & Google Home? • Multichannel – WiSA – Damson JetStreamNet ❌ • First wireless for Dolby Atmos AUDIO AXIIM Link HD Wireless System – First 7.1 WiSA surround system for Xbox and Windows 10. Connects with USB. Also delivers 4K video. DENON HEOS AVR
75. Video MORE ON VIDEO @ CES: More talk, less ppt in the Webinar.
76. Video Happenings • HDMI 2.1 – Step up to more capacious cables • 4K OLED • Bendable displays • 8k, 10k, 48 Gbps (yawn) – But VR demands 8K @ 240Hz • ATSC 3.0 – Probably commercialized in 2019 • Micro LEDs – 150-inch MicroLED from Samsung? – Sony CLEDIS • Dolby Vision vs. HDR10 • New use cases: windows, art frames, wallpaper • Much ado about projectors VIDEO Sony CLEDIS Micro-LED Samsung Frame TV
77. TCL QLED Android TV Xess X2 Just because everyone's talking about it … – 'Only Android QLED TV in the world' – 3-channel audio from JBL – 4K HDR – Integrator Joe Whitaker: "But it's really ugly …" MORE ON VIDEO @ CES: More talk, less ppt in the Webinar. PROFILE
78. Projectors • Short-throw + furniture + special screens – Sony – Epson – Hisense HTIB – Screen Innovations • Laser projectors cheaper than ever • More affordable 4K and faux K • The new smart home UI • Projection mapping for the home? – Lightform ❌ – Optoma Projection Mapper OPTOMA Projection Mapper on Lego HISENSE • 100-inch 4K Ultra HD Smart Laser TV ($10,000) • Screen Innovations anti- reflective screen • 110W Harman Kardon audio system + subwoofer SONY short-throw projector in Salamander Credenza VIDEO
79. Content and Cord Cutting • Silicon Dust (HDHomeRun) – OTA, CableCard, EPG, QAM, ATSC, EPG, DVR • Homebase – Hub consolidates all content – photos, video, Plex, streaming services + 7.1 sound, mic, teleconferencing, etc. • Channel Master, Stream+ – Runs on Android TV platform, integrated voice search, 4K and HDR, quad-core CPU for advanced gaming, two ATSC 1.0 tuners, MicroSD storage option for DVR, USB 3.0 for personal media + future • Nvidia Shield TV – Android TV streamer with Plex, Netflix, Hulu … + SmartThings + Google Assistant + Spot? • Dish AirTV • ATSC 3.0 – probably not on show floor • More skinny Bundles VIDEO
80. MirraViz Multiview Screen • Retro-reflective screen • Light reflects back to source • Like street signs • No glasses MirraViz PROFILE
81. Wintual • Wintual – Virtual window display – Mount camera and processor outside outside – Sensors on TV track presence – Image moves with user's orientation • Use cases – Sense of larger room – Sense of the outdoors – Health and productivity – Utilize windowless rooms PROFILE JJ
82. Custom
83. Pro-Centric Control Systems at CES • Pro security companies – Alarm.com – Interlogix (Carrier Cor) – Resolution Products (with DotDot) – 2Gig (Nortek) – Johnson Controls (Tyco / DSC) – Bosch – Honeywell • Custom A/V + control – Control4 – Legrand – Logitech Harmony Pro – Lutron – Savant – Somfy – Universal Remote Control • DIY and/or Pro – Homeseer – Zipato – Fibaro – Neeo (start-up) PRO DON'T FORGET VENETIAN TOWERS Scores of high-performance audio & video demos – Floors 29, 30, 31, 34, 35 Totem Acoustic, Suite 29-225 IMMERSIVE CINEMA Suite 29-103 • AudioControl Maestro M9 preamp/processor with support for Dolby Atmos, DTS:X, Dolby Vision HDR and Dirac Live room correction. Pairs with AudioControl Pantages G3 five-channel high-current amplifier. • Dynaudio loudspeakers and subwoofers • Wolf Cinema 4K laser/phosphor-driven Seymour-Screen Excellence Ambient- Visionaire Black 1.2 ultra-high-contrast ambient light-rejecting film screen CRESTRON makes an appearance … with an interesting new partner GOOGLE makes an appearance … with an interesting new partner. REVEALED IN THE WEBINAR
84. New Opportunities SHADECRAFT Sunflower smart shade ARK INNOVATION Arkube – turn walls into interactive displays (Innovations 2018 honoree) ❌ MILIBOO + EKKO Smart sofa MASTER & DYNAMIC MA770 Wireless Speaker Wi-Fi, Bluetooth, 'acoustically superior' proprietary concrete composite material, two 4" woven Kevlar woofers, 1.5" titanium tweeter – $1,800. Innovations honoree. PRO
85. Opportunities? "Jean Nouvel, the creator of the Philharmonie de Paris, is undeniably the most important and distinctive of all French contemporary architects. " GARAGE SMART (Hall Labs) Who wouldn't want this?
86. And These…
87. Sniffy A word from our founder : Alexandre JUVING-BRUNET I have wished to project my passion of perfumery into our connected modernity by creating the connected and smart olfaction. A global offer that allows any firm to answer its customers new purchase option paradigms : the olfactory choice that provides surprise, joy and confidence. SNIFFY is a connected device commonly refer to as an IOT (Internet of Things) that proposes an innovative displaying network for multi-sensorial communication to improve trigger and memorization of the emotion behind the magic of the customer experience. A digital and commercial revolution is coming : let's prepare it together ! SNIFFY (SAS LJB) In the French Pavilion, Eureka Park – Booth 51271 BECAUSE … SNIFFY THEATER PROFILE
88. Extreme Privacy They built a $25,000 soundproof booth for EPA administrator Scott Pruitt. NOW THEY BRING YOU … CONE OF SILENCE, LLC, dba PrivacyShield • Sound blocking for your smart speaker • "Guarantees your privacy from eavesdropping by hackers, the government, or anyone else." • Provisional patent issued Aug. 4 for an "active listening privacy device." HUSHME I see what you're trying to do there, mister. Well, I've got a surprise for you. Now all you'll hear is a squirrel. Or maybe Darth Vader. Or a monkey. No more of that awkward hand-over-the-mouth-for- privacy nonsense. Before Hushme After Hushme
89. Sleep Tight HUMU Flexound 'Imagine hugging your favorite sound' SOMNOX – Holland Pavilion "Sleep better with world's first sleep robot … the ultimate sleep companion that induces sleep." DREEM 'The Science of Better Sleep Dreem, the headband that combines the most effective methods, from biofeedback to neuromodulation, to improve your sleep every night.' KRYO LLC "Our patent-pending, temperature-controlled cooling mattress topper uses the latest in sleep research to guarantee a deep sleep, every night." SOMNUVA 'The algorithm needs to be played, on the threshold of hearing, at very specific frequencies, so we've used high quality speakers to ensure these frequencies and wavelengths can be achieved'
90. Parting Words That's a relief.
91. Ultimate CES 2018 Preview SMART HOME | AUDIO VIDEO | NETWORKING | SECURITY | TRENDS | SURPRISES SPONSORS Julie Jacobson founding editor CE Pro Avi Rosenthal principal IoT Consulting Joe Whitaker principal The Thoughtful Home Jan. 9-12, 2018 Las Vegas www.ces.tech THANK YOU Webinar Recording Available Here jjacobson@ehpub.com
© 2017 EH Publishingwww.cepro.com/ces