SnapAV thinks it created the best AV over IP system on the market, and many dealers concur. The new MoIP (media over IP) system is the company's first entry into the category after years of building traditional A/V switchers.
Part of SnapAV's Binary line of media-distribution products, MoIP has the leading competitors beat, according to Brian Holden, senior product director for Binary, because "it goes toe-to-toe on specs, but it's the fastest and easiest to set up and install."
LITERALLY, it only takes five minutes to set up, Holden insisted during a video conference. He proved it right then and there, showing me how the whole process is automated from the auto-discovery of transmitters and receivers to the network configurations. The only time an integrator must step out of the MoIP environment is to enable IGMP snooping on the network switch, allowing high-bandwidth MoIP traffic to go only where it's needed.
"Any dealer that installs Sonos systems will know how to enable snooping," Holden explains, while suggesting that even this little task could be automated in the future for dealers who use SnapAV's Araknis switches with MoIP.
As with most other SnapAV electronics, MoIP is OvrC-enabled, so any dealer already employing the managed services platform can easily add media management to the ecosystem for remote management.
"Dealers are sitting on the sideline because of cost, maintenance, or they don't know enough about networking."
— Brian Holden, SnapAV,
on reluctance of dealers to embrace AV over IP
"You can do things that used to always require a truck roll," Holden says.
SnapAV is just about the last popular provider of A/V distribution to introduce IP-based systems, but that doesn't bother them.
"It's not an entirely new product," Holden concedes, "but we spent time working towards a product we would be proud to introduce to CEDIA integrators."
He says it has the "right quality of video" – visually lossless 4K @ 60Hz with HDR and HDCP 2.2 support – along with dealer-friendly features like simple configuration, videowall capabilities, IR and serial control over the network, and the "right price point."
"We like our dealers to make money," says Holden.
And one more very important point: The system works over standard Layer 2 network switches (like SnapAV's OvrC-enabled Araknis models), so customers need not invest in Layer 3 products that add complexity and cost.
Cat 5e cable works fine for MoIP, providing a "great opportunity to upgrade legacy 1080p systems like HDBaseT," Holden says.
Of course MoIP integrates with all of the popular home-automation systems, and that too is a breeze according to Tyler Schifferly, principal of Design Entertainment, an Ohio-based integration company that Beta-tested the new product.
"Integration with our Control4 system was remarkably easy," he jokes. "So easy that one of our sales guys had it working in minutes."
So easy evan a sales guy can do it!
The Case for AV over IP and MoIP
Clearly, the future is in IP-based multimedia, rather than traditional switching, which requires just the right-sized hardware and is difficult to scale.
Even though SnapAV was late to the IP party, "we de-invested in matrix switchers a few years ago because video-over-IP is the future," says SnapAV chief product officer G Paul Hess. "With a matrix, you're stuck with 4×4, 8×8 …. With video-over-IP, you always have exactly the right number of transmitters and receivers."
And yet, according to Holden, less than 30 percent of A/V dealers are using IP for media distribution.
"Dealers are sitting on the sideline because of cost, maintenance, or they don't know enough about networking," he says. "We're trying to unlock that opportunity."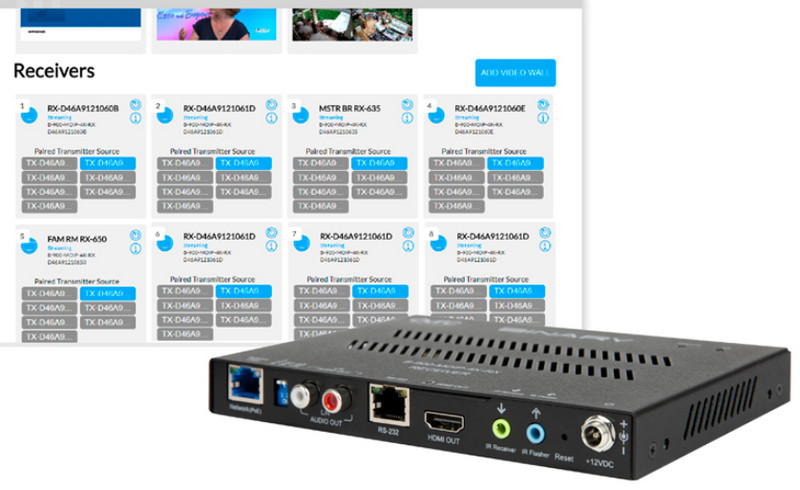 SnapAV has just three SKUs for its MoIP offering:
MoIP Transmitter B-900-MOIP-4K-TX (one per source), $799 MSRP
MoIP Receiver B-900-MOIP-4K-RX (one per display), $799 MSRP
MoIP Controller B-900-MOIP-4K-CTRL with OvrC (one per system), $399 MSRP
Holden says SnapAV is able to keep its MoIP prices relatively low because it offers so few SKUs, versus some competitors that offer a wider range of products, including many specialty items that sell in low volume.
"We have a core lineup," Holden says. "We don't waste dealers' time."
3 SKUs, All the Bells & Whistles, Simple as Heck
All of the key AV-over-IP features (plus OvrC) are included in these three parts, adding to the simplicity and affordability of the system.
"Where other companies charge crazy amounts for something such as audio de-embedding" says Schifferly," all the bells and whistles are included in the standard transmitter."
Another beta-tester, Tucker Hass of Ranger Home Technologies in Temple, Texas, can't stress the importance of limited SKUs in what is traditionally a complicated category.
"THIS IS HUGE: One SKU for TX and One SKU for RX," he tells me in big, bold font.
He hadn't jumped on the AV/IP bandwagon earlier, partly because of the "complicated process of determining all the parts and pieces."
On the other hand, "It just couldn't be easier with SnapAV," he says. "No worrying about what network switch you need, no concerns about what resolution this source is or what that display is. ONE SKU, all 4K capable. All IR and RS-232 capable. It's about as plug-and-play as you can get."
"I personally think this is a big deal."
— Beta tester Tucker Hass, Ranger Home, on text-overlay feature
He adds that while there are several existing AV-over-IP players in the channel, "SnapAV will open the flood gates to a world of dealers who were not sure of MoIP and what it took to make it all work. It's a big deal that the Snap Binary system is so simple."
With PoE capabilities, MoIP eliminates power cords if you're using a MoIP switch. Better yet, MoIP eliminates the need to install audio decoders for sources such as Apple TV and Roku that omit audio outputs. The MoIP receiver itself decodes the audio locally, outputting it separately from the HDMI video.
"This is a very big benefit," Hass says. "It makes it much easier to implement, not to mention certainly aids in keeping a rack tidy."
The simplicity of the product lineup is just the beginning. Once you plug in the products, the true magic reveals itself.
"If you are familiar with OvrC, you know how easy it is to get everything linked together," says Schifferly. "It is the same with the MoIP system. Everything gets discovered in the OvrC interface and every unit is easily set up right there in front of you – resolutions, HDCP configurations, not to mention a live snapshot of the incoming video stream, which was totally cool."
In "identify" mode, system presents on-screen identification information for "error-free integration," Holden says.
The feature is part of the system's text-overlay capabilities, which can be taken to the extreme with home-automation integration. Messages can be sent to any TV on the MoIP system.
"I personally think this is a big deal," says Hass, who himself has set up a few tricks.
For example, if the doorbell rings, his URC Total Control system determines which TV is in use and sends a text overlay to the TV stating, "Someone is at the door."
If the hidden gun safe opens, the message on the TV reads, "Gun safe has been opened!"
The text overlay is also tied to Alexa in the Hass household. When someone announces, "Alexa, dinner is ready," all TVs display a message, "Dinner is ready, come eat!"
"Future firmware upgrades will give us options to change font size, color and possibly font style," Hass explains. "Exciting stuff!"
And if that wasn't enough, MoIP has built-in videowall capabilities with a configuration screen that makes programming child's play (even a salesperson could do it).
Schifferly sums up MoIP with this:
Over all, we love the system. The video quality is fantastic, the set-up was awesome, and integration was crazy easy. Couple all of this with being able to use network switches from the same company (think rewards) as well as the unbelievable tech support from SnapAV and you have the perfect video over IP system!