Monster Products, Inc. (formerly Monster Cable) has filed an S-1 form with the SEC for a $300 million cryptocurrency offering. It's not an IPO per se, but an "initial coin offering" (ICO) for 300 million brand new Monster Money (MMNY) tokens, which can be used to purchase Monster products such as HDMI cables, headphones and surge protectors.
That is, the tokens can be used to purchase Monster products if the company can build out its Ethereum-based blockchain engine to process MMNY orders.
In fact, there are a lot of "ifs" in the S-1 filing – seemingly more iffy than the standard, overly conservative IPO filing.
First are the risks related to Monster's business, which has suffered mightily over the past few years.
Monster is one of the most iconic brands in consumer electronics, making its name in the premium-cable business before it branched into other CE products. Founder and Head Monster Noel Lee elevated and invented product categories from stale classics, much like Nest did with thermostats. Nobody would think to purchase $25 speaker cable until Monster came along. Bose was the only boring headphone brand in town until Monster rolled out Beats by Dr. Dre. And Noel Lee made a fortune bottling cleaning solution for TVs and monitors. He encouraged retailers to put Monster ScreenClean spritzers at the cash register — which chachinged all day long with each $25 sale.
"Eventually Monster hopes to use its influence, scale and global connections along with blockchain technology to bring a number of E-commerce platforms onto Monster Money Network …."
— Monster Products
S-1 filing with SEC
Lee is famous in CE circles as a sales and marketing genius who helped all the big retailers merchandise high-margin gear.
But the company has suffered over the past few years, especially since losing its licensing deal with Dr. Dre six years ago.
Monster had a net loss of nearly $27 million in 2017, and $29 million in 2016, as reported in the S-1. In the first quarter of 2018, net losses amounted to about $19.6 million. As of December 31, 2017, the company had negative working capital of nearly $76 million.
"We anticipate that we will incur operating losses for the foreseeable future," Monster reports.
At the end of 2017, independent auditors indicated "substantial doubt about our ability to continue as a going concern."
Following its expensive split with Dr. Dre, as well as an ongoing lawsuit over allegedly false claims related to HDMI cables, Monster is shifting gears from being a pure-play products company to becoming a universal platform for blockchain-driven transactions.
"Eventually Monster hopes to use its influence, scale and global connections along with blockchain technology to bring a number of E-commerce platforms onto Monster Money Network where transactions will be processed and completed instantly with low or no transaction costs," according to the S-1 filing.
And more from the S-1:
Monster's current business strategy is shifting focus away from simply building its product range to pursuing alternative retail platforms and implementing new marketing campaigns. Over the next five years, Monster's business strategy is to revitalize relationships with the Company's existing retail relationships as well as target expansion into new retail venues. The Company is developing relationships with a number of world renowned fortune 500 companies. …

As we develop Monster Money Network and our backend systems, we intend to utilize the blockchain technology to our marketing, accounting and audit, internal control and shipping management functions. We believe the blockchain innovation will bring disruptive advancement to our E-commerce and business operation systems.
Monster says in the S-1 that it needs to raise the full $300M from the ICO to develop its blockchain technology "as contemplated." If the company can't raise the funds, it will have to seek additional funding, and if it can't secure that funding, "we may be required to modify or suspend our business plan, which could result in investors losing all or most of their investments."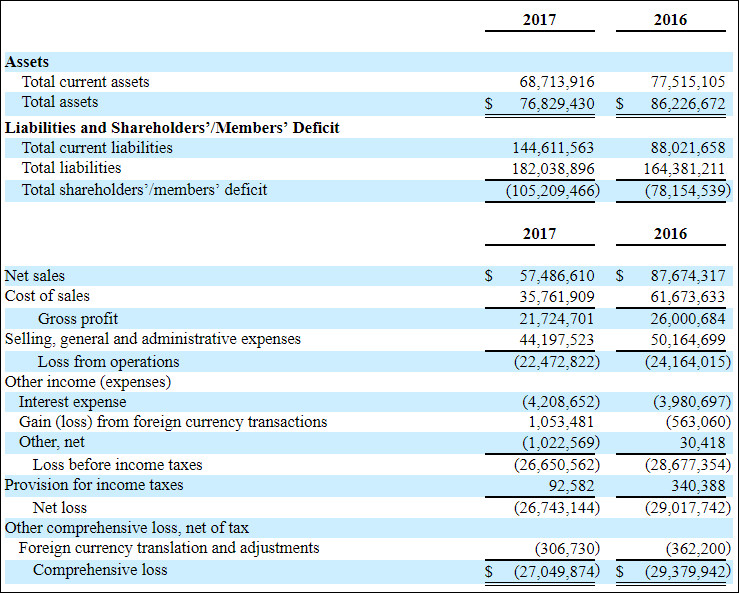 And then the Risks of Launching a Crypto Currency
Beyond the risks associated with Monster's viability as a company, there are additional risks concerning cryptocurrency in general, and Monster's ability to run a blockchain exchange in particular.
"So far, there hasn't been an example of a non-blockchain company moving into decentralized software from a position of strength," reports the crypto-asset publication CoinDesk, "and Monster appears (at first glance) to be no different."
Furthermore, Monster seems to be the first established consumer brand to pivot to a blockchain revenue model, according to CoinDesk: "The ICO fits into a larger trend in the token space of existing companies that have struggled with their revenue model pivoting to blockchain in an attempt to attain profitability. In the past, pre-existing tech companies with venture backing have launched ICOs (Listia and YouNow), but this is the first longstanding consumer product to do so."
Monster notes several risks related to its MMNY network and tokens:
The Monster Money Network may not be widely adopted and may have limited number of active users.
Alternative networks may be established that compete with or are more widely used than the Monster Money Network. We may face significant competition.
The Monster Money Network may be the target of malicious cyber attacks or may contain exploitable flaws in its underlying code, which may result in security breaches and the loss or theft of Tokens.
Our Monster Money Network uses and relies on Ethereum framework. If the Ethereum framework were to become unavailable to the Monster Money Network for some reason, our operations on Monster Money Network would be disrupted for a period of time until we migrate our data to an alternate blockchain framework or develop our own system.
The regulatory regime governing the blockchain technologies, cryptocurrencies, tokens and token Offerings, such as MMNY Tokens, is uncertain, and new regulations or policies may adversely affect the development of the Monster Money Network and MMNY Tokens.
This issuance of MMNY Tokens may constitute the issuance of a "security" under U.S. federal securities laws.
We may not receive necessary regulatory approvals to publicly offer MMNY Tokens via this registration statement.
The holders of MMNY Tokens and Company will have limited or no control over the Ethereum blockchain framework and the holders of MMNY Tokens will not have rights as stockholders of the Company.
The public trading of MMNY Tokens on a cryptocurrency exchange may not occur by June 30, 2020 or may be ceased due to government enforcement actions, in which case holders of MMNY Tokens who purchase MMNY Tokens pursuant to this prospectus will be able to convert their MMNY Tokens into the Company's Common Stock.
We have not identified all the persons that we will need to provide services and functions critical to the development and maintenance of Monster Money Network and no assurance can be given that we will be able to engage the necessary persons on acceptable terms, if at all.
We may be unable to protect our proprietary technology or keep up with that of our competitors.
No Public Market for Monster Tokens?
The real question is: will Monster Money ever have value beyond its use as a currency for Monster products?
The coins will be a tough sell if they cannot be traded in a public exchange. In the event a public market doesn't open for MMNY, owners can swap the tokens for Monster common stock at a rate of four coins per share. But the Monster stock itself may never be available on an open exchange:
There is currently no public or other market for our MMNY Tokens or our Common Stock. We intend to seek listing MMNY Tokens on a recognizable cryptocurrency exchange and trading our Common Stock on a stock market or exchange. We may never list MMNY Tokens on such cryptocurrency market or exchange or develop a liquid trading market for MMNY Tokens or our Common Stock.

Even if MMNY Tokens or our Common Stock becomes traded on a market or exchange, we cannot predict when an active trading market of MMNY Tokens or our Common Stock will develop or how liquid that market might become. An active public market for MMNY Tokens or our Common Stock may not develop or be sustained. If an active public market does not develop or is not sustained for MMNY Tokens or our Common Stock, it may be difficult for you to sell your MMNY Tokens or shares of Common Stock in the event of conversion at a price that is attractive to you, or at all.
Earlier this year, Monster engaged in a reverse acquisition by a "blank-check" company called Atlantic Acquisition (ATACU), formed in 2016 for just such a purpose. Atlantic, a Nevada corporation, is now Monster Products, Inc.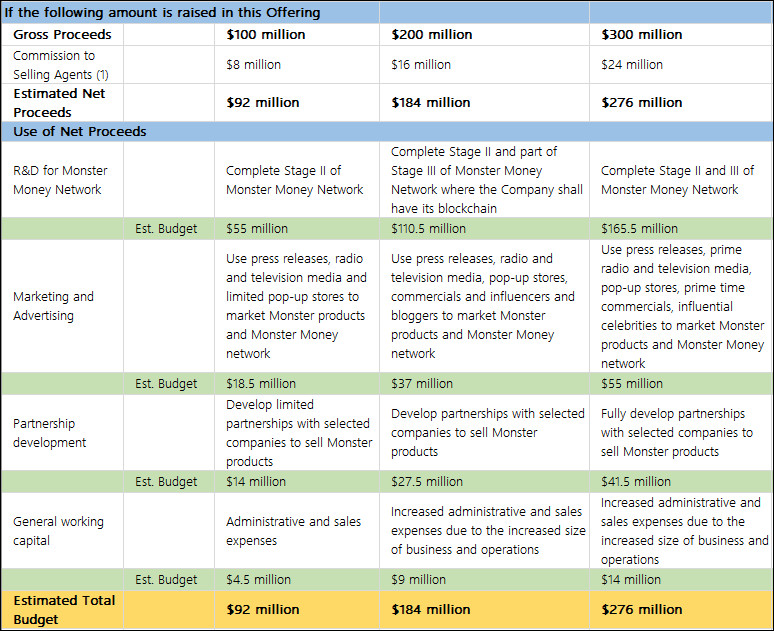 If you enjoyed this article and want to receive more valuable industry content like this, click here to sign up for our digital newsletters!