Metra Active Optical Fiber Optic Cables Support 24Gbps Bandwidth
Metra's latest line of Hybrid Active Optical Fiber Optic Cables enables the transmission of 4K video at 60Hz and 4:4:4 chroma subsampling.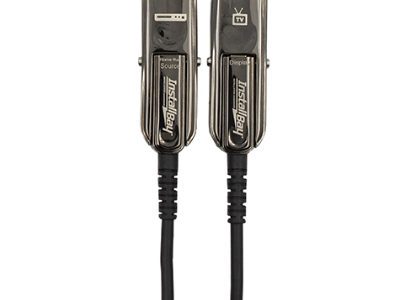 Pushing the limits of A/V connectivity, the new Hybrid Active Optical Fiber Optic Cables from Metra Home Theater Group support up to 24Gbps of bandwidth.
The Hybrid Active Optical Fiber Optic Cables from The Install Bay feature a removable headshell to ease installation. The product line is designed for prewiring with a small connector and hook to aid integrators when pulling the cables through conduit.
The products are able to support 24Gbps (4x6Gbps) to enable integrators to install A/V systems that deliver 10-bit 4K UltraHD video at 60Hz with 4:4:4 chroma subsampling, and all known high dynamic range (HDR) formats.
Additionally, the cables' don't require the use of external power supplies in order to work properly and feature a thin diameter with 24k gold-plated connectors.
Related: Metra M3B Pro Creates Video Distribution System
Besides their support of 4K, HDR and 10-bit signals, the latest Metra HDMI cables are compatible with the new audio return channel (ARC) and enhanced audio return channel (eARC) to meet the latest HDMI specifications.
The cables also utilize durable CL3-rated jackets to support in-wall installations, and the cables' jackets also carry UL certification, which verifies the cables won't split or break in cold-weather climates.
Integrators can order spools of the new cable in lengths ranging from 30 feet to 260 feet to carry on trucks to meet virtually any installation scenario.
The company will be showing its new cables during the 2019 Consumer Electronics Show (CES) in Las Vegas during the week of Jan. 8-11 in booth number 11535, and the following month at the Integrated Systems Europe (ISE) show in booth number 1-Q80.
Hybrid Active Optical Fiber Optic (IB-HDAOCD) Specifications
24Gbps (4x6Gbps) bandwidth
The cables support 4K at 60Hz and all known HDR formats
Meets HDMI 2.0
Metra states the cables support ARC and eARC
24k gold-plated connector
The cables do not need external power supplies
Detachable headshells facilitate the cables' ability to pull through conduit to aid the install process
Metra includes connector covers with hooks to help integrators pull the cables through conduit
Cables meet CL3 and UL specifications for use in in-wall applications