Tommy Bartnick, co-founder of Malibu Wired in West Hollywood, Calif.,, describes the company's previous showroom design as "very Mad Men" in its appearance, with a dark, cozy look. The company's new Control4 Certified Showroom is just the opposite with bright colors and an open concept with lots of hands-on displays.
Malibu Wired is one of 140 showrooms worldwide that were selected to be Control4 Certified Showrooms. The experience centers showcase audio, video, home-automation, lighting controls, wireless networking, voice control, and big bold Control4 messaging everywhere.
Independent smart-home dealers in China, Australia, UK, Canada, Argentina, Kentucky, Hawaii, California and elsewhere around the world are taking part in the new Certified Control4 Showroom program that provides special incentives for integrators who invest in Control4-centric spaces.
On May 31, 70 of the showrooms will be holding simultaneous open houses and sharing their soirees via social media using the #C4Yourself hashtag.
Previously, Malibu Wired had a private showroom available by appointment only. The new one is open to the public.
"As you walk through the front door, there is a Control4 remote and it invites you to pick it up," says Bartnick. "That was the whole design – to be super-friendly – and in all areas we encourage visitors to touch and experience the systems."
The 1,000-square-foot showroom features a long wall on the left as you enter with lighting control and thermostat control hands-on demos. The rear windows have automated Q-Motion shades. To the right, is a multiroom audio display featuring Amazon Alexa. The back of the showroom also has a small outdoor audio area with Triad Speakers… complete with a small patch of astroturf.
The showroom also features a large dedicated theater with Triad in-walls, a Sony 4K projector, Screen Innovations screen and Fortress seating.
Related: 140 Control4 'Certified' Smart-Home Showrooms Spring up Overnight
The showroom is located on busy Sunset Blvd. in L.A., where the traffic flow never ends. As part of the re-design, Malibu Wired co-founder Vladimir Dzhuga put together new exterior signage that showcases both the integrator's brand and the Control4 brand.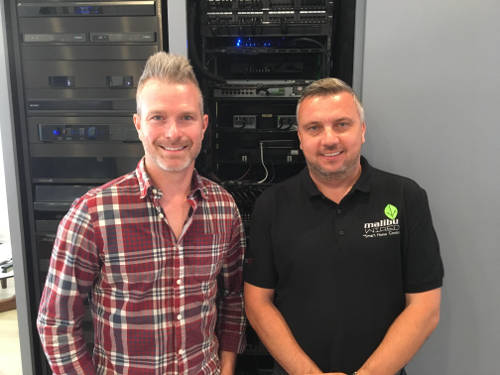 "My expectation for the showroom is to keep moving forward," says Bartnick. "We have a great base of clientele that includes end users, as well as contractors, developers and designers. We wanted a place for them to come… almost like a training center. So they can experience the product and before they even meet with a client and they can get them excited about the technology."
"It's a good place to come to work every day," comments Bartnick.
Prepping for #C4Yourself Day
Like many of the other Certified Showroom dealers, Malibu Wired is hosting a bash at its new facility today as part of #C4Yourself, an effort to drive consumers, builders, trade partners and anyone else to showrooms worldwide.
Malibu's event is splashed across the company's Web site, inviting prospects and customer to RSVP to the affair and potentially win a Control4 starter kit. The invitation reads:
On May 31st, enjoy an evening in our showroom to get a taste of how smart technology is changing the way we live in our homes. We'll show you firsthand how automation can be personalized to the needs and desires of any individual or family. Our professionals will demonstrate how Control4 solutions deliver orchestrated smart home experiences that make homes safer, more convenient, comfortable, and enjoyable.
---
Through a marketing partnership with Control4, CE Pro is highlighting integrators participating in the Control4 Certified Showroom program, with an emphasis on dealers' strategic business initiatives. Content is at the sole discretion of CE Pro editors.
---