Leviton, a leading provider of electrical systems, lighting controls and home automation, has introduced Wi-Fi controlled circuit breakers for its year-old Leviton Load Center power-distribution system.
The IoT-enabled solution allows users to monitor electrical activity and flip breakers remotely from the same My Leviton smart-home app that controls lights and other smart devices.
"Lighting and (serious) load control is something no one else has tied together yet," says Greg Rhoades, director of marketing for Leviton Energy Management, Controls and Automation.
Smart Load Center Settings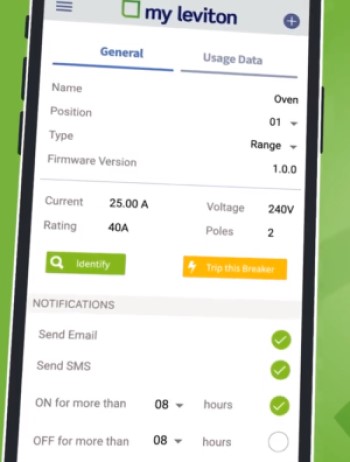 The company launched the new solution at the International Builders Show (IBS 2019) in February, where the Leviton brand would be well-known and widely used by a good chunk of attendees. Leviton has been a leading supplier of electrical and low-voltage systems since the company was founded in 1906.
There are two pieces to the Wi-Fi circuit-breaker story: 1) integrating circuit-related data and control with other smart-home products and services through a single app, and 2) building on an innovative Load Center architecture launched by Leviton last year.
Reinventing the Breaker Box
Let's start with the Leviton Load Center.
Breaker boxes are a bjillion years old, and they've barely changed in that time. They're ugly, unwieldy, and ridiculously inflexible. If new regulations, advanced technology, safety concerns or use cases come along, you can't just pop out a breaker and snap in a new one. You have to unwire and rewire the breakers, and sometimes the box itself.
Sometimes a new appliance plugged into an AC outlet doesn't jibe with the characteristics of a particular breaker. It may trip the breakers for no good reason. So device-specific breakers are developed, but they entail a truck roll by a licensed electrical contractor.
Last year, Leviton introduced a new paradigm in circuit breaker systems – the Leviton Load Center, featuring a "plug-on" design that can be "installed more efficiently compared to competitive products," the company claims:
All branch wires terminate at custom lugs in the panel, making wiring easier and neater—and eliminating the need for pigtails. This means the entire panel can be terminated at rough-in. All connections are made at the final insertion of the circuit breaker. The innovative design also enables users to switch out branch circuit breakers with no rewiring required.
In other words, the cage is hardwired, but the individual breakers can pop out easily, to be replaced by other breakers that snap right in.
Video | How it works: Leviton Smart Load Center with Wi-Fi breakers, smart-home app, remote monitoring and control.
Plus, the box is white and pretty. There's clearly a psychological element to the home-buying process: If the breaker box looks modern, clean and accessible, wouldn't the rest of the house follow suit?
"Unlike typical circuit breaker boxes, the Leviton Load Center was designed to complement any home interior," the company says. "It's sleek, white enclosure and optional window create an approachable interface that helps homeowners better understand the status of their home's power."
Plus, Leviton has some age-old patented "reset lockout" technology that prevents GFCIs from being reset after they have been damaged or otherwise can't provide ground-fault protection. This technology is incorporated into the Load Center system.
A Smarter, Connected, Reinvented Breaker Box
The new Leviton Load Center was launched last year. In 2019, Leviton added connectivity to the system, with Wi-Fi-enabled circuit breakers. The devices bring intelligence and remote access to the breaker box via the existing My Leviton app – the same app that lets homeowners monitor and control their lighting and other smart devices.
Connected breakers have been around for a couple of decades but they've never really caught on. Initially touted for energy savings or remote control of major appliances, they didn't seem to make sense in an era of smart plugs.
Leviton takes a fresher approach, touting its Smart Load Center for safety and convenience. Say you install a new TV that keeps tripping the breaker because of a perceived (but absent) arc fault. In the past, it took a new breaker and a truck roll to fix the issue. In this case, however, Leviton and partners can remotely "tune the breaker to specific products" based on their unique power signatures, says Leviton's Steve Hepner.
Related: Leviton Launches Mass-Market Home-Automation Platform, Starting with Wi-Fi Lighting
Of course, users can remotely or automatically turn off (not on) any Wi-Fi-enabled breaker, say, in the event of a hurricane, fire or some other dangerous condition. They can be alerted if the shower or stove is on for too long, and remotely flip the switch if warranted. All of this can be configured, monitored and controlled through the My Leviton app, alongside other smart-home functions.
Leviton differentiates its Load Center by keeping the intelligence flowing even when a breaker is tripped. Hepner explains that other circuit-monitoring systems kill the flow of information when the breaker trips. In this way, Leviton can continue to monitor the conditions that led to the event, in order to provide richer insights into the electrical system – something that's tough to do for companies that don't have 100-plus years of history in the electrical business.
Of course, Leviton also incorporates energy-usage and -monitoring features in the Smart Load Center, allowing users to view real-time consumption per load, as well as trends by day, week, month and year.
Anomalies in consumption can alert users to potential malfunctions in a connected load. For example, if the refrigerator is consuming more energy than usual, the user might want to get the device serviced.
Leviton Wi-Fi-connected Load Center: Every Circuit Tells a Story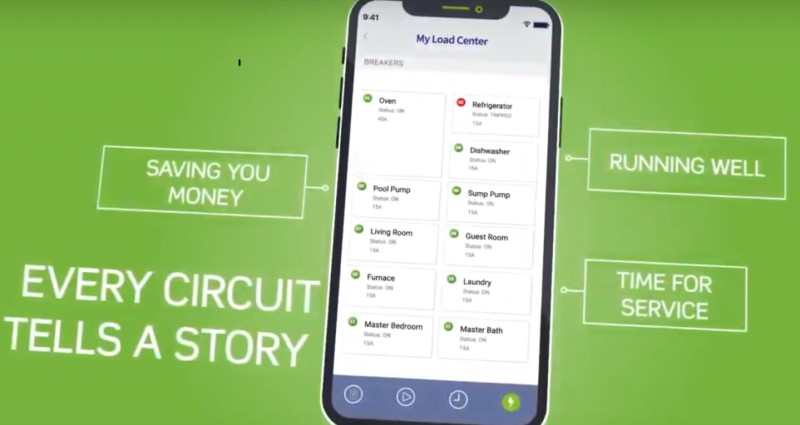 Using the My Leviton App, users can monitor electricity usage per branch circuit or appliance, view usage trends and estimate their electricity bill, setup alerts to be notified when a circuit breaker has tripped and why, or evaluate if an appliance has been on or off for a specific amount of time. Users can also be assured the load center's smart circuit breakers are receiving the latest firmware updates.
Every circuit tells a story. The next generation Leviton Load Center's circuit breakers install the same as the standard version and communicate with a Wi-Fi or Ethernet enabled data hub located at the panel. The hub securely transmits circuit breaker data to the homeowners' router and the Leviton cloud. The internet connectivity set up is simple, automatically discovering and sensing each of the smart, connected circuit breakers through the My Leviton App.
Using the company's My Leviton App, users can:
Monitor electricity usage per branch circuit or appliance,
View usage trends and estimate their electricity bill,
Setup alerts to be notified when a circuit breaker has tripped and why, or if an appliance has been on or off for a user-defined amount of time,
Be assured the load center's smart circuit breakers are receiving the latest firmware updates,
Remotely turn off a branch circuit breaker to shed loads.
All this data will be shared in real time to the homeowner's smart device, giving them even more control over their energy consumption, alerting them of trips and easing the diagnostic process for contractors.