Lenbrook's BluOS: The Making of a Wireless Audio Platform
After years trying to work with third-party wireless-audio technologies, Lenbrook developed BluOS in-house to provide high-resolution audio worthy of its NAD and PSB brands.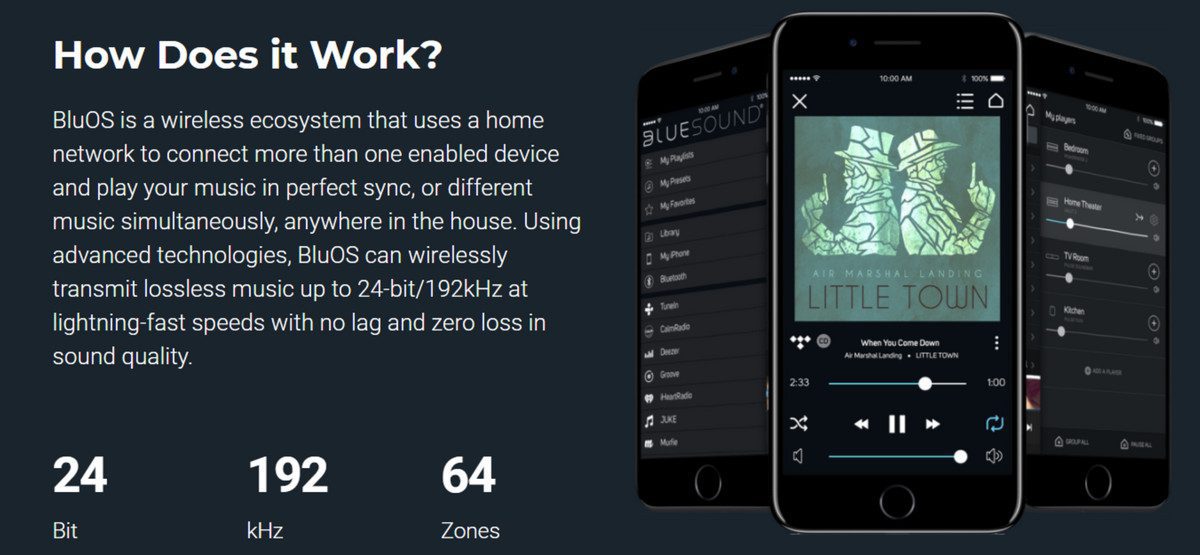 When Lenbrook surveyed the market for a stable wireless audio platform a few years ago, the Canadian A/V manufacturer couldn't find one that was good enough for its high-performance needs. That's why the parent company of NAD, PSB and the newer Bluesound digital audio brand developed its own technology called BluOS.
BluOS is more than just a home-grown wireless technology that supports high-resolution audio. It is a complete "audio operating system" implemented in a wide range of audio products.
Owning the underlying technology gives Lenbrook the ability to improve the streaming-audio platform on a timely basis, thereby improving the entire ecosystem of devices that employ the OS.
The latest improvement, the 2.14cv software update, came in November 2017, bringing support for Dolby Digital surround sound, Deezer lossless music streaming, optical input auto-sensing, new Tidal features and more.
"We want BluOS to continue to serve as a destination for music lovers, increasingly becoming the center of their music experience in the home," says BluOS product manager Andrew Haines. "The possibilities for BluOS to bring the music experience to life and make it more engaging for users are quite literally only limited by imagination."
Lenbrook BluOS Evolution Roots Back to 2004
It's been a long and twisted road for BluOS.
"It goes back to when we showed a prototype at CEDIA 2004 called NAD NetCap," says Greg Stidsen, Lenbrook director of technology and product planning. "This was a full-size audio component that could access audio and video on a local area network (LAN). Before we could get it into production, the processor went end of life, and the company writing the 'middleware' that ran on the chip went out of business before it could port its software onto a new platform."
"Designing the OS and application software from scratch provided Lenbrook with maximum flexibility for feature request."
— Torben Sonderskov, Lenbrook
This scenario would repeat itself many times over the next several years as Lenbrook kept searching for a stable solution.
"In that era, the model for network distribution commonly used was the 'server client model' where all the intelligence was on the server and the client could be a fairly simple DSP with some embedded software," Stidsen recalls. "One of the many problems with that way of implementing network audio was the compatibility between different systems, which eventually led to the adoption of UPnP and DLNA, which some companies still use."
Stidsen notes Lenbrook has always looked to create scalable technology platforms to accommodate evolving technology, such as its Modular Design Construction (MDC) platform. MDC, he says, enables an easy way for dealers and consumers to keep pace with technology changes in the market through a swappable card-cage design that resembles the construction of a computer.
In the case of its BluOS platform, Stidsen says the development of the operating system was a reaction to what it viewed as a lack of quality software on the market, as well as a means of controlling the company's own destiny.
BluOS Software Development Challenge
As the consumer audio landscape has changed, one of the biggest hurdles manufacturers have had to overcome is the increasing emphasis on software.
For years traditional consumer audio companies simply tweaked tried-and-true amplifier designs, speaker designs, CDs, vinyl playback and other technologies. However, over the past decade, the shift towards downloadable content and streaming media has made software more important than ever. This shift towards software has put hardware companies like speaker and amp manufacturers in the awkward position of having to learn software development.
Lenbrook and its brands PSB, NAD and Bluesound took on the challenge of software development in order to meet all of its next-generation product goals.
Torben Sonderskov, development team manager of advanced technologies, says the scale and complexity of developing a robust program was definitely a challenge for a traditional A/V company like Lenbrook. Sonderskov emphasizes, however, that Lenbrook did have the resources to meet the challenge.
"The first version of BluOS definitely delivered on the sonic promise, but the app needed more refinement."
— Greg Stidsen, Lenbrook
"Lenbrook had several engineers with the talent and potential to develop a stable, embedded operating system that ran on custom hardware specifically for high-performance audio. Finding additional software talent for music libraries, apps and music services was another challenge," Sonderskov recalls. "Fortunately, several trips abroad helped identify individuals who were both capable and eager to develop high-level app and embedded software for a music-first product."
Another aspect of the task Lenbrook took on was making sure the operating system could stand up to the wide variety of users that could potentially be interacting with the product. Sonderskov says the Lenbrook development team was aware that everyone from music-loving audiophiles to Millennials could be using the product line. Knowing the diversity of users could be great, he says the company had to make some difficult choices in order to best accommodate everyone's needs.
"Design of playlist controls was one example where a user interface for casual music lovers can clash with an audiophile," says Sonderskov. "Also, gigabit Ethernet is a vital to the customer who is an IT expert with a giant music collection. None of these were easy, but it was very satisfying for the team to deliver on these goals."
After examining the other wireless whole-house audio solutions on the market, as well as commercial operating systems running everything from gas pumps to automatic bank teller machines (ATMs), Sonderskov says ultimately everyone involved with the project realized that developing a proprietary Linux-based solution was the best way for Lenbrook to approach the consumer market.
"Simply designing the OS and application software from scratch provided Lenbrook with maximum flexibility for feature request," comments Sonderskov. "This is in contrast with most streaming products that are essentially derived from ready-made software and hardware. That is appropriate in some circumstances, but not when it comes to leading with key music technology advances such as MQA. Also, it's relatively easy to adapt BluOS to more powerful computing chips as it becomes economical in the future."
Lenbrook's BluOS Embraces the Future
Today, several years after the initial launch of BluOS, Stidsen concedes the platform came into the market as a solid product, but it needed refinement.
"The first version of BluOS definitely delivered on the sonic promise, but the app needed more refinement to be world class, and the list of 'must haves' just kept growing as customer interest moved away from the local library and into music streaming services," remembers Stidsen. "We also got a lot of dealer requests for integration with leading home automation products like Control4 and Crestron. We have largely fulfilled the wish list with over 14 music services integrated and deep integration with five major home automation companies in addition to our own app running on iOS, Android, plus Apple and Windows desktop platforms."
Stidsen also recalls that dealers wanted integration options that allow for third-party system control. One recent change to BluOS that helps the operating system keep pace with market changes is an updated database that better handles indexing and metadata to facilitate large music collection management— as large as 250,000 songs. BluOS also now offers a clock for wake and sleep functions, and Dolby Surround to allow the company's Bluesound Pulse Soundbar to wirelessly connect with Bluesound's Pulse Flex for use as rear-surround speakers.
As the system continues to evolve, Stidsen says Lenbrook will continue to dedicate more resources to its ever-changing digital audio platform to ensure it remains a viable market solution.
Over time Stidsen notes software will continue to be a point of emphasis, rivaling hardware in terms of priority. Through its software testing department, along with app designers and user interface experts, Lenbrook plans to continue hiring specialized software engineers to address specific elements, such as apps and embedded software, to make sure the products are easy to use and offer the functions homeowners want.
"Hardware is still very important, but we now have amazing software tools to make hardware development more efficient than it has ever been," adds Stidsen.