The process of kidney dialysis is long and arduous. Patients must have their blood cleaned three times per week for four hours each visit.
"It's a long time to spend sitting in a chair while you're getting your blood cleaned," says Paul Garney, vice president of compliance and corporate development at Dialyspa, operators of seven clinics throughout Texas. "Most dialysis clinics are very clinical feeling… very cold. Ours are meant to feel more like a spa, hence the name Dialyspa."
The company, which operates seven clinics throughout Texas, wanted to improve the dialysis experience by making their locations "more like a hotel lobby. We don't want anybody to feel like they're in a clinical environment," comments Garney. "We want them to enjoy the experience and have a good feeling when they're in the building."
Houston-area integrator Digital Delight was up to the challenge, adapting a Logitech Harmony Hub that would normally be used in a residential environment into a unique, affordable solution for the rugged commercial use of kidney dialysis centers. The integration company outfitted seven separate Dialyspa centers — with 18 dialysis stations in each location — with individual entertainment systems for patients who are undergoing dialysis treatments.
The affordable control solution cost $28,000 per clinic and has helped Dialyspa reduce its missed-appointment rate to less than 0.5 percent, well below industry averages. At each stand-alone dialysis station, patients use iPads equipped with the Logitech Harmony control app connected to a Harmony Hub to simultaneously surf the web or watch TV.
Creating an Entertainment Experience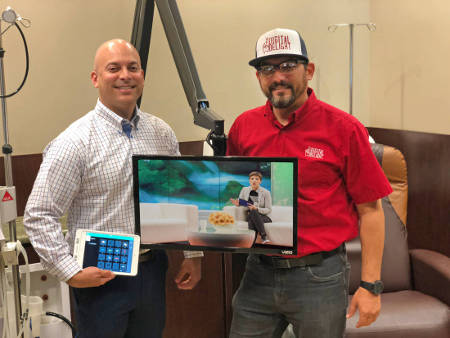 "Most dialysis clinics are very clinical feeling … very cold."
— Paul Garney, Dialyspa (left) with Digital Delight's JJ Canon
Jeff Kalina, president of Dialyspa, says, "Being on dialysis limits your ability as a patient to kind of live life like everyone else, because 20 hours of your week is dedicated to getting to and from, and getting treated for dialysis. We are a very patient-centered organization looking for personalized experience."
The personal experience he refers to is an individual television, headphones, and iPad to control the TV, check email, and surf the net at every patient station.
"That way it keeps it very quiet. Everybody can watch what they want," says Garney. "They watch Netflix, scan Facebook, or watch YouTube. The idea is to make that four hours as enjoyable as possible."
Prior to working with Digital Delight, Dialyspa had a computer-based solution. Each station had a touchscreen computer being driven by a tower PC located in a cabinet behind each station.
"We had a lot of problems with it," says Garney. "The technology was no longer being supported; it was constantly freezing and going down. It was not a good solution for us. "
Each touchscreen had to be constantly sterilized and wiped down with bleach by the staff. Also, the set-top box had to be placed behind the wall, which created a communication problem for the patients trying to change the channels.
Sometimes, the situation often forced the medical technicians to be IT electronic engineers… going behind the wall to get to the set-top box, opening the cabinet to access the PC, changing inputs on the TV, manipulating the touchscreens or even rebooting the PCs. There was also a noticeable latency between the touchscreen and the TV.
"We had been looking for a solution for a long time on how we could provide not only a television experience, but access to the Internet and the outside world," says Kalina.
"We have a lot of young patients that like to game or have TV shows they want to be able to keep up with. Separating the Internet from the TV seemed to be the only reasonable way to engineer the project. Then, we came upon Digital Delight. The company assessed our situation, took time to understand our goal, and in relatively short order came back with a proposal that met our requests almost to the letter."
Logitech Harmony as Central Control
Using a "silo'ed" approach in which each station is stand-alone, Digital Delight installed the Logitech Harmony app on each iPad, which connects to a Harmony Hub. Vizio smart TVs are held by articulating mounts at each station. The iPads control both the smart TV and the satellite STB directly. The touchpanels are docked after every session on Launchport Magnetic Wall Docking Stations, which also charge the units overnight.
---
---
Each Harmony Hub and DirecTV STB sits in a cabinet, which was repurposed from the previous system, located behind the chair. There is no signal bleed between the stations, which are side by side, because Digital Delight used Logitech Precision IRs to extend the signals between the Harmony Hub and the individual DirecTV set-top box.
One other attractive part of Digital Delight's proposal was the cost… just $28,000 per clinic. The company uses transparent pricing, showing the MSRP for every unit in a line-item proposal. The labor team was five technicians.
Deployment Required Night Work
Digital Delight tested out the system by installing it in four stations in one of Dialyspa's clinic to start. Those demo stations allowed Dialspa to try it out for a few days.
"The patients loved it," says Garney, "So we rolled it out to our other clinics and replaced our old system everywhere."
Patients are able to simultaneously surf the Internet on the iPad while also watching TV… something they were unable to do with the previous system. Each station also has a headphone jack so it's very independent and private.
Patients can use the Harmony app to watch TV, check email, play chess, solitaire or poker, or toggle back and forth. All the interfaces are the same at every station. Each clinic took about five days to install, primarily because the clinic had to remain operational during the installation.
"We didn't want to shut down the entire property," says JJ Canon, president of Digital Delight. "It took five days to do the entire project, because we had to make time for Dialyspa to shut down certain sections of the facility for us to come in. It would have taken probably a total of two and half to three days if we could have shut down the property."
The company's technicians also stepped up to the task.
"Our missed appointments are less than one-half of 1 percent, compared to 8 percent for the rest of the nation."
— Paul Garney, Dialyspa
"We did work some nights just depending on the location," says Peter Friesen, general manager at Digital Delight. "We were able to come in after hours, completing about three to four stations per day."
Since the facilities are medical clinics, everything has to be clean.
"You can't be drilling a bunch of holes, popping tiles up in the ceiling, and having dust flakes fly all over the place," says Canon.
"Using this Logitech solution as our platform eliminated almost all potential disruption. We had to drill some 3-inch holes in the cabinet so we could recess the recharging stations but we were able to keep the dust level very low with a vacuum. We didn't have to pop ceiling tiles to pull any wire because the coax for the DirecTV boxes were already in place."
The most challenging part of the installation was mounting the Vizio TVs. The installation required all new mounting brackets, pulling Cat 5 or IR extenders, getting power to the TV and connecting to the Hub. All the products had to be able to handle being sterilized routinely.
Many integrators are hesitant to install residential equipment in commercial environments. The products will tend to be used more often, requiring them to be durable.
To satisfy any reticence, Digital Delight stopped to test the system fully after installing every five stations.
"It was comforting to know this solution is deployable and reliable," says Canon.
Since installation, the system has not needed much support, but if it does, Digital Delight can push through firmware updates remotely to all the Harmony Hubs at each clinic using the Logitech Pro Dealer Portal.
Results: 0.5% Missed Appointments
The results have been amazing. According to Garney, the best way to determine the effectiveness of the new entertainment features is by looking at Dialyspa's patient return rates, which he says have never been higher.
"Sometimes patients will tend to skip appointments," says Garney. "They are supposed to come three times a week. Maybe they're not feeling up to it and they would rather skip the appointment and only come twice a week. Our missed appointments are less than one-half of 1 percent, compared to 8 percent for the rest of the nation.
"This system really helps them pass the time. It helps them to actually come to their treatment and not miss. The patients love it. This has really been flawless; we haven't had any issues at all."
If you enjoyed this article and want to receive more valuable industry content like this, click here to sign up for our digital newsletters!