So… it's not always about price after all. According to Keith Esterly, chief learning architect for the Home Technology Specialists of America (HTSA) buying group, an amazing 85% of customers will gladly pay more for a better experience from people they are working with. Conversely, 82% will leave due to a poor customer experience.
Those are just two of the important pieces of information shared by Esterly at the three-day Relationship Science Masterclass, a popular new offering from the organization. Esterly taught the sales instruction course at the end of 2019 in Philadelphia to more than a dozen members of the HTSA.
"Relationship Science is all about the human side of the business and we'll talk about that. But let's talk some numbers – 85 is the percentage of customers and clients out there who say they would gladly pay more for a better experience from the people they are working with," Esterly told the group, referring to a survey on customer loyalty.
"That's kind of interesting. We think, 'Everybody is about price… everybody wants to work me down to nothing.' And it turns out that 85% of people are saying, 'The heck with that, just don't suck… I'll pay more.' So think about that."
Esterly went on to provide some more pertinent numbers, including the fact that 82% of clients will leave over a bad experience. So quickly the students begin to learn that their preconceived notions about the mentality of prospective clients may be skewed and that there are some very good reasons to study and improve the client experience as part of the sales process.

Total Tech Summit is where the integration industry elite gather. It's your chance to build rock solid industry connections to grow your firm and advance your career. We invite you to apply today for a free trip to join us in Orlando October 26-28, 2022.
Apply now!
HTSA executive director Jon Robbins started the class by thanking everyone for attending this event, and then suggested that – despite what attendees may think they know about sales – he recommended that they keep an open mind and pay close attention to this session.
"There's going to be a lot of mind-bending going on," promised Robbins. "We ask you to take notes, because there's going to be 80,000 concepts presented over the next couple of days – all we ask is that if you can take a few things back with you, it will offer huge advantages for you that nobody else in the industry offers. So with that, buckle up your seat belts and get ready for a wild couple of days."
Pre-Event Assignments Set the Stage with Core Concepts
"I feel that I owe it to you to try to make this worth your while," says Esterly.
Several weeks prior to this event, Esterly had sent all participants a set of pre-event assignments. First, the students were asked to audition a set of recordings by Dr. Robert Cialdini presenting his Six Principles of Ethical Influence. The recordings were broken down into a total of seven segments that ranged in length from 6½-to-23 minutes each.
Second, the students were asked to complete a Solution Selling Preparation worksheet. In this assignment, each student is asked to imagine that they run a top showroom in a business segment tied to one of their favorite personal hobbies or interests. The concept is to imagine all those things you would need to do to create an enjoyable experience for your client when they visit your showroom.
This preparatory work, Esterly told the group, was designed to help set the stage for many of the core concepts of Relationship Science that will be discussed over the next three days.
Esterly noted, "I've spent basically 25 years thinking only about the people part of the sales process"…as opposed to the technical part or specifying part of the typical custom integration sales process, for which they've all been previously trained.
"My part is the human piece…that's what we're here to talk about," Esterly emphasized.
Looking at the Experience You Provide Clients from a Whole New Perspective
HTSA hopes to move members to a common platform with everyone embracing the same or similar sales processes based on this Relationship Science Masterclass. Part of that process is to get everyone to agree on just what the goal of sales is in the first place. Is it to sell more stuff? Is it to sell larger systems? Is it to create easier sales? Perhaps, Esterly asked the students with a grin, you'd like to develop Jedi-style powers of influence?
"The group hopes to adopt one approach – that, hopefully, when you look at it you'll be, 'Oh my gosh…this covers everything,'" Esterly told the class. "But more importantly, we want to focus on one goal – and that goal is to become clients' expert friend in the business and establish a long-term relationship with them…whether they buy from us or not."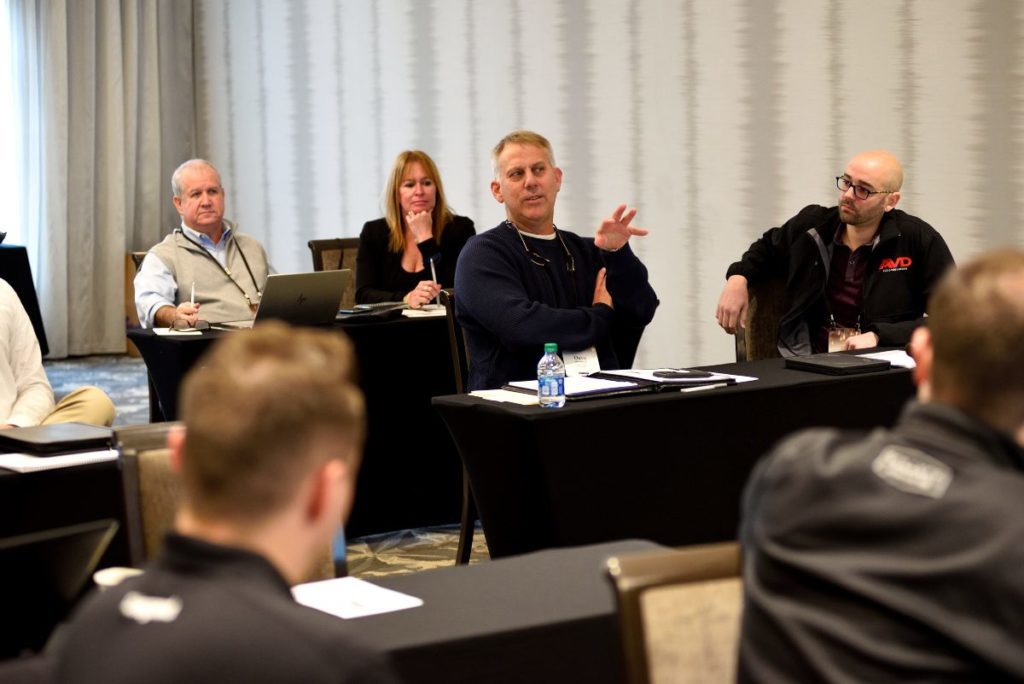 Step one of this process is to focus on just what the client (or prospective client) experiences with your sales process. It is common for integrators to look at the sales interaction from their own perspective…not the client's. By the time the client walks through your door, Esterly told the students, you've done a lot of hard work – built a beautiful showroom or experience center, stocked it full of millions of dollars of fully functional and demonstrable systems, hired and trained a full crew of knowledgeable personnel… in short, you've done a lot of things to get prepared for clients.
"You might almost feel like the customer owes you something," Esterly said, adding that from the customer's perspective, the opposite is the case. "They've discovered your service, scheduled an appointment, left the comfort of their home, driven through traffic across town – potentially putting their lives in jeopardy – all to give you some of their valuable time. So just who owes whom?"
It can be an intimidating thing for clients to approach you – the tech expert. In order to de-pressurize the interaction, Esterly tells the students that they should avoid creating any appearance of desperation or urgency in the discussion.
"Give your clients exit ramps," which are phrases that help them feel more in control of the interaction – even to terminate it, if they should so desire. When you give them exit ramps, they feel more comfortable, and are more likely to stay in the discussion, Esterly suggested.
The goal, Esterly suggests, should be to make your client's experience so memorable that they feel compelled to tell everybody. One of the best ways to do that is to exceed their expectations…and exceed it in a dramatic, impactful, memorable way. Despite what others may have taught you: "Don't UNDER-promise to over-deliver…OVER-promise and still over-deliver," Esterly emphasized.
It's all about the Three Es – exceed expectations…with a seamless execution…providing an unprecedented experience, Esterly suggested.
Applying the Principles of Ethical Influence
With this foundation in mind, the program then turned to the six principles of ethical influence. This segment of the program was based largely on the research of Dr. Robert Cialdini, a highly credentialed university professor who has conducted several studies and deeply researched the science of human nature and ethical persuasion.
Cialdini is the Regents' Professor Emeritus of Psychology and Marketing at Arizona State University. He also is a visiting professor of marketing, business and psychology at Stanford University, as well as at the University of California at Santa Cruz.
Cialdini has done considerable research on the factors that influence people to say "yes" to the requests of others. The research conducted by Cialdini and others have spanned many decades and he says, "There can be no doubt that there's a science to how we are persuaded, and a lot of the science is surprising." Cialdini and his team have identified six key principles of persuasion.
These six principles are:
Reciprocity
Scarcity
Authority
Consistency
Liking
Consensus
Esterly goes into deep detail on each of these principles of influence – what they are, how they operate, and in which circumstance they are best applied. There is a tremendous amount of material here, but as he leads the class through each of them step-by-step, comprehension builds and the concepts begin to feel more intuitive.
"This is NOT about manipulation. This is NOT about getting somebody to do something against their will," Esterly said, challenging the class to open their minds. "We are talking about the Art of the 'Yes.' We are saying that we need to use the principles of ethical influence to set the stage for win/win, long-term success. This WILL change your life."
Going Hormonal – Keeping Clients in the 'Green'
Esterly asked students to recognize the fact that what they present during client meetings, and how they present it, can have a dramatic effect on their clients – for the better, or for the worse. The goal is to keep the discussion stress free for the client. He walked over to the flip chart and near the top of the page he wrote the word "Oxytocin" with a green marker. Underneath this, he took a red marker and wrote the word "Cortisol."
Oxytocin, he explained, is the hormone that is emitted when a human being feels good – making them want to stick around and stay engaged with us. On the other hand, Cortisol is the hormone that occurs when someone is stressed – creating more of a fight-or-flight reaction.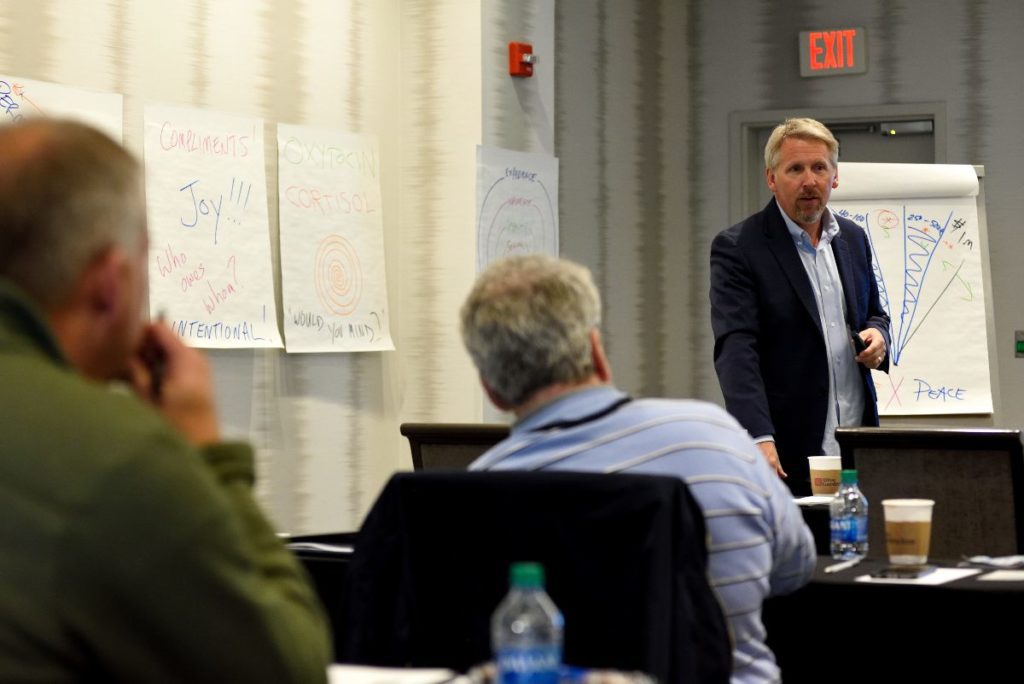 "You want to keep your clients in the green (Oxytocin) throughout your interactions with them. If they feel stressed or pressured, they'll dip into the red (Cortisol) – and when that happens, you could lose them."
In many cases, salespeople tend to structure their presentations in a way that keeps themselves in the green, falsely thinking our clients are there with us. We're talking too much about technology – our green (and clients' red), and not enough about the benefits or experiences they provide – their green (our red). Understand that our green zone is often their red zone, Esterly explained to the students. You want to plan your presentation such that it keeps your clients comfortably in their green zone.
An Under-Appreciated Opportunity: Embracing the Skunk by Cultivating Complaints
HTSA wants member salespeople to look to any client or potential client with the goal of creating a long term relationship. Many understand that their best prospects for new business are people that their companies have done business with in the past. But many times, integrators can drop the ball on after-sale support issues.
Esterly asked the group, "What happens when a system problem emerges some months down the road and the client calls the main telephone number of your company?"
While everyone professed to having a process to handle that situation, some admitted that this is one area where balls can get dropped. Esterly held up a stuffed skunk and told the group, "Sometimes employees – especially sales people – look at customer problems or complaints kind of like a skunk – it stinks." Yet, HTSA's chief learning architect said such calls are golden opportunities to become a real hero to that client and to make the relationship even stronger.
"If you want to drive customer loyalty, own the problems…and own them until they are solved – whether it was your deal or not," Esterly, still holding the skunk, told the group. "In fact, cultivate complaints because they are a great opportunity to do what everyone else avoids doing – solving their problem quickly, efficiently, and with minimal bother to the client."
He then passed the stuffed skunk around the room for the students to hold while they told the group how they would convince colleagues at their companies to 'embrace the skunk' by enthusiastically cultivating complaints.
The Building Blocks to a More Positive Sales Process – Let the Games Begin
At this point, the course turned to the topic of defining the steps or building blocks to a sales process more likely to have a positive outcome. Esterly showed a graphic presenting the steps of the sales process – displayed on the screen in a random pattern – and chatted a little about the definition of each step…but did not reveal a specific sequence to these steps.
Then, he broke the overall group of students into two teams. Each team was handed a set of brightly colored, individual plastic blocks that had the name of one step of the process on each individual block. Esterly then told each team to work together to assemble the blocks in a manner such that they built a tower that represented the total sales presentation in steps progressing from bottom to top. The order of those steps was to represent what each team felt was the best order or progression
"It'll be a race to see which team finishes first," Esterly said with a slight smile.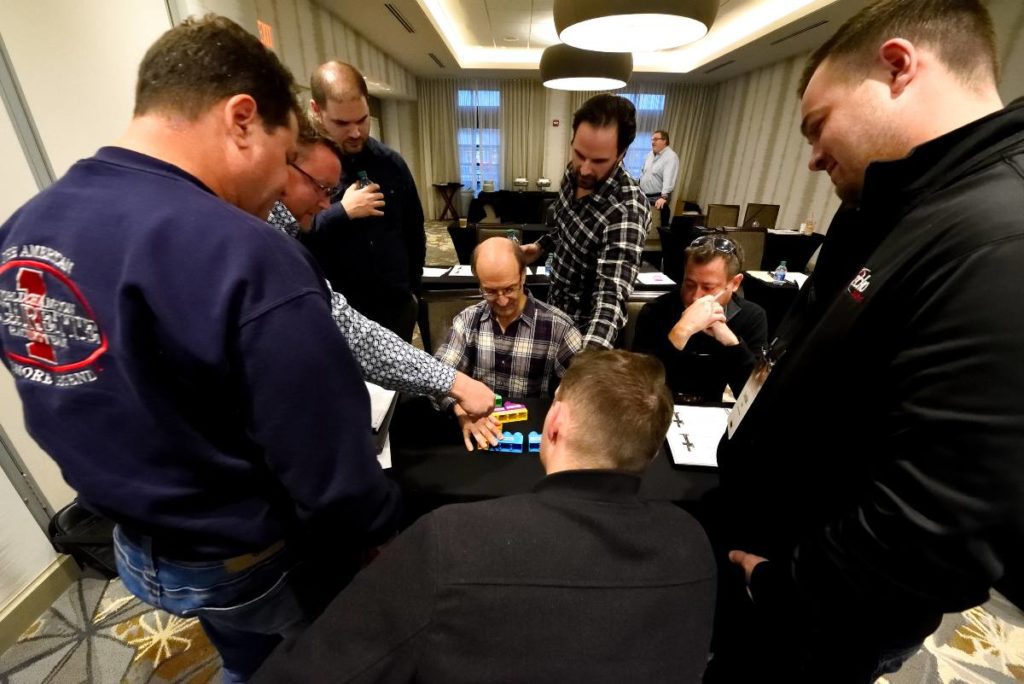 With that, the game began. What happened next was interesting – the room came alive as each team began debating – sometimes loudly – the sequence of the blocks/steps to create the perfect client presentation. It was not as obvious as it might have previously seemed and each group kept assembling and disassembling to try out different combinations of blocks. Individual members of each team debated which step should go where – and there was a lot of discussion and a lot of back-and-forth to get to their final tower.
Esterly had anticipated this and after nearly a half-hour or so, the teams had finished. What was interesting was each tower was different…and the whole class turned to Esterly to see who got it right. Each team was asked to explain the logic behind their construct and they both had a reasonable explanation for the approach they took.
In fact, it turns out that they were both right – which was the point that Esterly sought to make.
"There isn't only one way to present a project to a client," Esterly announced. "There are too many variables to the process, including the type of client you are dealing with. So the key is to know the steps and the basic framework of the process, and adapt to the client as you go through it."
The All-Important Proposal Presentation – How to Present the Budget
The first part of Day Three was largely a review of the key points from the first two days. After touching upon all of the key points, Esterly took questions and comments from the group all the way up until the lunch break.
After a lunch break, the final step in the program was a group interaction on the all-important budget discussion with the client. Here, Esterly had several suggestions for the class. Perhaps most importantly, he suggested that the students should be careful to fully understand the needs of the clients and devise what he called a "Plan A" solution.
The Plan A solution is a proposal that represents the fullest implementation of a system design that best satisfies all of the needs and desires expressed by the client, along with all of the necessary ancillary gear that your experience tells you is necessary to maximize the client's enjoyment of the system.
By going relatively big in the Plan A presentation, you create space for negotiation – such that even after negotiation is finished you will likely end up with a more substantial plan, than if you had simply focused on an initial lower budget proposal.
The group spent a lot of time role-playing issues surrounding budget discussion scenarios with Esterly helping guide the students to come up with their own solutions that made the most sense to them. Esterly reminded the group that by this point, they will have established a solid relationship with the client, previously shown them alternatives, considered sub-steps (such as adding or deleting a bonus room)…and the close is the natural progression of this process.
Generally, any adjustments to the proposal are minor and easily agreed upon. Remember, Esterly told the students, this is not the end of the relationship – thanks to a full implementation of the principles of Relationship Science…it is just the beginning.
---
Ted Green is the president of The Stratecon Group, a marketing services company focused on working with small-to-medium-sized technology companies.