Brett Ringeisen and his team at The Audiohouse, Vero Beach, Fla., want clients to appreciate a good home theater, but not by plopping down on a seat and watching movie clips. They want clients to enjoy the beauty of the space instead.
The 2,000-square-foot Audiohouse showroom has all of the standard elements — big displays, finely tuned speakers, top-end components, and automated lighting — but what sets the place apart is its ultra-cool cosmetics.
The bright, airy space incorporates punches of silver and red, along with mid century modern-style furniture. The electronics echo the showroom's clean, modern aesthetic.
"We picked beautiful things, like Lutron shades and McIntosh components," says Bunny McDonough, The Audiohouse's resident interior designer.
"Our specifiers own a little slice of our showroom and clients enjoy reminiscing about the music."
— Brett Ringeisen
The Audiohouse
on the 'Record Wall'
"We made sure that there would be plenty of breathing room so that clients could relax and digest the sophisticated equipment," McDonough adds. "It's a much different vibe than most showrooms we've seen where it's so dark it makes you feel like it's time to suck your thumb and fall asleep."
While the showroom design at The Audiohouse is unique, Ringeisen says it resonates with a wide variety of customers, from the company's local clientele in Vero Beach, as well as with those who have homes in or have visited Europe.
"One of our clients recently told us that our showroom reminded him of the modern, contemporary design style of businesses in Amsterdam," Ringeisen says.
Because the showroom has plenty of space to mingle, it has become a destination for many area businesses' after-hours cocktail events. "We are holding an event in January with the area's six Rotary Clubs, and regularly invite clients, architects and interior designers to special showroom functions," Ringeisen says.
Soon, top musicians from across the country will flock to the space, thanks to The Audiohouse's partnership with the Mike Block String Camp. Held in Vero Beach, the camp offers education for string players of all ages and brings in top talent to help teach courses and hold concerts.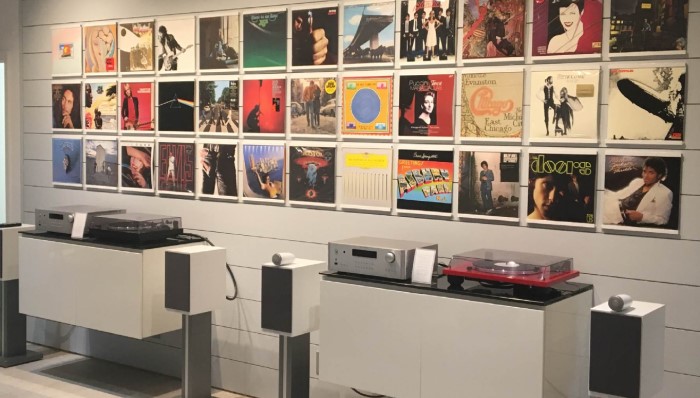 The Audiohouse is a major sponsor of these concerts, and will host an event in its showroom with some of the musicians.
The integration firm gets the community involved in its showroom other ways, too.
"When we last remodeled the showroom, I called builders, architects, realtors and interior designers with whom we have worked in the past and asked them to name their favorite album," Ringeisen says. "We found these albums and hung the covers on a back wall of the showroom."
To date, there are about 30 covers on the "record wall," which has become a favorite part of the space. "Our specifiers own a little slice of our showroom and clients enjoy reminiscing about the music," according to Ringeisen
Of course, a slick, sophisticated design, cocktails and album covers can only go so far to convert curious visitors into paying customers. It takes a suite of top-notch equipment operating at full capacity — and with zero glitches.
"We start with great products — Lutron HomeWorks lighting and shading, Savant home automation, and McIntosh and B&W components," says Ringeisen. If and when a product or system has run its course or the space simply needs a refresh, The Audiohouse immediately replaces it with something new. Although this latest iteration of the showroom is only about a year old, Ringeisen and McDonough are already formulating a plan for its next update, which will likely include a human-centric lighting display and automated landscape lighting.
Just as crucial to The Audiohouse showroom experience is ensuring that each and every piece of gear is in good working order.
"Then we take the extra step and test these systems daily to make sure they are operating optimally. Every dealer has experienced a glitch when demonstrating their systems, and it is a deal-killer when you talk about how simple something is to use and nothing happens," Ringeisen remarks.
"My dad always told me that if you take care of the little things, the big things will take care of themselves. We try to live by that motto every day."