We all remember the classic Maxell cassette tape TV commercial from the 1970s where the guy sitting in the low chair gets his hair blown back listening to the clarity of a cassette tape. What you might not know is the speakers used in the commercial were JBL L100 speakers, the best-selling speaker ever produced by the company.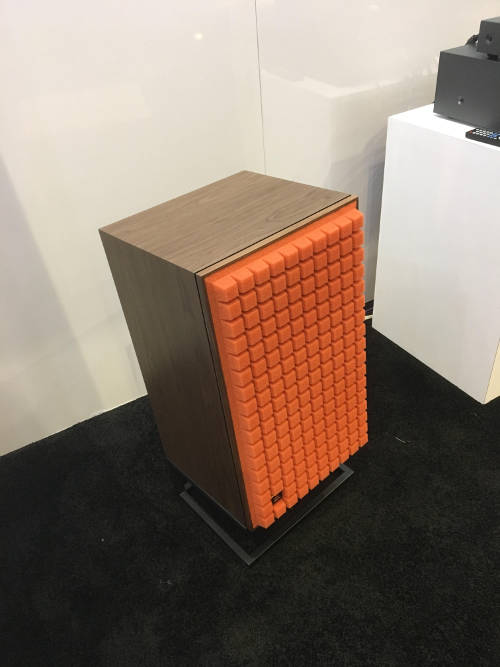 At CES 2018, Harman International, a wholly-owned subsidiary of Samsung Electronics Co., Ltd., "re-introduced" the JBL L100 Classic, a modern take on the JBL L100 loudspeaker that first debuted in 1970. The new L100 Classic loudspeaker system features a 1970s retro design, including an iconic Quadrex foam grille in a choice of three colors — black, orange, or blue — all with a black and bronze JBL logo. The enclosures are finished in a genuine, satin walnut wood veneer with black front and rear panels.
"The original L100 speakers were not only JBL's all-time, best-selling loudspeakers, but, from all indications, they were the best-selling loudspeaker system of the decade," says Jim Garrett, senior director, Product Strategy and Planning, Luxury Audio, Harman. "The original L100 was introduced at the 1970 CES in Chicago, and here we are almost 50 years later with retro products and designs in high fashion. There is still a huge appreciation and desire for these great looking, great sounding vintage JBL loudspeaker systems. We think consumers are going to love this loudspeaker."
At CES, Garrett demo'ed the speakers using a classic Molly Hatchet tune at Harman's Hard Rock Hotel showcase. Inviting guests to sit in the same low-back chair used in the legendary Maxell commercial, Garrett quipped, "If that doesn't scream 1970s, I don't know what does. This is a 1970s speaker that will do everything at the high-end in 2018. Retro is a hot trend."
1970s Design; 2018 Technology
The original L100 production run included the L100, along with the subsequent L100A and L100 Century evolutions that quickly followed and ran through the end of production in 1978. That fundamental compact 12-inch, 3-way design is maintained in the L100 Classic with improvements made to the transducers, enclosure tuning, and crossover network design. The L100 Classic is designed by Chris Hagen, the same acoustic system engineer that created the L100T3 in 1988.
The L100 Classic uses the newly developed JT025Ti1 1-inch (25mm) Titanium dome tweeter mated to a waveguide with an acoustic lens for optimal integration to the JM125PC 5-inch (125mm) cast-frame, pure-pulp cone midrange driver located directly below. The vertical HF and MF transducer arrangement is slightly offset to the right of the woofer below, with HF and MF attenuators located on the upper left of the front baffle. Low frequencies are delivered by the 1200FE 12-inch (300mm) cast-frame, white pure-pulp cone woofer operating in a bass-reflex enclosure system that is tuned via a single, front-firing port tube with flared exit. Connections are made via a pair of gold-plated binding post terminals located on the rear-panel.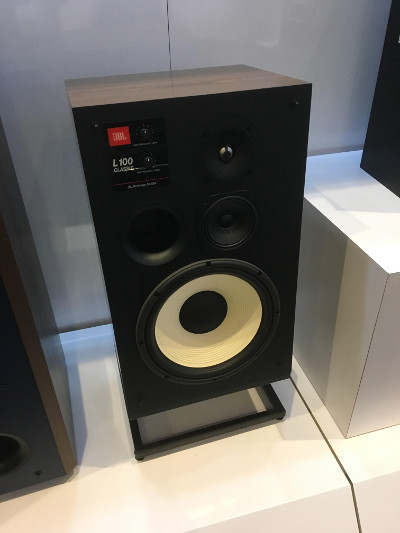 This passive bookshelf loudspeaker measures approximately 25.5 H x 15.5 W x 13.75 D inches and can be oriented vertically or horizontally. Optional black metal floor stands are available with included adjustable carpet spikes.
The L100 Classic will be available in Spring 2018 at an MSRP of $4,000 per pair, according to the company.
Revel Speakers; Levinson Turntable
Meanwhile, at the show in Las Vegas Harman also unveiled several new high-end automotive-grade finishes for the Revel brand's Ultima Salon2 loudspeakers. The Salon2 speakers are a floorstanding four-way system with three 8-inch woofers, a 6.5-inch mid-woofer, 4-inch midrange and 1-inch tweeter and they run $30,000/pair.
Additionally, Harman unveiled the first ever turntable from Mark Levinson, dubbed the 515. The $12,000 unit was paired in a demo at CES 2018 with the 585 integrated amp (now with a phono input). Listeners were regaled with a demo using Pink Floyd's "The Wall."