I think it's fair to say that our group won the roundtables on "employee engagement" at this week's spring meeting of ProSource, a leading home-technology buying group.
Table #3 had some of the most interesting HR-related strategies I've heard in a long time from any roundtable at any conference in the consumer-electronics and custom-installation business.
That's some stiff competition because the 20-odd tables at the ProSource session were packed with some of the brightest minds in the industry. And virtually every industry event over the past few years has included roundtable discussions on workplace challenges. I've participated in many (many!) of them.
It's tough out there to recruit, train and retain good people, especially during times of full employment. It's no wonder that "labor" tops the list of biggest challenges among home-technology installation firms in most surveys that address the industry.
Our table "won" the non-competition, I declared, because 1) dealers shared some really novel workplace initiatives and 2) their sometimes offbeat programs received widespread approval. I would be surprised if all five dealers at our table didn't emulate these ideas, with a good chunk of other ProSource members giving them a shot.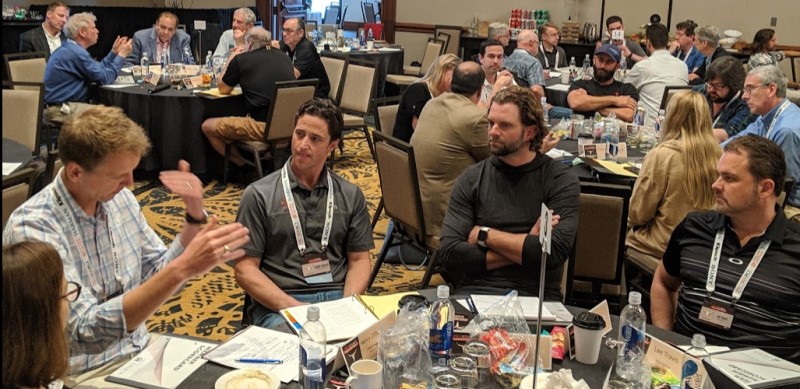 1. The 'Happiness Score'
Henry Clifford, founder and CEO of the Richmond, Va.-based integration firm Livewire, uses an employee-feedback service called TinyPulse. He pays $99 per month for the service, which reportedly helps business owners "measure how happy, frustrated, or burnt-out your employees are, and gain real time employee feedback to create a company culture you can be proud of."
It's not Clifford's first brush with employee surveys. In the past, though, "we'd send out these employee surveys because we heard we should," he says. "We didn't follow up."
TinyPulse, on the other hand, provides a methodical system for gauging employee sentiment, allowing company principals to respond quickly to potential negativity in the workplace.
"It took a year-and-a-half to get them to really open up."
— Henry Clifford, Livewire, on employee reluctance to be candid
Every week the service contacts each employee – Livewire has about 30 – with one quick survey question such as, "On a scale of 1 to 10, how happy are you at work?" or "What three words would you use to describe your work culture?" or "What's on your bucket list?"
TinyPulse says it has a scientific method of turning these little surveys into true measures of worker sentiment and managers' HR performance.
"We've started looking at the 'happiness' score," Clifford says.
The company takes the TinyPulse reports seriously – especially the happiness trends – and works hard to improve the metrics, according to Clifford. Even so, he concedes, "It's like nailing Jello to the wall getting that score to move."
Employee responses are anonymous, but Clifford warns that workers won't necessarily believe it: "It took a year-and-a-half to get them to really open up."
LiveWire goes one better with the TinyPulse reports, publishing its real-time happiness scores on the company website under the "About" tab.
The effort demonstrates to would-be employees that LiveWire cares about its workforce. At the same time, it sends a clear message to clients that LiveWire places a high value on worker happiness and company culture.
Happier workers, it would seem, makes for happier clients.
More Great HR Ideas
2. Spouse in the House
Robert Haecker, president and founder of TRIPhase Technologies in Carmel, Ind., takes employee feedback to a whole new level – doing something none of our group had ever heard of.
Yes, the company surveys employees a few times per year. But TRIPhase also surveys spouses (if applicable) once per year, asking them to comment on the employee's views of the company.
Unlike employees themselves, who may be reluctant to expose themselves as complainers, "the spouses don't hold back," Haecker says.
The surveys are not anonymous, but spouses don't have to participate even though most of them do.
The feedback "is really about improving overall happiness and work/life balance," Haecker explains.
Dealers in the group were incredulous at first when Haecker described the long-term initiative, but they seemed to warm up to the idea. When I asked if they would consider implementing the spousal surveys, virtually all of them nodded their heads.
3. Penalty Shots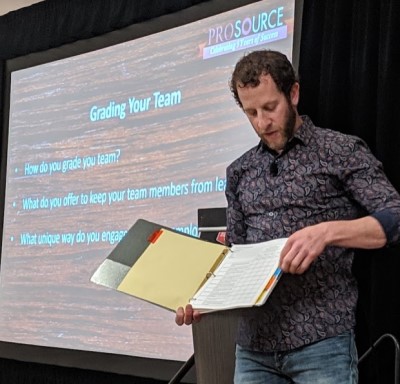 Many companies keep a "Wall of Fame" in the workplace to highlight standout employees and above-and-beyond deeds.
Admit One Home Systems in Edina, Minn., maintains such a board. Honorees are rewarded with drinks of their choice.
Unlike other firms, however, Admit One also keeps a "Wall of Shame." Such public shaming might sound Draconian, but company principal Lance Anderson swears it's all in good fun, imparting useful lessons in a lighthearted way.
No one gets shamed for egregious offenses or particularly embarrassing transgressions, and you won't see big headshots of the guilty parties. Instead, the oopsie is depicted on the wall – maybe a shattered camera that someone dropped from a ladder.
There are penalties for the crimes. Offenders are expected to treat their team to the drinks of their choice.
4. Hit 'Em in the Gut
Dallas-area integration firm Smart Systems offers Free Lunch Fridays for every employee every week. Workers in the office check off their menu selection from the week's restaurant of choice, and the meals are delivered by DoorDash.
For those in the field, "they can go where ever they want," charging lunch (up to $15) to a company credit card, says VP Marie Devlin.
"They love it!" she says, touting the significant returns on such a modest investment. "We tell customers about it, and they love it too."
Other dealers in our group embraced the simple idea, with one integrator appreciating that the weekly treat is a "concrete" expression of the company's appreciation, rather than a benefit like 401k matching, "which is more abstract."
If you enjoyed this article and want to receive more valuable industry content like this, click here to sign up for our digital newsletters!