EPV Screens New PolarMax Aerie Tension Screen Hides When Not in Use
EPV Screens' new PolarMax Aerie Tension Screen is ISF, GREENGUARD and UL certified, and the company's latest motorized screen product also mounts in the ceiling to hide from eyesight when not in use.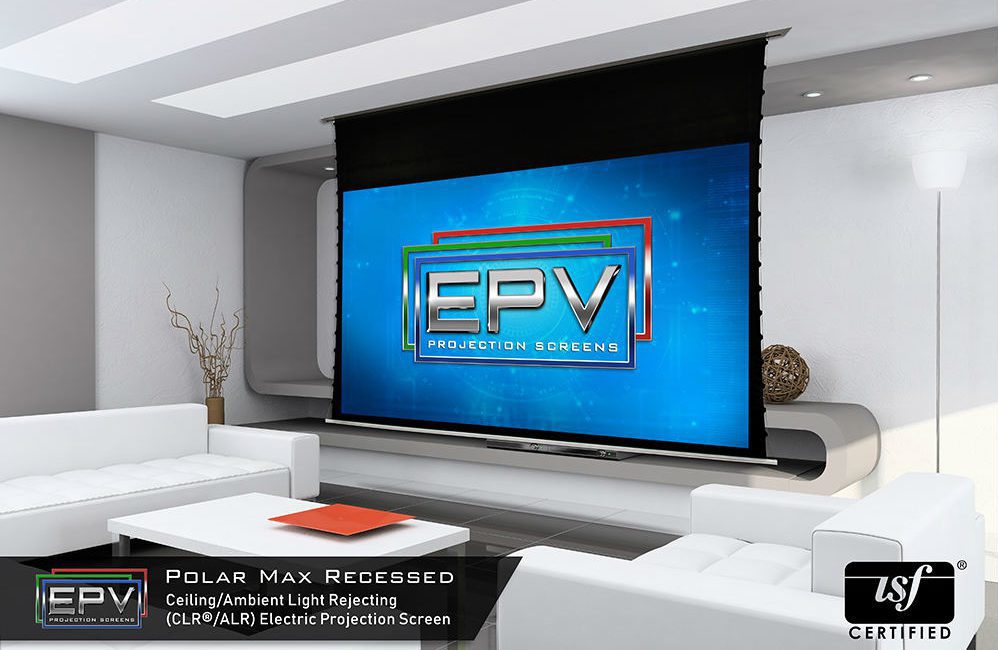 The new EPV Screens PolarMax Aerie Tension Screen is a modern projection screen solution that combines certified performance, environmentally friendly materials and home-friendly stealth ergonomics.
EPV Screens says that its latest screen product is a motorized in-ceiling screen that utilizes a special screen material that rejects the washout effects associated with reflected ceiling light and off-axis ambient light.
"The material's ambient light rejection and ISF [Imaging Science Foundation] performance is superb, but what is really impressive is the screen's ability to stand up to the effects of constantly rolling up and down," points out Dave Rodgers, marketing manager, EPV Screens.
"In-ceiling projection screens are the best solution for seamless integration. Press the button or turn on the projector, and that's when the show really starts before the movie does."
EPV Screens PolarMax Aerie Tension Screen is ISF, GREENGUARD and UL Certified
Not only is the new PolarMax Aerie Tension Screen ISF certified to meet a high level of performance standards, but the screen is also GREENGUARD/UL 2818 certified for safe indoor air-quality emissions.
Taking a look at the screen's specifications, EPV Screens states the product employs its PolarStar 1.3-gain material that features angular reflective ambient and ceiling light rejecting (ALR/CLR) qualities.
According to the Calif.-based manufacturer, the PolarStar screen material incorporates a multi-layer matrix construction with reflective and absorbent micro particles, and contrast-diffusion layers that eliminates up to 85% of ambient light.
The PolarMax Aerie Tension screen also utilizes a tab-tension system that helps the screen to maintain a flat screen surface.
EPV Screens also points out the PolarMax is compatible with 4K and 8K content, as well as HDR-encoded video.
Related: EPV Screens Launches $1,995 Acoustically Transparent, 4K Ready Screen
The PolarMax Aerie Tension Screen ships fully assembled and ready to install into a home's ceiling. Once installed, the screen retracts back into its ceiling chassis when not in use, and integrators can set the screen up for control with options such as its IR/RF remote and a 12-volt trigger.
The 16:9 (1.78:1) screen is available in a choice of sizes ranging from 103 inches to 133 inches, and EPV Screens back the product with a five-year limited warranty.
CEDIA Expo 2019 show attendees can see the PolarMax Aerie Tension Screen in person in booth #1733 this September in Denver, Colo.