There hasn't been a Danish conquest of the U.S. since the days of the Vikings, but DALI is about to change that.
With Lenbrook America now handling its U.S. distribution, DALI (Danish Audiophile Loudspeaker Industries) is bringing its highly engineered and hand-crafted loudspeakers to the U.S. market built on the back of its one-of-a-kind patented SMC technology. The result could be Valhalla for integrators looking to add a profitable high-performance audio brand to their portfolio.
Nestled in the serene northern plains of Denmark, DALI's mammoth factory is surrounded by windmills and farmland. But inside the walls of its 220,000-square-meter factory, the Danish company is using a combination of robotics and hands-on craftsmanship to its broad line of speakers.
Based in Nørager, just outside of Aarhus, the second-largest city in Denmark, the company was founded in 1983 by Peter Lyngdorf. DALI started as a private label speaker brand for HiFi Klubben, Denmark's largest audio retailer, which is also owned by Lyngdorf, who also owns Steinway Lyngdorf.
In total, Lyngdorf's Danish audio empire earns about €100 million, or $112 million. DALI alone employs 250 people worldwide, with about 100 in Denmark.
By the mid-1990s, DALI had developed an international strategy that included sales to the U.S. market, but it's not until the recent partnership with Lenbrook developed has the company started making noise in America.
According to Lars Worre, CEO of DALI, the company is growing at a rate of 10% per year, much higher than the general 1% to 3% growth rate for the specialty audio business.
Inside the Factory: Robots and Finish Work
Inside the factory is an impressive combination of robotics and hand work. The facility was built in 1986 and has had five expansions over the years, housing manufacturing, R&D, quality control, sales and marketing.
"It's great to have everything under one roof," comments Lars Worre, who has been CEO of DALI since 1991. "Our name itself ties us to Denmark," says Worre. "Our name itself is a mission statement… to be a Danish audiophile loudspeaker company. We only make loudspeakers. We don't want to lose our focus. As our name says, we are 'specialists.'"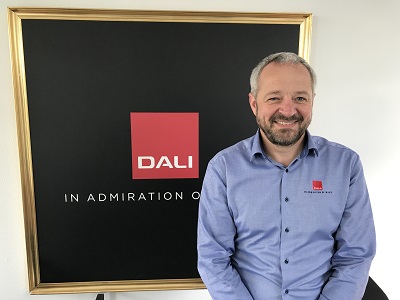 "Our name itself is a mission statement… to be a Danish audiophile loudspeaker company."
— Lars Worre, DALI
Eleven years ago, DALI built its own 5,500-square-meter factory in Ningbo, China, where 150 employees are run by Danish management. There the company makes its crossovers, grilles and its least expensive product line.
"Starting in the mid-1990s, the philosophy in the audio industry was that manufacturing was a bad business to be in. That is why so much of it went to China. Now, it is better to be a manufacturer. We are fortunate we did not outsource completely," says Worre.
In 2018, DALI built a total of 250,000 loudspeakers, most of which were made in the Ningbo factory.
In Denmark, the company constructed about 40,000 of its high-end speakers, which include the Opticon 6 ($2,199/pair) Callisto 6C ($5,750 for a turnkey system with the BluOS sound hub), Oberon One ($549/pair), and the top-of-the-line Epicon 8 ($19,999/pair) freestanding speakers.
In all, the company has more than 300 SKUs. Currently, about 10% of its production is targeted at the custom installation channel, with the effort being led by Thomas Knudsen, DALI sales manager for North America and parts of Europe, and Michael Pedersen, director of sales and marketing.
At CEDIA Expo 2019, DALI will showcase its new Katch One soundbar ($999) for the U.S. market, its new M Series architectural speaker line, and Callisto, which was the first non-Lenbrook speaker to feature the BluOS wireless audio platform.
"Industrial design is important to Danes," says Worre, referring to the stylized furniture and other products sourced from Denmark. "Our design philosophy is to make elegant and reliable products."
The company's mantra is "Tune the process, not the product." That means extreme process control… whether it be in a hand-made process or a robotic one.
"A company would not want to make drivers by hand. You need a machine for that so they can be made identically," says Worre.
Read Next: Hands On—$5,750 BluOS-based DALI CALLISTO System Redefines Wireless
Among the biggest impressions of the factory is its cleanliness. You would have no qualms eating a pickled herring off the floor (a Danish specialty).
The factory's array of robots perform tasks like applying glue to speaker cabinets using nitrogen versus oxygen, which breaks down more quickly. There are also three giant whirring CNC machines (a more than $1 million investment) cutting speakers from high-quality MDF.
In the high-performance, low-volume area, there are 12 different stations manned by craftsman applying detailed components, polishing speakers, applying adhesive to construct speaker cabinets and more. Even the screws that go in the speakers are specially made just for DALI.
Quality Control Tests
One of the more impressive sections of the facility is the Quality Control department. Every driver produced is tested, and every speaker is power tested for 48 hours. In addition, the QC department tests for:
Humidity (up to 93% humidity)
Temperature (between -20 degrees and 60 degrees Celsius)
Salt spray
Non-flammability
UV resistance (a sunlight chamber analyzes the levels of fading over time)
Abrasion resistance (A robotic machine simulates the effect of various levels of finger pressure on the speaker cabinet surface, including with "simulated sweat.")
Chemical resistance
Crosshatch adhesion
Drops (a 66-pound box must drop from 3 meters and not break)
Proper tilt/angles
Vibration
The speakers are even tested for the ease of unpacking from the delivery box.
Patented SMC Technology Is Secret Sauce
Beyond all the testing and the fine finish work, DALI has a technological story to tell. Inside the company's drivers, each of the magnets are made of advanced soft magnetic compound (SMC). It is a coated magnet granule that can be shaped into any form needed. In this case, DALI has patented the use of SMC for making speaker magnets instead of making them with iron.
SMC eliminates the modulations of the flux in the magnet gap when current, which is running through the voice coil windings, generates new "competing" flux in the magnet gap.
As noted on the company's website: "It further eliminates the frequency dependency of the electrical and magnetic properties of iron. It has high magnetic conductivity and low electrical conductivity (approximately 1/10,000 the conductivity of iron), which gives a dramatic reduction in the unwanted distortion caused by mechanical loss in the magnet system."
In the factory, the company conducted a test that measurably shows the reduction in distortion.
Worre is quick to point out that SMC is not a magic silver bullet. The introduction of SMC requires a "series of actions and counter-actions to take place in engineering that must be resolved."
Wood Fiber Cones, Planar Ribbon Tweeters
Other innovations by the company include the use of wood fiber cones and its planar ribbon tweeters.
"Wood cones are not about the stiffness, but the acoustics," says Worre, who details the low resonances, matching impedance and long-tail rolloffs associated with the wood fiber cones.
"Finding the right cone is like taming a wild horse. You want to get the best resonance and still not make it too tame so it will still win the race."
— Lars Worre, DALI
"Playing music is like driving a fast car around corners… you want to be smooth but you don't want to eat up the details of the original recording," says Worre. "Finding the right cone is like taming a wild horse. You want to get the best resonance and still not make it too tame so it will still win the race," says Worre.
Lastly, DALI is also known for its magnetostat planar ribbon tweeter, which it features on many of its high-end speakers. The tweeter is unique because it includes both a conventional tweeter and a ribbon, which is attached on all four sides versus just the top and bottom.
DALI is so committed to high-performance audio that in 2007 the company began producing its own demo CDs. Since then, it has released five compilation CDs featuring high-definition, uncompressed audio recordings from various artists. It also produces its own magazine and podcast titled "Be There" that focuses on music.