Nearly 300 integrators who gathered in Palisades, N.Y., under the theme "Innovate, Educate, Collaborate" for the first of three 2018 Crestron Residential Summits got a glimpse of Crestron's planned new products, as well as a healthy dose of the new Pyng OS2 platform.
"The focus at this event is value. Being here for two days away from your business needs to be valuable for you," said John Clancy, vice president, residential, for Crestron at the opening of the conference, which is a residential version of the company's wildly popular Masters Program on the commercial side.
This is the third year Crestron has held its Residential Summit, which occurs in New York, Florida and California.
Clancy noted that the past year has been one of the highest growth rates Crestron has experienced in years in the residential space, "and that is after we terminated 300 former Crestron dealers. It wasn't easy but it was the right thing to do."
He added that the company makes more than 4,000 different products, has trained thousands of new technicians in the past year and welcomed more than 10,000 webinar attendees in 2018.
"We have the best margins and the best net dollars in the industry," states Clancy as the simple secret to the company's growth and devoted corps of integrators.
Pyng OS2 Adds Video Control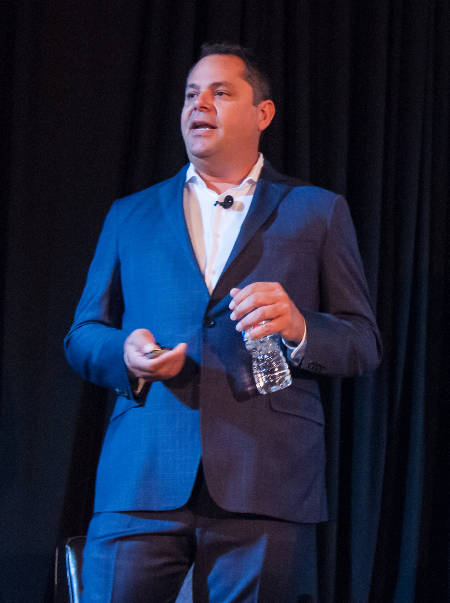 "Integrators are telling us in some cases it takes them longer to unbox the device than to incorporate the device into Pyng OS2."
— John Clancy, Crestron
Doug Jacobson, director, residential technology at Crestron, took center stage at the Summit to outline some of the latest product offerings, led by Crestron Pyng OS2, which is a no-programming-necessarily lower cost solution that controls not only smart home functions like lights, HVAC, audio and shades, but also now video, including Crestron DigitalMedia solutions.
Indeed, Pyng OS2 represents a sea change for the company, which was previously known for its heavy-programming-required whole control systems.
"With Pyng OS2, you can now send any team member to the jobsite versus having to hire a highly paid programmer. The system sends all the firmware updates and it auto-discovers all devices and then makes changes instantaneously.
"No longer do you need to test every page and every button in a system, manually configure devices or use Toolbox to send firmware updates," says Jacobson.
With its new video capabilities, Crestron Pyng OS2 now has the ability to control video throughout the home. The platform allows integrators to select any of an array of wired and wireless dimmers, switches, keypads and shade motors making it simple to pair devices together. Literally in minutes.
"Integrators are telling us in some cases it takes them longer to unbox the device than to incorporate the device into Pyng OS2," comments Clancy.
"It is not just evolutionary… it revolutionary. Integrators can still provide full customization on any project with Crestron but a good chunk of projects do not need customization. Pyng OS2 is the ideal solution for 90 percent of an integrator's projects."
Jacobson adds, "With Crestron Pyng OS2 you can set up and deploy luxury home automation on any scale in a fraction of the time of traditional methods using just a few simple steps from an iPad tablet. With support for powerful Cloud-based services, Crestron Pyng OS2 also enables integrators to configure, control, and support your clients' systems remotely, saving you time on-site and after deployment."
Crestron Pyng OS2 includes support for the new line of Crestron Horizon keypads, so a technician can configure engravings and button actions within the Crestron Pyng configuration app, recall scenes, adjust volume and select sources.
Read Next: Smart-Home Pros (No One Else) Can Own Emerging 'Energy Automation' Field—CEDIA Tech Talk
Crestron Pyng OS2 supports integration of video control and DigitalMedia products providing the ability to route from several sources plugged into an A/V receiver, or create a distributed system using DM, DM NVX, and new DM 4KZ products to deliver 4K60 4:4:4 HDR content over HDBaseT connectivity.
The setup allows integrators customers to add, change and remove favorite channels, and each user can have his or her own profile with their own set of favorites, so they can save and access their own TV favorites by just selecting their profile and everything appears.
"We tested Pyng OS2 like no other product we have ever launched before," says Jacobson, noting the company had 20 full-time testers on it. Crestron even deployed a "max system" with 120+ zones, 60+ display, 40+ shades, 16 zones of video for a prolonged period of time.
Crestron Outlets, Dimmer, Cabinet, DIN Rail Thermostat
While Pyng OS2 was the headliner, Crestron also announced several other products. The company is complementing its new Horizon keypads, which Jacobson says are already being deployed in 70 percent of Crestron residential projects by integrators, with a series of Horizon accessories, including:
Multigang wallplates for lights, shades, and audio in 2-, 3- or 4-gang configurations
15A/120VAC outlets in standard, GFCI with dual USB ports (in black, white and almond)
Keystone wallplates in 1-, 2- and 4-position jacks (in black, white or almond).
The company also unveiled a new high-power universal dimmer to complement its previously announced dimmer. The CLX-1DDIMU4-HP dimmer handles up to 10A (1200W) per channel so it can handle a larger room with lots of canned lights or even chandeliers and other fixtures that require more power.
Creston also announced its first-ever DIN rail thermostat for mounting in an equipment rack.
"We have the best margins and the best net dollars in the industry."
— John Clancy, Crestron
"You will no longer need a giant array of controls in the basement," quipped Jacobson. The DIN rail thermostat includes the same heating/cooling algorithms found in a conventional Crestron thermostat for three stage-heat and cool. It has three independent remote sensor inputs and supports a full color LCD display.
Alongside the DIN rail thermostat, Crestron launched three sizes of professional installation cabinet with service rails to hold power supplies and Cresnet infrastructure. The user-accessible controls for the thermostats can be exposed through the front of the cabinet.
On the video distribution side, Crestron is offering new Switch Configuration Guides for integrators to use with their DM NVX installations. Fully, 30 percent of all DM NVX installations are residential, says Jacobson. The guides, which sit on the Crestron website, are designed to save technicians time.