Coastal Source and Seura Team up for an Outdoor Party at CEDIA Expo 2019
Coastal Source and Seura will join forces to create an "outdoor oasis" at CEDIA Expo 2019, which will be open on Sept. 12 and Sept. 13 during the show.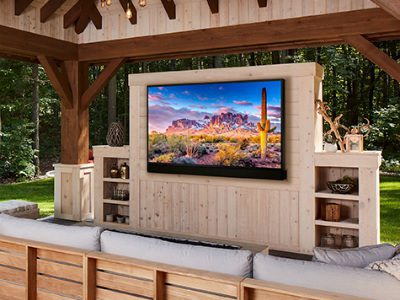 At the CEDIA Expo 2019 trade event, which takes place in Denver during the week of Sept. 10-14, two of the most popular outdoor A/V equipment manufacturers will team up to demonstrate outdoor A/V systems.
Coastal Source, an East Coast-based manufacturer of outdoor audio and lighting systems is partnering with the Green Bay, Wisc.-based outdoor video manufacturer Seura to host their a Destination Backyard showcase on Sept. 12 and Sept. 13.
The outdoor A/V demonstration area will be located adjacent to the Colorado Convention Center main entrance, and the space will feature grassy areas, patio furniture, lawn games, outdoor seating, canopy tents that help these companies to showcase their respective product lines.
"Seura and Coastal Source have complementary products that when combined, create an incredible outdoor experience," states Franco D'Ascanio, president and founder, Coastal Source.
Destination Backyard Showcase Replicates Real-World Environment
According to Gretchen Gilbertson, CEO and co-founder of Seura, a major part of the Coastal Source and Seura combined demonstration area is the lengths the companies went to make the Destination Showcase as lifelike as possible.
Gilbertson explains the showcase products will get exposed to the elements in which they are engineered to withstand.
Related: Coastal Source Solves the Problem of Deep Bass That Won't Disturb the Neighbors
"Placing our products outside allows people to quickly make the connection that these products are designed for the outdoors," adds Gilbertson.
"Not only will people witness the brighter picture quality and clear sound for noisy outdoor environments, but these products are fully weatherproof. If an afternoon Colorado thunderstorm rolls in, the products will be just fine."
CEDIA Expo 2019 attendees can visit these companies in their respective booths: Coastal Source is in booth #1134 and Seura is in booth #501.