Known for keeping its fingers on the pulse of the industry, CEDIA's new 2019 Awards Celebration & Leadership Conference is a result of listening to its members.
The event, which is scheduled for July 24-25, 2019, will offer a full day of interactive conference sessions followed by the CEDIA Awards Celebration in the evening.
"We felt the need to have this standalone event so we could raise the profile of the awards, which is so important to so many members," says Giles Sutton, senior vice president of industry engagement at CEDIA. "We felt that when the awards celebration was held at CEDIA Expo, it got lost among so many other events."
"The goal of the conference is really to get integrators to think outside of the box."
— Giles Sutton, CEDIA
Also, the leadership conference was created as a result of industry feedback.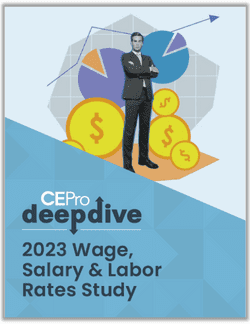 Discover the drastic difference a year can make when it comes to wage, salary, and labor rates in the custom integration industry.
"At the Leadership Conference, manufacturers and integrators will be side by side. Manufacturers have come to us saying they are looking for this kind of event where they are not selling to their dealers but an event where they can go through an education process with them."
The conference program will be done in a "TED Talk" style format. Topics to be covered include the economic outlook, succession planning, IoT privacy and security, and how to monetize wellness.
"The goal of the conference is really to get integrators to think outside of the box," says Sutton.
"These are not practical, manufacturer trainings. They are really big, broad subjects designed to get members to think differently and then think about how they can apply it to their business."
Condensed Conference
The event is meant to make the most of the attendees' limited time. Attendees will fly in on Wednesday, July 24. On Thursday, July 25, the full conference program will take place, consisting of nine sessions, along with several networking breaks and a luncheon. That evening the gala awards celebration will take place.
As part of the "Road to CEDIA Expo," CEDIA and Emerald Expositions will be awarding category winners in the Americas region with a CEDIA Expo travel package including flight reimbursement up to $500 and a three-night hotel stay at this year's CEDIA Expo. As well, CEDIA Award winners will be featured in communications and promotions both at show and year-round.
Sutton continues, "We are very excited to offer this additional prize to CEDIA Award winners, and appreciate the generous donation of our partner Emerald.
"This new event is going to provide a great platform to celebrate excellence, and our ability to couple the awards with an interactive conference means that attendees will receive tremendous value for their time out of the office."
Registration for the event is open, with discounts available for CEDIA members and CEDIA Expo exhibitors.
If you enjoyed this article and want to receive more valuable industry content like this, click here to sign up for our digital newsletters!