Sure it's only June, but it's never too early to discover interesting new companies and products on the CEDIA Expo 2018 floor. Today, we bring you three smart-home finds under the category of "new opportunities."
These newer companies can help integrators exploit brand new product categories including smart glass (iGlass) and LED strip lighting (Nova Flex). They'll also open up new market sectors such as sports bars, super-busy households, and whereever you find folks who have a little trouble hearing (Clovitek).
Keep checking back as CE Pro brings you a slew of CEDIA Finds.
---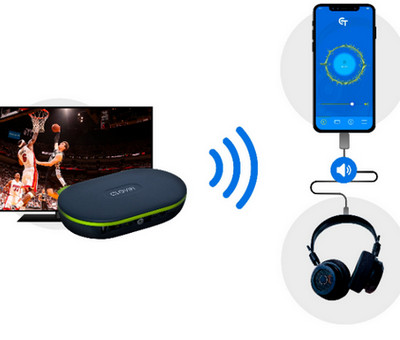 CloviFi is the "world's smartest" wireless audio transmitter, if you believe its maker Clovitek. The 2018 CES Innovation Awards honoree makes a $99 hub that plugs into a TV and transmits audio wirelessly to a user's mobile phone or tablet.
The customer plugs the headphones of their choice into a mobile device, fires up the app, and it's just like listening through one of those dedicated wireless headset systems … except that multiple users can listen in, and each can use the headphones (or not) of their choice. Each also can listen at the volume they prefer.
Multiple TVs and multiple CloviFis? No problem. Through the app, users simply select the source of their choice, allowing them to switch easily to different games in a multiscreen-environment. Now, take that and put it in a sports bar, airport or gym! Indeed, Clovitek is pushing its products vigorously to commercial markets.
Clovitek also touts its innovation as an ideal tool for the hard of hearing, who can "hear more clearly without bakcground distractions and hearing aids."
The device has a built-in router, so it doesn't need the local network, or it can go through the network or else Bluetooth — however users want to get it to their devices.
---
At last, at last, smart glass is coming to CEDIA. Start-up iGlass Technology offers Wisp Tunable Sunlight Control — "digital blinds" in the form of a transparent film applied on the inside surface of an existing window.
Integrators have been yearning for ways to control the opacity of glass — a job typically left to window manufacturers and installers, but it looks like iGlass is giving the home-automation industry a shot at it. The flexible electrochromic film connects to a discreet solar-powered Wisp Power Bar that sits at the bottom of the window, communicating wirelessly with IoS, Android, Google Home, Alexa and other apps and controllers.
The film fully tints and untints with an electrical charge (the press of a button), reducing heat, UV rays and glare.
The company calls it "the first ever affordable smart window solution for all installed windows," but cautions it's not a DIY product. Judging by iGlass's website, some of today's California installers include companies that specialize in window films and tints, but there are others in the general construction and energy management trades.
---
Nova Flex LED
So maybe the remote controls for Nova Flex LED ribbon and neon lighting look a little cheesy, but the projects that include these light strips? Very cool! Never mind the company's own remotes anyway. Via Nova Flex's Wi-Fi controllers and receivers, the lights can be controlled with iOS and Android apps. Also, they integrate with Control4 automation systems today, and certainly others in the future.
The lighting is UL-listed and powered over low-voltage wire — perfect for CEDIA dealers. The offerings include specification-grade LED ribbon/tape in multiple lumen outputs, architectural-grade LED neon strips in multple outputs and color options. and various aluminum LED channels for achieving different lighting effects.
The company says it delivers ready-to-install lighting packages that are "custom cut, soldered, and assembled on-site" in St. Cloud, Minn., shipped in one to four business days.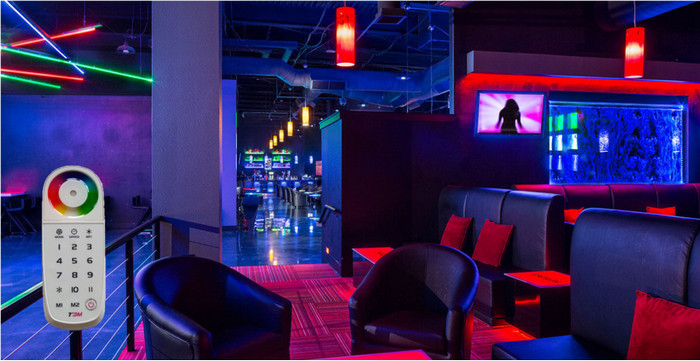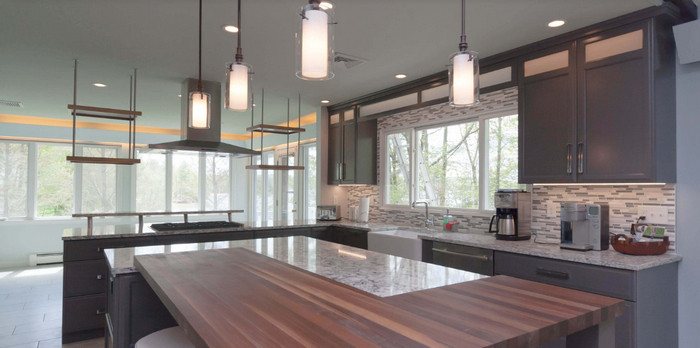 If you enjoyed this article and want to receive more valuable industry content like this, click here to sign up for our digital newsletters!