People & Places: Top Klipsch Sales People; Azione Board; Hacker Joins Atlona; CEDIA Volunteeers
The latest in hirings and other notable movement within the custom electronics industry. Check back daily for updated news.
Content from our Sponsor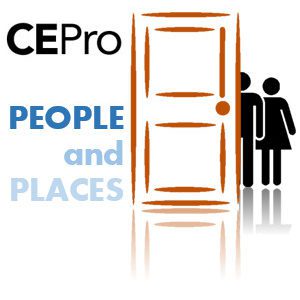 CE Pro People & Places is a daily feature on CEPro.com. If you are looking for a job or to fill a vacant position in the custom electronics industry, please visit the CE Pro Job Board at Integratorjobs.com. Check out the previous version of this page here. 
---
Aug. 27
Klipsch, a global audio company, has honored its top sales earners of 2019. The winners were announced at the company's annual sales meeting last week.
Winners include:
Klipsch Salesperson of the Year: Mark Hittle
Rep Firm of the Year: High Tech Network
Retailer of the Year: Crutchfield
New Retailer of the Year: Audio Advice
Custom Integrator of the Year: Phoenix Systems
New Custom Integrator of the Year: Symspire
---
Azione Unlimited has announced that Ryan McDaniel has been elected to the organization's board of directors. McDaniel joins the Azione Unlimited board of directors with more than 16 years of experience in the custom integration industry. Since 2015 McDaniel has represented Azione Unlimited as the president of his Indianapolis-based firm, One-Touch Automation. Additionally, McDaniel is a Savant Ambassador, HTA Certified, and a member of The Builders Association of Greater Indianapolis.
"Ryan has been a cornerstone of success for our organization and an inspiration to any aspiring dealer," said Richard Glikes, President of Azione Unlimited. "He represents the core values of our group and is a remarkable illustration of what our members can achieve if they partner with our organization. We are pleased to have him on the board and proud of all he has accomplished."
McDaniel will join the ten-person board in place of previous board member Chris Smith of Cloud9 Smart in New York, New York. The board consists of five vendor members and five dealer members to maintain an equal balance between the needs of the group. His elected position is effective immediately.
The current board of members includes:
· Tim Bigoness – D-Tools, CMO
Ron Callis – One Firefly, CEO
Gretchen Gilbertson – Seura, Co-Founder & CEO
Jimmy Paschke – SurgeX, Director of Sales
Frank Sterns – Sony, Vice-President
Al Reinhard – AHT Global, Principal
Eric Thies – DSI Luxury, President
JW Anderson – The Integrated Home, President
Travis Leo – Residential Systems, President
---
Atlona, a Panduit company, has announced the appointment of Amy Hacker as regional sales manager for the Great Lakes Region, effective immediately. Reporting to CEO Ilya Khayn, Hacker will focus on driving commercial AV business in Indiana, Kentucky, Michigan, Ohio, West Virginia and western Pennsylvania.
Hacker joins Atlona from Panduit, and she has been intimately familiar with Atlona since before Panduit's acquisition of the company in January, when she was actively involved in researching AV manufacturers for possible purchase.
---
CEDIA has named the global organization's 2019 volunteers of the year recognized in three categories: a new volunteer, an education volunteer, and an overall volunteer.
The 2019 Volunteers of the Year are as follows:
Geoff Meads: Volunteer of the Year, Presto Web Design
Meads has been involved with CEDIA since the mid-2000s. The 30-year AV business veteran is now owner of Presto, a UK-based web design agency specializing in the smart home, Hi-Fi, and home cinema markets. He's been contributing to CEDIA training and e-learning courses for more than 15 years and has served as a regular instructor during that time.
Jamie Briesemeister: Education Volunteer of the Year, Integration Controls
Integration Controls Managing Principal, Jamie Briesemeister, first got involved with CEDIA education shortly after becoming a member in 2005 by taking as many courses as possible to fill the schedule at her first Expo.
Briesemeister, who was named CEDIA Volunteer of the Year in 2015, was quoted on her nomination form saying "I care about CEDIA and this industry."
Michael Robinson: New Volunteer of the Year, Perfect Integration Limited
Robinson joined Perfect Integration Ltd in 2012 as a project manager and soon after, became involved with CEDIA as a CEDIA Outreach Instructor.
Now as the project director, he has expanded his involvement in a big way this year, serving on the Industry Relations Advisory Council and on the Task Force for EMEA Continuing Professional Development Creation.
The three volunteers will be honored during this year's CEDIA Expo, which will take place September 10-14 at the Colorado Convention Center in Denver. Industry members can find out more about volunteer opportunities at CEDIA by clicking here.
---
Aug. 22
Phoenix Marketing Group, the recently formed Southeast territory independent manufacturers sales representative firm owned and led by Chris Gilray, has announced its expansion into Florida along with the appointments of Tom Passafuime and Jason Lewis to manage sales in the state.
After several years of focusing solely on distribution, Gilray delved back into the sales rep world, in May 2018 launching Phoenix Marketing Group. The firm represents Seymour-Screen Excellence, Audio Excellence, Metra Home Theater, Totem Acoustic, United Leather, Hisense, Techlogix, Crimson AV, Intellinet and more.
---
Aug. 20
Guardian Protection has announced the following staff promotions and additions:
John Piroli has been appointed to the expanded role of vice president – residential business. In this position, Piroli will oversee the residential, small business, and new construction areas of the business and will have oversight of Guardian's 10 branch general managers who lead 15 offices across the country. Piroli joined Guardian in July 2007 as a Regional Operations Manager and has held numerous leadership positions during his tenure.
Rich Sieman has been promoted to a newly created role of director of field sales in which he will oversee the builder and residential field sales organization which includes developing and managing the field sales team.
April Maloney was promoted to a new director of sales operations position at Guardian where she will have responsibility for leading the newly created Guardian Sales Operations Team. In addition, she will have oversight of the overall sales operational strategy and processes for the organization. Maloney has been part of the Guardian team since 2012 in various roles.
Kristen Canale joined Guardian recently as director of human resources and brings more than 15 years' experience in the HR field to this role. Canale previously held human resources positions at Rue 21, PPG and Rivers Casino.
---
Onkyo USA has announced that Mike Criscitiello has been named its new national sales manager for its retail business unit. Criscitiello reports directly to Onkyo USA's chief operating officer, Joe Petrillo.
A long-time consumer electronics industry veteran, Criscitiello has more than 20 years of experience to the position that includes retail, distribution and e-commerce channels. Before joining Onkyo USA, Criscitiello was director, product Management for Stampede, which is a distributor that serves the national pro AV market.
---
Aug. 16
Ui Supplies, a regional distributor of AV, networking, security, and home automation products for the metro New York/tri-state region, and its a member of the PowerHouse Alliance, celebrated its anniversary with its seventh annual BBQ Bash and Trade Show on August 8 at its Plainview, N.Y. location.
Bringing together approximately 300 dealers, vendor partners, and industry friends, the event gave dealers the opportunity to talk shop, share industry knowledge, take advantage of at-show deals, and experience new product demonstrations from over 60 top manufacturer reps spanning audio, video, security, networking, smart home, tools, and accessories.
"Last week's BBQ Bash and Trade Show was the perfect kick off to the second half of 2019," says Patrick Berna of Ui Supplies. "The Ui Supplies team is fired up and ready for CEDIA Expo in Denver, Colorado and beyond!"
---
Azione Unlimited has announced that eight Canadian dealers have formally joined the Smart Home Association following the buying group's July 1 expansion into Canada.
"We extended into Canada at the request of our vendors who were seeking stronger relationships with their top dealer partners," says Richard Glikes, president of Azione Unlimited. "The end result will be to cultivate a parallel level of success and profitability that our U.S. dealers currently receive. I'm confident that our newly added eight Canadian dealers represent an exceptionally strong core to drive that message home, and this is only the beginning."
The newly added Canadian dealers include:
Hi-Fi Centre, Vancouver, B.C.
La Scala Integrated Media, Vancouver, B.C.
Symphonic Residential Systems, Calgary, A.B.
High Definition Technologies, Calgary, A.B.
Definitive Sound, Mississauga, Ont.
Design Electronics, Niagara Falls, Ont.
Station Earth, Fergus, Ont.
London Audio, London, Ont.
---
Aug.15
Atlona, a Panduit company, has appointed Envision Technology Advisors (ETA) as its new commercial manufacturer's representative for Florida.
This strategic business relationship became effective back on July 1 when company founder and former Atlona Southeastern regional sales manager David Pendleton launched the new venture to promote Atlona products.
---
Aug. 14
For the seventh year in a row, Environmental Lights, a manufacturer of LED lighting solutions, has been named to the Inc. 5000 Fastest-Growing Private Companies in America.
The Inc. 5000 list is an in-depth representation of the fastest-growing companies within the American economy's most dynamic segment: independent small businesses. As a seven-time honoree, Environmental Lights is part of an elite group of companies who have achieved "Hall of Fame" status.
"The fact that Environmental Lights has spent over half of its 13 years in business on the Inc. 5000 list is a testament to our strong team and the strategy we have executed to achieve rapid growth on a sustained basis," remarks Jamison Day, CEO, Environmental Lights.
---
Aug. 12
JL Audio, a Florida-based audio company, has announced the appointment of Randy Davis to the role of area sales director. In this role Davis will be responsible for sales management of multiple sales territories in the home, mobile, powersports and marine audio categories.
Davis brings extensive sales and marketing experience working within the consumer electronics industry where he held positions with Stillwater Designs/Kicker, Kenwood and, most recently, Wet Sounds.
---
Aug. 9
To meet increasing integrator demand, Nortek Security & Control (NSC), a global manufacturer of wireless security, home automation, access control, and health and wellness technology, has announced the opening of the ELAN Training Center at its Carlsbad, California headquarters. The company also operates a facility in Dallas, Texas.
"We are expanding our hands-on training and support program to equip even more dealers with the tools and skills needed to succeed," says training and technical engineer Brian Pflum. "With our new second training center, we are helping more dealers get started with ELAN intelligent home control than ever before."
Training topics cover everything a new integrator will need to know to get up and running with ELAN. Areas of focus include hardware and connectivity; security, climate and lighting; Z-wave & door locks; IP cameras; media applications; streaming media and IR sources; intercom; event mapping; interfaces & custom pages; 2GIG GC3 security panels and sensors for every station; updated training materials and certificates; and more. The 2.5-day session costs $750 and all participants receive $1,400 worth of ELAN gear, including a controller and the HR30 remote.
---
Meridian Audio has appointed International Sales, a team of experienced professionals dedicated to selling high quality home theatre and audio systems through distribution networks, to represent the brand and build sales with new and existing dealers in Latin America and the Caribbean.
Founded in 1993, International Sales bridges the gap between manufacturers, distributors, and integrators.
"We are excited to see this strategic partnership develop to strengthen our brand and deliver greater support to our customers across Latin America and the Caribbean," says John Buchanan, CEO of Meridian Audio. "With International Sales contacts, industry knowledge, and service, and our impressive and extensive product range of high-quality audio systems, we believe that this relationship will allow us to significantly grow our business in these residential technology markets."
---
Aug. 8
Torus Power, a manufacturer of isolation transformer-based power components for AV systems, has announced that inside sales and technical expert Gary Collins will be joining the Torus Power team in the role of business development and technical product support. Collins will be at the Torus Power booth (2533) at this year's CEDIA Expo, September 10-14.
Collins has an electrical engineering diploma and began his career working in the commercial security industry. He spent 20 years with Chubb Security starting as a bench technician and advancing to technical support manager.
"We are excited to have Gary join our team. He specializes in providing technical guidance and support for commercial security and communications systems and brings a strong technology background to Torus Power. We look forward to bringing that value to our customers," says Kevin Main, COO and president of Torus Power. "We invite everyone to come meet him in person at CEDIA Expo."
---
Environmental Lights, a manufacturer of LED lighting solutions, announced that it has been named by the San Diego Business Journal as one of the 100 fastest-growing private companies in the San Diego region. This marks the fourth year Environmental Lights has been included on this list.
"Being recognized again as one of the fastest-growing private companies in San Diego is a great honor," says Jamison Day, CEO at Environmental Lights.
---
AudioControl, designers and manufacturers of high-performance audio solutions for the residential, commercial and automotive markets has appointed CET & Associates as its independent sales representation for the Rocky Mountain Region of the U.S. CET & Associates is based in Denver, Colo., with offices in Denver and Park City Utah.
The Washington state-based manufacturer says both home cinema specialists and custom integrators will benefit CET & Associates sizable team supporting its products throughout the large Rocky Mountain territory that includes Colorado, Eastern Montana, Utah, Idaho (excluding Boise) and Southern Wyoming.
---
Aug. 6
URC, a global manufacturer of smart home automation and control for residential and commercial applications, has announced the promotion of Lee Rambler, formerly Mid-Atlantic territory sales manager to national sales manager for direct accounts. Rambler will manage the U.S. direct sales team sales and U.S. field sales engineering teams to drive continued sales success by working closely with direct accounts.
"Lee's high energy, technical expertise, and commitment to supporting our authorized dealers in his territory are very valued by our direct dealers in his region and we are counting on him to bring that leadership and energy to our direct sales team nationwide," says Doug Cole, URC's general manager & SVP of sales, Universal Remote Control.
---
July 30
DOW Electronics has announced that Sean Fitzpatrick has joined the company as an account manager in the custom integration channel. Fitzpatrick brings installation, system design and sales experience that is valuable in assisting customers.
Fitzpatrick will focus on managing and growing relationships with customers in Georgia. Over the past 10 years Fitzpatrick developed skills in installing products, designing and programming systems, and setting up networks.
In addition, Fitzpatrick performed sales duties including managing relationships and customer acquisition.
"I am very excited to have made this career move, to now be working with DOW," says Fitzpatrick. "I really love working in the CI industry and am excited to continue learning and growing."
---
James Loudspeaker, designers and manufacturers of décor-friendly entertainment products for both residential and commercial applications, has appointed NuTech Group as its independent sales reps for the Mid-Atlantic region of the US effective Aug. 1.
NuTech Group is based in Montgomeryville, Pa., and has been serving integrators and high-performance audio/video dealers in the region for decades.
"The James Loudspeaker line is a great fit for our dealers, featuring the finest architectural speakers and a nearly limitless array of custom products that help integrators serve their clients," says Brett Neiderman, president, NuTech Group.
---
July 22
CEDIA has announced Jeremy Burkhardt will be inducted to the CEDIA Fellows program at CEDIA Expo 2019. The CEDIA Fellows program honors longtime CEDIA members and volunteers who have contributed significantly to the association's success.
Burkhardt is well known throughout the industry, currently as chairman of Origin Acoustics, as well as former CEO and co-founder of SpeakerCraft, Inc.
"Jeremy's legacy in the industry has been anything but quiet – he's pushed the boundaries in product development with a constant eye on balancing the needs of dealers and end users," says David Humphries, chairman, CEDIA.
For over two decades, Burkhardt has actively contributed to the growth and development of the residential architectural custom electronics industry. He began his career as a custom installer, and then became a successful independent AV retailer where he identified deficiencies in products and installation practices that drove him to design innovative and time-saving products that revolutionized the home installation market. He and his business partners founded, developed, and grew SpeakerCraft into the industry's largest architectural speaker manufacturer and brand. SpeakerCraft was sold to Nortek, Inc. for a record $58 million in 2004, and Burkhardt remained the CEO until he retired after more than 20 years in 2012.
---
July 17
Torus Power has hired Gary Collins. Over his career Collins has spent 20 years with Chubb Security starting as a bench technician and advancing to technical support manager. While working for Chubb Collins attained diplomas in telecommunications and network concepts and information systems from Humber College in Toronto. For the past five years Collins has been providing inside sales and technical support for commercial emergency communication systems.
---
July 16
AVB Marketing has added Gordon Isaac to the team in his new role as national director of sales and marketing.
Most recently Isaac was the Director of Sales for AVAD, where he provided leadership for its 20 branch locations and nearly 100 customer-facing employees.
In his new role, Isaac will focus on supporting the ProSource group members consisting of over 600 of the top custom integrators and custom retailers in the country. Isaac and his team will be working closely with the ProSource management team, district managers, vendors, and members to help provide website solutions and impactful marketing programs that enable members to grow their business and get the most out of their ProSource partnership.
"We are very excited to have Gordon on our team," says Brian Wattier, vice president of marketing at AVB Marketing. "He brings a wealth of knowledge around technology and the custom integration channel, which will be valuable to all of the members we support."
---
Recently, the 11 PowerHouse Alliance distributor members celebrated their 10th year as a national consortium, convening for their 7th annual National Sales Meeting alongside over 30 vendors in preparation for CEDIA Expo and the second half of 2019. The meetings concluded with the announcement of four new board members who will collaborate in leading the group going forward:
Garrett Breinholt, sales manager for member Mountain West Distributors, has been appointed new board president,

CJ Provenzano from ECD is now vice president.

Mountain West Distributor's Craig Breinholt joins as the secretary,

Patrick Berna from Ui Supplies now serves as the new at-large board member
---
Paradigm Electronics Inc., and Anthem, are global manufacturer of loudspeakers and electronics respectively, and the sister companies, have announced some personnel promotions.
Paradigm has announced promotion of Michael Barber to director of U.S. sales. In this new role Barber will lead the U.S. sales representatives and oversee the U.S. sales team in its entirety.
Barber has been with the Paradigm and Anthem team for two years, serving as regional sales manager for Texas, Arkansas, Louisiana, and Oklahoma. He brings 19 years of sales experience to the position. Before joining Paradigm and Anthem, Barber served as a regional manager as well as the North American business development manager, automotive for Bowers & Wilkins.
Paradigm Electronics Inc., and Anthem, have also announced the appointment of David Baker to Paradigm and Anthem's North American sales team, effective immediately.
Baker is joins Paradigm and Anthem as Western regional sales manager. Baker comes from Bowers & Wilkins, where he was employed for the past 22 years as a national and regional sales manager. 
---
July 10
CEDIA Expo, a national event for technology within the intelligently built environment, has announced Renée Lyn as senior marketing manager of CEDIA Expo. Previously of TOTO and Acuity Brands, Lyn has over 10 years of tradeshow management experience within the design and technology sectors. CEDIA Expo 2019 runs September 10-14 at the Colorado Convention Center, Denver, Colo., and Lyn will take on a prominent role in the shows execution.
Lyn is charged with show marketing, as well as driving show-floor programming for additional networking, educational, and sales opportunities for exhibitors and attendees. CEDIA Expo 2019 programming includes presentations on the CEDIA Expo SmartStage, Design+Connection activations across the show floor, and exhibitor events in and around the Colorado Convention Center.
"Renée brings a great amount of industry knowledge within the kitchen and bath, as well as residential technology sectors to the CEDIA Expo team," says Brain Pagel, senior vice president, Emerald Expositions. "As CEDIA Expo grows, talented and hardworking individuals are that much more valued. We are excited to welcome Renée and see how she helps advance our mission and objectives for CEDIA Expo 2019."
---
July 9
ProSource, a national audio, video, and integration buying group, has announced the addition of eight new Custom Integrator (CI) members and one new PRO level member in the second quarter of 2019. New members in Q2 represent $44 million in new revenue for the group.
"ProSource continues to grow by welcoming outstanding operations into the organization," says Dave Workman, CEO and president of ProSource. "Members benefit from the excellent programs with our vendor partners, exceptional educational opportunities, and peer-to-peer networking."
The new CI members are:
Advanced Tech Systems, Inc., Greensboro, N.C.
ATTYWON, Great Neck, N.Y.
Chameleon Technologies, Inc., Los Angeles, Calif.
HD2020, Tampa, Fla.
Force AV, West Palm Beach, Fla.
Glabman Technology Solutions, Costa Mesa, Calif.
Show and Tell AV Solutions, Bountiful, Utah
Untangled, LLC, Wilton, Conn.
The new Power member approved by the ProSource board of directors is:
Upscale Audio, La Verne, Calif.
---
July 3
Tom Lovich, president of Audio Authority Corporation, has announced several changes in the company's sales and service teams to improve client response and technical support.
"Audio Authority is proud that our team members are continually developing their skills, which enables us to promote our own employees to new roles, as was the case with all of these positions," says Lovich.
The company has made several changes:
Mitch Thompson has been promoted to manager of the company's sales team. Thompson is a 23-year veteran with Audio Authority and previously served as a senior account manager.
Alex Stanley has been promoted to account manager. Stanley formerly served as a customer service technician for the company.
Anthony Williams has been promoted to customer service technician, having previously worked in electronics assembly and testing in the factory.
---
July 1
Basalte has announced the addition of Julien Lemey as its business development manager for New York.
The home automation company adds Lemey lives in New York City and he will serve as the first point of contact for the company's New York metro dealers. Lemey also actively works with architects, designers and developers to introduce Basalte and centralized control in high-end residential projects to support the company's installation partners.
---
June 27
KLH has announced the appointment of independent manufacturer sales representative firm Phoenix Marketing Group to cover both Florida and the Southeast.
"KLH is the biggest story in the audio category today and we're seriously pumped," says Chris Gilray, president, CEO, Phoenix Marketing Group. "Available is a line of bookshelf and floorstanding speakers 12 deep that quite honestly are going to make dealers' jaws drop. They look and perform like speakers two-to-three times their price and are backed by a 10-year warranty to boot.  From performance to fit-and-finish to price, any of these products will make the dealer look like a hero."
---
June 26
ProSource, a national AV buying group, has announced an exclusive agreement with lighting designer, educator, and author David Warfel to help steer the lighting initiative providing expert advice and education to ProSource members.
"Light is a fundamental component of the human experience that requires increased technical knowledge and advanced digital integration. No one is better placed to master the convergence of light and technology than ProSource members, and I am thrilled to be a part of this critical initiative," says Warfel.
Formerly the chair of the lighting design program at the University of Illinois at Urbana-Champaign, Warfel teaches regular continuing education seminars in lighting design that offer immersive training experiences. He is a vetted facilitator for the Illuminating Engineering Society and serves on the Educational Material Review committee. He is also highly regarded as a registered continuing education provider for the American Institute of Architects.
---
June 20
Women in Consumer Technology (WiCT), an organization promoting the advancement of women in the consumer technology industry, will host its 11th annual CEDIA Expo Luncheon, Sept. 13, in the Denver Convention Center. Speaking at the event will be bestselling author Sam Horn. "Our members have enjoyed Sam Horn at our annual forums, and we are thrilled to welcome her this year at the CEDIA luncheon with great insights from her new book," says Carol Campbell, founder of WiCT.
"Someday Is Not a Day in the Week" features questionnaires and exercises that help readers get crystal clear about what really matters so they can bring more of that into their life now, not later. The book has been featured in Harvard Business Review's Ascend site and on John Lee Dumas' top-ranked "Entrepreneurs on Fire" podcast.
This year the event will open with a new networking reception featuring a mimosa and bloody mary bar from 11:30 a.m. to 12:15 p.m. in Rooms 505-507, immediately followed by the luncheon and keynote from 12:15 p.m. to 1:30 p.m. in Rooms 501-504.
---
June 19
Metra Home Theater Group has chosen Phoenix Marketing Group as its representative firm in the southeast region of the United States. "Our continued success is dependent upon our partnerships with our exceptional manufacturers, and with our loyal customers," says Phoenix Marketing Group principal, Chris Gilray, "We are very proud to be a part of their team and represent the Metra Home Theater Group brand. The unique products and the array of custom installation products they have to offer complement our other product lines well and will help us in providing complete solutions for our customers."
This new partnership will add to MHTG's existing team of field representatives, specifically serving the southeast region.
---
June 17
RTI has appointed two commercial manufacturer representatives in the Central and Eastern regions of the United States. Bormann Marketing, headquartered in Hopkins, Minn., will serve the central U.S. and has satellite offices in Austin, Texas; Chicago; Dallas; and St. Louis. Online Marketing is located in Wadsworth, Ohio, and will serve the Eastern region of the U.S.
Bormann Marketing has been a professional manufacturer's representative for the commercial AV industry since 1990. It will act as an extension of RTI's sales and marketing teams across 13 states — Minnesota, Wisconsin, North Dakota, South Dakota, Illinois, Iowa, Nebraska, Missouri, Kansas, Oklahoma, Arkansas, Louisiana, and Texas.
Online Marketing opened its doors in 1989 and will serve the Eastern region, including Ohio, Western Pennsylvania, West Virginia, Indiana, Kentucky, and Michigan.
"We've selected these firms because of their proven knowledge of the commercial market. These partnerships are the next logical step as we continue to grow this segment of our business," says Ed McConaghay, CEO of RTI.
---
Parasound has appointed EMI Integrated Systems as its sales representative firm in Michigan.
"We are delighted to welcome EMI Integrated Systems to the Parasound team," says Richard Schram, Parasound president and founder. "EMI has a strong reputation in the Michigan marketplace. Their customer-driven sales and support team will help us to attract and cultivate new customers, while offering even stronger support for our existing dealer base."
Electrical Materials Inc., was founded in 1969, in 1996 formed its Integrated Systems division to address the growing needs of audio video specialists and custom installation companies in Michigan. Kevin Weber, principal; John Oravec, sales manager; and Shannon Fryover, outside sales, will be responsibile for calling on Parasound's Michigan dealers.
---
June 4
Parasound has appointed Joe Finn as regional sales manager/marketing manager and has promoted Phil Jackson to director of sales.
"We are delighted to welcome Joe Finn to the Parasound team," says Richard Schram, Parasound president and founder. "Joe's customer-driven focus in sales, marketing, and training will attract and cultivate new customers while expanding our support of existing customers."
Prior to joining Parasound, Finn held regional and national positions with NEAR, Control4, Definitive Technology, and Velodyne Acoustics, among others.
"We are also pleased to announce Phil Jackson's promotion to Parasound director of sales," continues Schram. "Phil is a master bridge-builder to our dealers, distributors, factory representatives and end users. Phil has fueled our growth with new accounts, fine-tuning our rep network, providing outstanding pre- and post- sale assistance to Parasound customers and established strategic relationships with collegial audio brands. His 30+ years of industry experience is evident in his outstanding customer and dealer support. Phil plays an important advisory role in our deliberations about new products, making them increasingly relevant and successful."
---
Dow Electronics announces Shaddy Azooz as the company's account manager for the custom integration channel. Azooz brings 20 years of industry experience that includes consultation, sales, and installation, plus network, home theater and smart home design.
As the CI account manager covering southwest Texas, Azooz will be working with custom integrators to strengthen and improve their businesses.
"I'm very excited to have a seasoned industry salesperson like Shaddy joining Dow," says strategic sales manager Eric Friedman. "We believe the experience and knowledge Shaddy brings will be valuable as we continue to grow in Texas."
---
May 29
The SDVoE Alliance announces that Siemon, a leading manufacturer of IT infrastructure solutions, has joined the alliance as an adopting member. At InfoComm 2019, June 12-14, in Orlando,  industry experts will share Siemon's vison for the AV industry in two SDVoE 20/20 in-booth education sessions:
Going the Distance: AV over Fiber Made Easy, Tony Veatch, Director of Product Management, Siemon, Wednesday, June 12 at 4:30
Copper AV Connections: More than Just Continuity, Bob Lockwood, Sales Manager, Siemon Interconnect Solutions, Thursday, June 14 at 3:30
"Over the past decade, we've seen balanced twisted-pair copper cabling become a clear choice for connecting AV equipment and end devices, but many of these systems have not been true IP-based or operating at data rates that stress the cabling infrastructure," says Carl Siemon, president and CEO of Siemon. "As a global manufacturer of low-voltage copper and fiber cabling solutions, we understand that high performance cables and connectors will play an important role in ensuring headache-free SDVoE operation. As a leading advocate for interoperable and converged IP-based infrastructure, Siemon is pleased to join the SDVoE Alliance as we see significant opportunities to educate integrators about cabling infrastructure choices that will enable SDVoE equipment and devices to deliver cost and space savings, improved reliability, and the bandwidth needed to handle the world's ever-increasing amount of ultra-high-definition video."
---
May 24
Audio Gear Group announces that it has entered the Commonwealth of Australia market with its OSD BLACK brand of architectural speakers, landscape speakers, on-wall theater speakers, multi-channel amplifiers, 70-volt products, and integration accessories.
Based in Arundel, Queensland in Australia, Avation will be responsible for all sales and support for the complete OSD BLACK brand in Australia.
Launched in 2010, Avation has grown to become the premier distributor of prestigious, high-performance brands in both the residential and commercial custom integration channels throughout Australia.
"As part of our global expansion plans, we are extremely excited to be entering the Australian market as we believe it holds tremendous potential for our premium OSD BLACK brand," says Simon Spears, Audio Gear Group director of international sales. "The key to success in any market is to be aligned with the right partners, and we are confident that Avation, with their proven track record of superior sales, customer support, training, and technical support, is just that partner. I look forward to working with them to introduce OSD BLACK to Australian dealers and integrators."
---
May 23
JL Audio, a manufacturer of high-performance loudspeakers, has announced the appointment of Rob Sinclair as the company's new director of international business development.
Sinclair brings to JL Audio over 30 years of experience in international business and market development and an intimate knowledge of international markets and business cultures, global logistics, and operations.  Prior to joining JL Audio, Sinclair was with Paradigm Electronics where he was responsible for creating the blueprint and implementing the company's global distribution policy. Prior to that Sinclair spent 20 years with the B&W Group where he successfully delivered global initiatives that included responsibility for sales operations encompassing global logistics and supply chain management and forecasting, global business development, international market development, product development and associated training and marketing.
"I am delighted and honored to take this position with JL Audio. The company's vision of continuous improvement and its intention to invest in new products to significantly expand its global reach is fully matched by my own sense of purpose and commitment to these goals as well.  My initial responsibility is to develop our global business to support both our global distribution and our international sales team to achieve our targets," states Sinclair.
---
May 13
TechBites, the exhibitor event which debuts innovations within the residential technology industry at CEDIA Expo is now open for submissions. TechBites will move to an action-packed, one-day format when CEDIA Expo returns to the Colorado Convention Center, September 12-14, 2019, and gives exhibitors the opportunity to debut products and share their message from the CEDIA Expo SmartStage.
TechBites will be Thursday, September 12 from 12:00 PM – 1:30 PM. Ten brands will be given three minutes to present, and an additional two minutes to field questions from attending media, influencers, industry pros and the event host.
"Building off of the success of the first-ever TechBites in 2018, we are once again excited to offer the opportunity for exhibitors to debut their products in a fun format which also guarantees extra exposure for their brand," says Brian Pagel, senior vice president, Emerald Expositions.
Exhibiting brands can apply now through June 14, 2019 by completing the TechBites application. Selected brands will be announced in July 2019. 
Current Marketing has been named Montreal, Canada-based Totem Acoustic's manufacturer's representative for Arizona, southern Nevada, and El Paso, Texas territories.
"Totem Acoustic has a great reputation both throughout the industry as well as weith its customers, and we are excited to represent them," says Paul Epstein, president, Current Marketing. "We look forward to presenting all of their speaker and accessory solutions to our dealers."
---
May 10
TiVo shares are seeing volatile postmarket action after its in-line earnings report came alongside news that it's confirming a split into two independent companies. The board unanimously approved a plan to separate into product and IP licensing businesses.
It will pursue a tax-free spin-out of the product business to shareholders; it consists of the Platform Solutions and Software and Services businesses. The product segment generated $401M in revenue for 2018, with a large component of recurring revenue.
The separation still calls for final board approval, tax opinions and an effective SEC registration. Details on the relationship between the two and corporate brand identities will come later.
TiVo expects to complete the deal in the first half of 2020.
---
May 9
Long-time industry veteran and educator Jeff Gardner has retired from his position at ESPA. Gardner will still be highly visible in the custom electronics industry through is time as an instructor and participant in industry events that include the CE Pro All-Star Band.
Gardner will focus the majority of his time building is recording studio/design build business, and pro sound front of house (FOH) live mix activities.
---
Atlona has expanded its partner network in the residential AV market with the designation of Denver-based CET & Associates as its manufacturer's representative for the Rocky Mountains sales territory.
Effective immediately, CET & Associates will represent Atlona's best-in-class products and solutions for residential and light commercial projects, including its OmniStream R-Type AV over IP platform, and Opus Series of matrix switchers and receivers.
"Our goal at CET & Associates is to engage key influencers—such as custom installers,design engineers, architects, interior designers, and even homeowners—early in the design process to show how certain products meet or exceed the unique specifications and requirements of their projects," says Doug Cuneo, principal, CET & Associates.
---
May 7
Audio Gear Group, manufacturer and distributor of a portfolio of custom integration brands like OSD Audio, OSD BLACK, M&K, and Carver, has announced that it has appointed New Era Marketing as its sales representative for the Southwest region. This new appointment takes effect immediately.
Based near Dallas in Addison, Texas, New Era has satellite offices in Houston and Austin. Audio Gear Group says the company offers dealers full access to a professionally designed product demonstration facility in its office outside of Houston where dealers can arrange to meet clients so they can experience a full demonstration of all of the latest technologies, such as lighting control, multi-zone AV, home automation solutions, and a theater installation.
---
ProSource, a national audio, video, and integration buying group, has announced the addition of two new seats to its board of directors. Lance Anderson, CEO and founder of Admit One Home Systems, and Aaron Cowden, owner of Fusion Audio + Video, have been chosen to fill the new seats.
"The members and vendors of ProSource are held in my highest regard; their advice and guidance has helped shape my own company," says Anderson. "I am grateful for the opportunity to contribute to this group and believe that my experience can help pave the way for the next generation. I believe it when we say we are 'Better Together.'"
---
MSE Audio, parent company of SoundTube Entertainment, Soundsphere, dARTS, Phase Technology, Induction Dynamics, SolidDrive and Rockustics, has announced the appointment of Michael Sipe to vice president of United States sales and Aja Watson to customer relations manager. Both Sipe and Watson provide years of sales experience to MSE Audio through their new positions.
"We are pleased to announce Michael and Aja's promotions and applaud them for their success," says Laura Waldon, president for MSE Audio. "Michael has demonstrated an ability to navigate and succeed in the rapidly changing audio market through his knowledge of the industry, relationships with reps and dealers, and focus on the changing landscape. In addition, Aja has represented strong leadership and organization skills that have helped to shape the Customer Service Department, which continues to provide our customers with reliable, fast and professional service. We look forward to our growth and success through the promotions of Michael and Aja."
---
May 2
Joseph A. DeLuca, SWAC Chief Compliance Officer has been appointed voting member for The Surface Transportation Security Advisory Committee for The Transportation Security Administration.
TSA Administrator David Pekoske appointed DeLuca to the Groups Representing the Users of Surface Transportation.
"I look forward to collaborating closely with the newly appointed members of the Surface Transportation Security Advisory Committee," said Pekoske. "The knowledge and expertise these leaders bring to the table will play a vital role in TSA's continued efforts to safeguard the nation's surface transportation systems," says Pekoske.
According to a press release, DeLuca is a recognized leader and expert in the oversight of procurement and construction projects, to prevent fraud, abuse, and the infiltration on all levels. His intimate understanding of the importance in protecting critical infrastructure sites from intrusion by criminals, terrorists, and criminal organizations, and the need for safeguarding documents and classified information is a valuable skill set for SWAC.
---
April 30
Atlona has bolstered its residential AV partner network by partnering with N & S Marketing. Based in Bellevue, Wash., the 41-year-old rep firm will represent Atlona and its products throughout the Pacific Northwest, covering Alaska, Oregon, Washington and western Idaho.
"Atlona's reputation as a market leader in video switching and an early innovator in AV over IP stands apart, and their solutions were the perfect fit to strengthen our networking and infrastructure portfolio," says Grover Reed, vice president of sales and marketing, N & S Marketing. "In addition to serving residential systems of any size, we believe the flexibility and technical superiority of their solutions will add value to light commercial projects that require huddle rooms, smaller conference spaces, and whole-building AV distribution for restaurants and other small businesses. This is especially important to our growth, as we see residential dealers shifting as much as 40 percent of their business to light commercial projects."
---
April 25
Nortek Security & Control LLC (NSC), a global developer of wireless security, home automation, access control and health and wellness technologies, announced the appointment of Eldon Henry as Latin America sales manager CI & security, reporting to Horacio Morales, director of international sales. The appointment strengthens the company's ability to bring advanced technology solutions to customers throughout the region. According to NSC Sales Vice President, Jeff Costello, Henry's 15 years of industry experience and knowledge make him the perfect candidate for the newly created position.
"We are excited for Eldon to join the International team after four successful years as a regional sales manager in California, and 15 years serving in the custom integration industry," says Costello. "Eldon's dedication to superior customer service and proven ability to help dealers sell the latest home and business technologies will greatly benefit our customers in Latin America."
---
April 23
Nortek Security & Control LLC (NSC), a manufacturer if wireless security, home automation, access control and health and wellness technologies, has announced the promotion of Chris Lynch to manager of builder services. Lynch now joins director of builder services, Bret Jacob, expanding the Nortek New Home Program to create opportunities for builders, architects, designers and integrators.
"As a regional sales manager, Chris grew his business substantially by leveraging the first phase of our New Home Program," says Jacob. "He not only 'road-tested' the materials, training and packages that are an integral part of the New Home Program, but helped us refine them. So when we looked to expand the team, Chris was the logical choice."
Before his promotion Lynch served as the regional sales manager, in which he was responsible for managing more than 150 direct custom installation dealers and distributors in the Southern California and Utah regions. Earlier in his career, Lynch worked as a territory account manager at Almo Professional A/V, a district manager at AVAD, and an account manager at Kaleidescape.
---
April 16
ProSource, a national video, and integration buying group, has announced the addition of 10 new custom integrator (CI) members, one new Power level member and one new PRO member in the first quarter of 2019. New members in Q1 represent $45 million in new revenue for the group. Plus, four ProSource CI members have been elevated to the Power membership level in Q1.
"Our growth strategy targets best-in-class operations that contribute to the overall strength of the organization," says Dave Workman, CEO and President of ProSource. "ProSource's tiered structure offers our members the opportunity to grow from within."
The new CI members are:
• Architechnology Designs, Melville, N.Y.
• CTRL+ALL, Berwyn, Ill.
• ECS AV, Redondo Beach, Calif.
• Electronic Interiors, Dallas, Texas
• MediaTech Living, St. Charles, Ill.
• PAVE, Nashville, Tenn.
• ProStream Digital, Flower Mound, Texas
• Saber Security Systems, Round Rock, Texas
• SoundFX, West Warwick, R.I.
• Soundscapes, Nashville, Tenn.
The new Power member approved by the ProSource board of directors is:
• Elevated Electronics, Overland Park, Kan.
With the approval of the ProSource board of directors, the following CI members were elevated to the Power membership level:
• Global Sight & Sound, Brown Deer, Wisc.
• Innovation Sight & Sound, Tampa, Fla.
• Lightworks, San Diego, Calif.
• Multimedia Solutions Group, Inc., Farmers Branch, Texas
The new PRO member approved by the ProSource board of directors is:
• Audio Advisor, Inc., Grand Rapids, Mich.
---
April 15
CEDIA has announced that it has become a partner of the Design Leadership Network (DLN). The DLN seeks to promote growth and professional practices in the high-end residential and related hospitality design markets by creating educational experiences for its members. CEDIA has joined the organization with the goal to connect members with the DLN's broad membership base of interior designers, architects, landscape architects and design brands for future technology and design collaboration.
"Working with the Design Leadership Network aligns with our strategy to build awareness among the design and build industry of the resource CEDIA members can be to their projects.  We look forward to leveraging a number of opportunities that will open up further business opportunities for our members," says Giles Sutton, senior vice president of industry engagement, CEDIA. "We are excited about our partnership with this far-reaching organization."
---
Best Buy Co., Inc., has announced that its board of directors has elected Corie Barry, currently the company's chief financial and strategic transformation officer, to become chief executive officer, effective following the company's annual meeting of shareholders on June 11, 2019. At that time, Hubert Joly, Best Buy's current chairman and chief executive officer, will transition to the newly created role of executive chairman of the board. These changes reflect the board's ongoing succession planning process and are designed to provide leadership continuity as the company continues to execute its strategic growth initiatives. Barry will also join the board of directors, which will expand to 13 directors.
---
April 5
HARMAN International, a wholly-owned subsidiary of Samsung Electronics Co., Ltd. focused on connected technologies for automotive, consumer and enterprise markets, has announced David Tovissi joined HARMAN as vice president and general manager of the luxury audio division.
Tovissi brings over 35 years of Consumer Electronics experience to HARMAN through his various executive roles in manufacturing, retail, custom installation and post-sales service organizations. Most recently Tovissi was the executive vice president of ToughBuilt Industries Inc, a manufacturer of products for the construction industry.
"We are thrilled to have David Tovissi lead our Luxury Audio team," says Dave Rogers, president of consumer audio at HARMAN. "David's understanding of the industry and his experience as a luxury audio dealer will allow him to develop more innovative products and programs for our luxury audio division."
---
April 2
WiSA has added 18 new members and grown nearly 40 percent since CES 2019. In addition, the trade organization says that it has also grown by 83 percent since this time in 2018. According to the trade group, the growth largely due to the launch of its new WiSA Ready Platform, which simplifies the consumer set up process to deliver up to eight channels of high-definition wireless audio.
Recently, WiSA also announced the addition of four new members: THX Ltd., Savant, IAG and Fengmi. These companies join existing members that include LG Electronics, Xbox, Klipsch, Harman International and TCL Technology, among others.
"It's thrilling to see WiSA and its members move the needle while at the forefront of a global movement in support of wireless multichannel audio," says Tony Ostrom, president of WiSA. "Our rapidly growing ecosystem is now packed with companies that represent the best in audio, electronics and manufacturing, which will enable our customers to bring millions of WiSA Ready* platforms to market in 2019."
---
March 29
ADI Global Distribution (ADI), has announced the winner of its 2018 Customer Appreciation Car Giveaway Sweepstakes. Roddy Bieber, vice president special hazards, alarm, and detections, (SHAD) at American Fire Protection Group, Inc., was selected from more than 5,000 entries to win the sweepstakes and a new Jaguar F-PACE.
For 16 years, ADI has been showing appreciation to its customers by presenting one lucky dealer each year with a new car. Entries for the Customer Appreciation Car Giveaway Sweepstakes are collected at all U.S. ADI Expos, and major industry trade shows throughout the year, and the winner is randomly selected.
"ADI's main focus is to help our customers grow their businesses," says John Sullivan, senior vice president of strategic accounts, ADI Global Distribution. "Our customers are extremely important to us, and this sweepstakes is just one of the things we do to express our gratitude for their support. For 2019, we'll be giving away a Porsche Macan, so I encourage you to come out to ISC West or one of your local expos to get your name in the drawing."
---
March 25
HiberSense, designers and manufacturers of smart climate solutions, has appointed Chris Lawson as channel sales manager for the U.S. market. Lawson will be charged with presenting the HiberSense solution to residential and commercial technology integrators as well as HVAC contractors while providing critical training and sales support throughout these channels. Lawson will also showcase the HiberSense solution to prospective customers at select tradeshows throughout the U.S.
"HiberSense represents a significant opportunity to bring balanced comfort to over 70-million homes and commercial spaces that are currently served by single thermostat systems," says Lawson. "Just about everyone has experienced the discomfort of hot or cold rooms. HiberSense is a unique solution and so effective at solving a widespread problem while maximizing energy efficiency—I am very much looking forward to this opportunity."
---
March 21
Home Technology Specialists of America (HTSA), a consortium of hybrid retail and custom integration members, has announced the appointment of Keith Esterly as chief learning architect. The group says this is a newly created position with the group, and Esterly joins HTSA's management team to head a new initiative developing custom education and team development programs for member company employees.
Esterly comes to HTSA with 20 years of experience in the fields of training, education, program creation and workforce development.
"HTSA continues to invest heavily in its membership by building our stable of in-house experts who work full time to design, launch, and manage major new programs. This new team development initiative will likely be as important and beneficial to HTSA members as our incredibly successful lighting fixtures and services initiative launched back in 2017," says Jon Robbins, executive director of Home Technology Specialists of America.
---
CEDIA has named the first two recipients of its CEDIA Member of Excellence designation. U.K.-based integrators ConnectedWorks and Homeplay have proven their commitment to craftsmanship, customer service, certification, and community outreach in achieving the status.
"ConnectedWorks and Homeplay are highly respected among custom integrators," says Giles Sutton, senior vice president of industry engagement, CEDIA. "Their recognition as the first-ever CEDIA Member of Excellence recipients raises the bar for the rest of the industry and gives ConnectedWorks and Homeplay an honor that demonstrates to customers and peers that they are, indeed, elite CEDIA member companies."
The CEDIA Member of Excellence selection process includes rigorous verification of member companies' qualifications in areas that include:
The company ensures continued customer service by providing three client or customer references from three projects within the last 12 months and two references from CEDIA Trade Supplier Members.
The company must demonstrate philanthropy by having either one CEDIA volunteer or at least one CEDIA Outreach Instructor (COI) on staff.
A percentage (based on size) of each company's full-time technical staff must hold at least one CEDIA advanced certification — ESC-T, ESC-D, or ESC-N Certification (does not include ESC).
The company has demonstrated exceptional quality by being a finalist/shortlisted or a CEDIA Award winner within the last three years. CEDIA is currently accepting awards applications.
---
Control4 Corporation, a global provider of smart home solutions, has announces 67 Control4 dealers who have achieved lifetime Pinnacle status for their respective businesses.
With more than 385,000 homes worldwide, the number of Control4 Systems is growing. The new Pinnacle dealers join over 300 others of this status worldwide who are distinguished from their long-term success having purchased one million dollars in their local currency of Control4, Triad, and/or Pakedge equipment over the course of their business. They collectively have expansive, proven expertise in programming everything from starter, one-room smart home systems to whole-home, hotel, and other commercial space automation projects. 
"Control4's latest Pinnacle status dealers continue to do great design and programming work with Control4, and in doing so they're contributing to the overall growth of the smart home by creating amazing experiences for clients in homes of all sizes," says Bryce Judd, senior vice president of worldwide sales for Control4. "This achievement is only reached through dedication and experience, and Control4 is incredibly proud to be a partner with this expanding group of elite dealers."
The list of dealers feature businesses from Canada, China and the United States, and states ranging from Massachusetts to California.
---
March 18
Dynamic Mounting, has appointed several new representative firms to market and sell its patented mounting solutions in their respective territories:
New York Marketing Team will handle the Metro N.Y. and Northern N.J. territories. Call 516-280-8100 or email at info@thenymt.com.
Aurora Group, Inc., will handle the mid-Atlantic territory. Call 703-244-7749 or email at info@auroragroup.biz.
Precision Sales Group, Inc., will take care of the Southeastern U.S. Call 980-781-5078 or email at info@psgreps.com.
L. P. Hench Company will handle handle Florida. Call 561-615-4550 or email bmartin@lphench.com
Elite 3 Pro will manage the TOLA territory. Call 281- 973-9991 or email sales@elite3pro.com.
I rep green will take care of Southern California. Call 818-398-6905 or email Randy@irepgreen.com
Redwood Marketing will handle Northern California and Hawaii.  Call 916-912-4115 or email at jim.knight@redwoodmktg.com
---
March 12
MSE Audio, the parent company of Phase Technology, Induction Dynamics, dARTS, SoundTube Entertainment, SolidDrive, Rockustics and Soundsphere, has announced the territory expansion for Cardone, Solomon and Associates in the Mid-Atlantic region, which includes Maryland, Delaware, Pennsylvania, District of Columbia, and Virginia.
Cardone, Solomon and Associates has represented MSE Audio for nearly four years throughout New York, Maine, Vermont, New Hampshire, Massachusetts, Rhode Islands and Connecticut. Through the latest expansion of territory, Cardone, Solomon and Associates will build on their existing relationship with MSE Audio. Headquartered in New York, Cardone, Solomon and Associates has been providing award-winning service for dealers throughout the New York, New Jersey, New England and Mid-Atlantic states since its inception in 1997.
"We're pleased to expand our territory of coverage for MSE Audio" says Mike Solomon, founding partner at Cardone, Solomon and Associates. "MSE Audio's wide range of product lines offer pristine quality for a broad range of applications. We're certain our customers are going to have great success working with their lines. We look forward to strengthening our relationship with MSE Audio."
---
Audio Gear Group, manufacturer and distributor of a portfolio of custom integration brands, has announced the appointment of Bryan Strachota to the position of national brand manager, effective immediately. This appointment is in response to the dramatic growth of the company, which markets high-performance architectural and landscape speakers, subwoofers, amplifiers, and accessories for the custom integration industry.
Strachota will work closely with Audio Gear Group's sales manager Ed Han and will be in charge of hiring, managing, and motivating a national sales force of independent sales representative firms, as well as custom integration-focused distributors. He will also build and oversee Audio Gear Group's national network of premier local custom integration system specialists.
In addition to these sales responsibilities Strachota will be in charge of Audio Gear Group's portfolio of brands including OSD Audio, OSD BLACK Series, Miller & Kreisel (M&K), and Carver.  His responsibilities will include creating profitable dealer programs, overseeing sales operations and administration, creating and managing dealer product training, and administration of customer support functions.
---
Project OAR for Open Addressable Ready, the consortium is working to define technical standards for TV programmers and platforms to deliver more relevant advertising experiences within linear and on-demand formats on smart TVs.
Project OAR allows ad-inventory owners, whether programmers or distributors, the technical means to better monetize every TV impression through segment-based audience targets and addressable insertion.
"TV programmers reach a massive and passionate audience, but have lacked the precision targeting of digital," says Mike Dean, senior vice president, advanced advertising and automation at CBS. "Through OAR, CBS will combine relevance with our reach to deliver a better experience to our viewers and better ROI for our advertisers."
With OAR, media companies can deliver ads that are relevant to the household and, more importantly, improve the linear viewing experience for consumers. "We all recognize the most important goal of this initiative is to drastically enhance the TV experience for people at home," adds VIZIO founder and chief executive officer William Wang.
---
March 8
Backstage Auctions, Inc., presents the upcoming "All Access David Frangioni" auction event which will feature a host of historic rock and audio memorabilia including drums and drum kits, audio equipment, and more, from award-winning audio engineer, author, collector, and owner of the integration firm Audio One David Frangioni. The auction will go live on March 16 with a special VIP preview of the entire online catalog beginning on March 9.
Complete, historic drum kits will be up for auction, including those from legendary drummers such as Carl Palmer, Carmine Appice, Eric Singer, Terry Bozzio, Gregg Bissonette, and Mike Portnoy. There is an overwhelming assortment of Carl Palmer, Asia and ELP road cases, gear and equipment, as well vintage road cases that belonged to Cozy Powell from his Black Sabbath years. Dozens of collectible snare drums and an exciting offering of vintage recording studio equipment will be up for auction. The exclamation point to this auction will come in the form of a broad selection of A-level memorabilia related to KISS, ELP, The Beatles, Rolling Stones, Led Zeppelin, Pink Floyd, RUSH, AC/DC, Michael Jackson, Aerosmith, Black Sabbath & Ozzy Osbourne, U2, Van Halen, Metallica, Motley Crue, and many others.
Frangioni is a music industry veteran who amassed this collection through years of professional drumming and audio expertise. After beginning his career working with Aerosmith for 13 years, Frangioni received many gold and platinum albums as technical consultant, engineer, and/or programmer, who later worked with industry icons including the Stones, Ringo Starr, Elton John, Sting, Bryan Adams, Journey, Styx, Phil Collins, Shakira, Rascal Flatts, Ozzy Osbourne, and Chick Corea. The majority of his unmatched collection of historic drum kits, equipment, and memorabilia, which have been either acquired at auction or through his music industry relationships, was on display in his book "Crash: The World's Greatest Drum Kits from Appice to Peart to Van Halen."
"David's collection is a fascinating mixture of historic drum kits, snare drums, recording studio used equipment, legendary road cases, and an impressive offering of traditional music memorabilia," states Jacques van Gool, owner, Backstage Auctions.  "Whether you're a drum enthusiast, gear head, or straight-up collector, this auction will offer something for everyone. David Frangioni is a top authority on everything drums, and his private collection is second-to-none. "Combine that with his credentials in the recording and music technology arena and you know that you're hosting a most intriguing auction."
---
AVPro Global Holdings, home to AVPro Edge, Murideo, Bullet Train, and CANVAScsi, has announced the hiring of Steve Baker as a regional sales manager for the West Coast of the United States.
Since starting with Pacific Stereo in 1979, Baker has been an asset to each company he has worked for. His experience working in the CEDIA space Steve has impacted many companies throughout his career including AVAD, Liberty Bell Smart Home, and Custom Plus Distributing. At AVPro Baker will be responsible for maintaining and facilitating relationships with customers and assuring their success with the full line up of AVPro solutions.
"We are extremely pleased to have filled out our West Coast regional sales management team with Steve Baker. Steve comes from a long and solid background in AV and is all about helping customers succeed. His knowledge of connectivity will make him an asset for dealers and our company," states Jeff Murray of AVPro.
---
March 6
Atlona has named AMI Sales as its manufacturer's representative for residential AV in Florida, effective immediately. The appointment will strengthen Atlona's visibility and brand awareness throughout the state, given AMI Sales' nearly five decades of experience serving the Florida market.
Founded in 1972, AMI Sales specializes in representing premier consumer electronics brands, and adds value through an array of professional consulting, design and engineering services. The company works closely with dealers and installers to create custom solutions and solve problems for residential and light commercial projects.
"We pride ourselves in providing richer consultative services instead of handing out pricing sheets," says Bill Lipp, president, AMI Sales. "We are directly involved in the planning process, and meet often with contractors, architects and end users. These qualities are especially important in the very expansive Florida market. The fact that we only represent premier brands is another important differentiator, ensuring our dealers and integrators remain profitable. Atlona's product reliability and reputation for staying ahead of the technology curve make profitability a reality."
---
Access Networks, the enterprise-grade networking solutions provider that serves the custom installation industry, has added Bobby Giebenrath to its sales team. Selected to support dealers in equipping customers with the enterprise-grade networking gear, Giebenrath will bring his technical expertise to his role as the company's Southeast sales manager.
Giebenrath is an experienced technical and regional sales manager coming to Access Networks from Commandscape, where he was a sales engineer, wired technology group, where he was an account manager, and Savant Systems, where he was a regional sales manager and sales engineer.
---
March 1
Sonnen has announced the appointment of a new U.S Board of Directors. The board will be responsible for leading the rapid scaling and expansion of the company's residential energy storage business throughout North America, Latin America and the Caribbean.  Board members include Blake Richetta as Chairman and Chief Executive Officer, Carlos Restrepo as Chief Technology Officer (CTO), Brent Stayer as Chief Operations Officer (COO), and James Claflin as Chief Financial Officer (CFO).
"Our business in the U.S. has grown quickly over the last few years with a focus on new market innovations and sales expansion. We plan to continue this rapid growth in the years to come and for this, we will need the right strategies and leadership in place. We are delighted to establish a deeply experienced Board of Directors to achieve this acceleration and continued expansion of our business in the Americas," says Christoph Ostermann, Global CEO of the Sonnen Group.
As chairman and Chief Executive Officer (CEO) of sonnen, Inc., Blake Richetta brings deep experience in energy management to his leadership of the organization. Prior to sonnen, Blake served as North American Powerwall Sales Manager at Tesla and spent 15 years at Lutron building the smart home lighting and shading business in the home automation and home building industries. 
Carlos Restrepo, CTO, leads R&D and Engineering for Sonnen, Inc. and is responsible for ongoing product innovations and development for the Americas, including energy storage systems, energy automation technology and the sonnenCommunity. With over 18 years of experience innovating market-changing technologies in home automation, circuit protection and solar power electronics, Restrepo has led technology-centric organizations and holds several major patents, for groundbreaking innovations, including multiple patents for Arc Fault technology.  
Brent Stayer, COO, is responsible for production, manufacturing, quality and distribution for Sonnen, Inc. Stayer has more than 30 years of experience in global electronics and home automation at Lutron Electronics.
James Claflin, CFO, brings 25 years of experience as a small business entrepreneur and financial manager with a track record of enhancing operational efficiency and profits. 
Sonnen, Inc. U.S. headquarters is in Tucker, Georgia.
Feb. 28
KNIPEX Tools announced that Beverly Richards was promoted from marketing manager to vice president of marketing, while Steve Deering was promoted from warehouse manager to vice president of operations.
"KNIPEX is undergoing a period of immense growth, and that success can largely be credited to the tremendous work we've seen from Bev and Steve," says Todd Shumate, president, KNIPEX Tools. "We look forward to seeing them incorporate their talents and effort in these critical new roles as we continue to meet and exceed company goals."                      
---
Feb. 27
Comprehensive Connectivity Company, a manufacturer od pro AV/IT equipment for 45 years, has recently signed a distribution agreement with Accu-Tech.
Headquartered in Alpharetta, Georgia, Accu-Tech is a low voltage distributor with over 30 branch locations around the country. Their business focus is on providing a complete solution to their customers in voice, data, security, AV and wireless, among other categories.
"Over the decades, Comprehensive has built a reputation for manufacturing the most reliable connectivity products available to professional AV and IT integrators and resellers. Simultaneously, Accu-Tech has earned a stellar reputation of their own as one of the premier solutions-based distributors in the channel. With their recent foray into the AV market, we believe Comprehensive's cutting-edge connectivity products are a perfect fit for their commercial customers and integrators. We expect Accu-Tech will be very successful with the Comprehensive brand and we are excited to be working with such a great organization," says Scott Schaefer, president of Comprehensive.
---
JL Audio, a Fla.-based audio company has announced the promotion of three employees:
Robert Oxenhorn—promoted to senior VP finance
Karen Torres—promoted to director of accounting
Maria Alfonso—promoted to director of credit and collections
---
Feb. 22
Origin Acoustics has been selected to outfit The New American Remodel show home at 2019 International Builders Show by architect/ builder Michael Gardner of studio g Architecture, and Luxus Design Build.
The home includes 5,900-square-feet of living space and adheres to the criteria as set forth from the National Association of Home Builders (NAHB). The remodel home was built in 1950