CE Pro's annual Brand Analysis study surveys the top 100 highest-revenue residential integration firms, otherwise known as the CE Pro 100, to determine their preferred brands in the categories of audio, video, home automation, networking, lighting control, security and more.
In this category-by-category breakdown, senior editor Bob Archer delivers an in-depth look at the most frequently used manufacturers in 55 product categories. The numbers associated with each manufacturer reflect the number of CE Pro 100 dealers using that brand.
---
To say the Access Control category has exploded could be an understatement.
In 2016 Control4 led with 17 dealers and fifth-place Savant had seven. Control4 nearly triples its total, while Savant does triple its tally.
For perspective, Holovision doubled its 2016 numbers and that wasn't good enough to maintain its top-five status.
There's also a four-way tie for fourth place!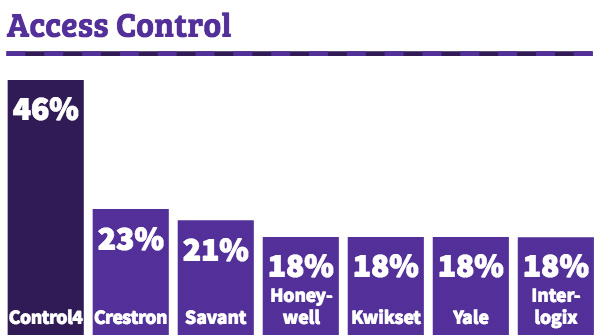 Top 7
Control4: 46
Crestron: 23
Savant: 21
Honeywell: 18
Kwikset: 18
Yale: 18
Interlogix: 18
Other Brands
Holovision: 14
URC: 12
Linear/Nortek: 10
Aiphone: 9
Elan: 8
Seidle: 8
DSC: 7
Liftmaster: 7
Schage: 7
AMX: 6
Leviton: 6
RTI: 6
Viking: 6
Baldwin: 5
CardAccess: 5
Emerge: 5
Channel Vision: 4
Door King: 4
Securitron: 4
Custom: 3
Elk: 3
HID: 3
Kantech: 3
Alarm Controls: 2
Assa Abloy: 2
Avigilon: 2
Brivo: 2
Dwelling Live: 2
HES: 2
IEI: 2
KeriSystems: 2
Keyscan: 2
Paxton Access: 2
Rosslare: 2
Sielox: 2
CDVI: 1
FAAC: 1
NKS: 1
ProdataKey: 1
Quickset: 1
Salient: 1
SDC: 1
Software House: 1