Industry veteran Jason Baumann, 59, passed away unexpectedly on February 21, 2021 at his home in Frisco, Texas. Jason made electronics a lifelong career, with roles in marketing and sales. He last served as regional sales manager for Yamaha. He also held sales positions with Audio Products International, KEF America, Milestone AV, Polk Audio, ProSource, and others.
His obituary reads: Jason Baumann, son of Melvin and Marcella Baumann, was born on October 3, 1961 in Ashley, North Dakota. He attended Ashley public schools where he played football and basketball and was crowned homecoming king. He graduated from high school in 1980. He attended North Dakota State University. Jason was united in marriage to Rita Howard on April 4, 1987.
The couple resided in Phoenix and Dallas and had two children (Leah and Jacob). His greatest joy was his children and grandchildren. Jason loved going to the movies with his kids, getting pedicures with his daughter, and was always searching for the perfect pizza. He also enjoyed going for walks and exploring new hiking trails with his kids.
Survivors include his daughter Leah Lovecchio and husband Eddie Lovecchio of McKinney, Texas; son Jacob Baumann and girlfriend Kiki of Dallas, Texas; three grandchildren, Jaxson, Juliette, and Jason; sister Yvonne Weisz of Los Angeles; and brother Rodney Baumann of Omaha, Nebraska.
"Jason was a dear friend whose life touched so many in our industry," says Bonnie Perella, Manager, National Specialty Retail, Legrand | AV. "He always put his family first, yet he somehow always made time to listen to his peers. He'd share his wisdom and almost always add laughter to the conversation. Jason was one of the good guys who will never be forgotten."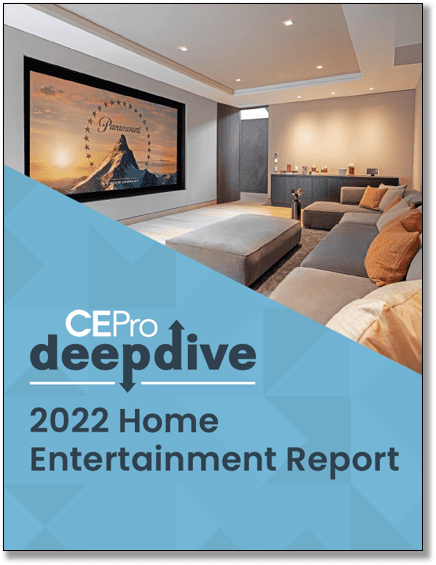 The home entertainment category is especially susceptible to the supply chain crisis because there are so many individual components required. Despite that ongoing problem, the once-forgotten "home theater" category continued its strong comeback in 2021 likely driven by the ongoing house-bound public due to the COVID-19 pandemic.
Download your copy today!
Condolences and memories may be shared with the family by sending cards or letters to: 3604 Rand Creek Trail, McKinney, TX 75070. Please also visit Jason's memorial page to share a story on how he touched your life.
A memorial service is scheduled for Thursday, March 4 at 10 a.m. at the Turrentine-Jackson-Morrow Funeral Home.