Bose had another big CEDIA Expo, with this year's booth at the San Diego Convention Center showcasing the company's new Smart Speaker family, and particularly how the company's microphone technology helps it stand apart from the all-in-one-speaker crowd when it comes to Alexa voice control.
The Smart Speaker family comes in addition to, and not in replacement of, the successful SoundTouch that played a big role (and also featured voice commands) in Bose's recent CEDIA Expo appearances.
The company launched its latest products with a more extended vision of how music is accessed and heard in general today.
"This lineup here is a whole new ecosystem that will be app controlled. Our vision for the new ecosystem is that it's going to grow beyond the home," says Adrian Eiben, business manager of Bose's Custom Solutions Unit.
"We feel that there's no other brand that's better positioned than Bose to give our customers a premium music listening experience that runs the gamut of car audio to your Bluetooth speaker to your headphones all the way into your home. So this new app will eventually cover on-the-go products and ensure a seamless music listening experience."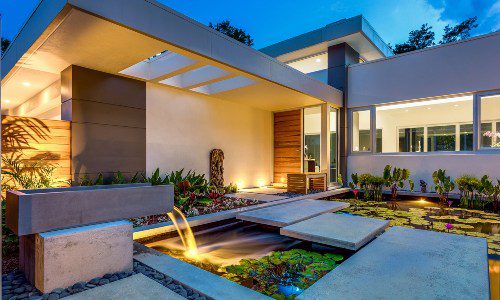 Landscape and architectural lighting create a magical and elegant ambiance for homeowners. The outdoor lighting industry has always been a phenomenal one and continues to grow in popularity. Now is the ideal time to learn more about this rapidly growing and highly profitable industry. Join our panel of esteemed lighting experts that will dive into why it's time for integrators to rethink their role in the outdoor lighting industry.
Register Now! 
Stereo Soundstage Through Side-Firing Speakers
Inside the home, that means the Smart Speaker series products, which include the Home Speaker 500 and Soundbars 500 and 700 that launch later this month.
Eiben points to the Home Speaker 500's unique configuration of side speakers firing to the left and right, as opposed to examples such as the Amazon Echo Dot, to create the stereo soundstage.
"We feel it has the widest sound stage of any all-in-one speaker on the market," he says.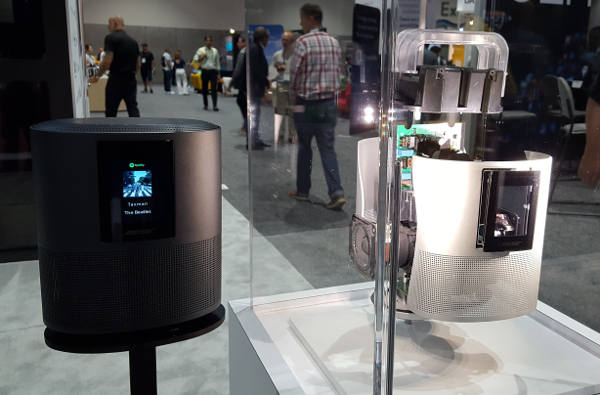 The grille is a single piece of extruded aluminum, that has some heft to it, while the other key visual of the front of the speaker ($399, offered in black and silver) is its OLED screen that offers Now Playing album art for a punch of color.
On top of the speaker as with other Bose smart speakers, the Home Speaker 500 includes six presets that can instantly select and start playing content from a station on any streaming platform the user accesses.
The presets, as well as other quick-function buttons on top, are touch-capacitive so the aesthetic isn't marred by buttons.
Furthering the modern design, LEDs light up when top-panel actions are conducted.
"That's something that is really unique to our lineup, where it's quicker, easier access to music, instead of having to rely on your app," Eiben says. "Simple, easy control here. TuneIn, Spotify, Pandora, Top 40 … you name it, that can be a preset."
Many Microphones Help Hear Alexa
Also very important to the speaker and another differentiator for Bose is the way it clearly communicates with Alexa, thanks to an eight-microphone array and other technology packed into the Home Speaker 500 (and other voice-command capable Bose products).
The audio pickup and clarity is something Bose leveraged from other markets in which its products need to provide reliable communications, Eiben explains.
Related: Bose Continues Channel Push with Partner Program, Alexa Skill
"Bose has done microphones and headsets from military headsets to the NFL headsets," he says.
"One of the issues we've seen on the market is [Alexa's or other voice platforms'] ability to really distinguish your voice from afar when music's playing loud. We have echo cancelation, beamforming technology and eight microphones all in this to give it best-in-class pickup, we're really excited to get this product out to market."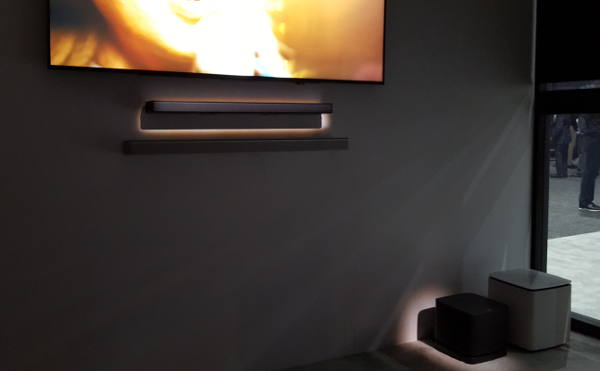 In its demo room, Bose highlighted the pairings of its new Soundbar 500 and 700 and respective Bass Modules.
Besides Alexa capability baked in plus all the microphones, the soundbars include Quiet Port technology, enhanced dialog mode, and wireless pairing of surround-sound speakers.
Another cool visual feature that's on the Home Speaker and Soundbar products is a light beam that represents two-way feedback as Alexa is engaged.
Eiben says Bose plans on implementing additional voice control platforms/personal assistants in the near future.
Read about further details and specs of the new speakers here.
If you enjoyed this article and want to receive more valuable industry content like this, click here to sign up for our digital newsletters!