There's nothing necessarily wrong with piping white noise through an open office space to muffle nearby conversations and protect a modicum of privacy. But white noise is a little old-school, now that research on biophilia and biophilic design indicates our hard-coded attraction to the outdoors … including the sounds of nature.
Why not circulate the sounds of birds and streams instead? The science* is rich, plentiful and convincing: Exposure to nature sounds (among other natural stimuli) can enhance focus, reduce stress, and improve overall wellness when compared to artificial sounds or no sound at all.
They can, of course, also stifle distracting din so prevalent in today's "collaborative" office environments – just like white and pink noise can do, but without the irritation and fatigue often associated with these artificial sounds.
INTEGRATORS: Please take 7 minutes to complete the CE Pro Survey on Wellness
A 2011 study comparing the effects of five different speech-masking sounds (including filtered pink noise) found that the sound of spring water was the most optimal for workplace performance, creative thinking and acoustic comfort.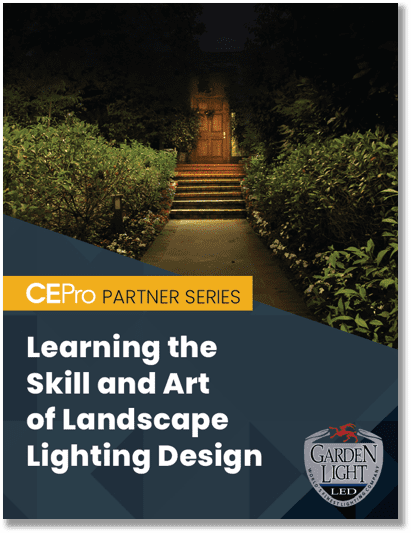 Experts recommend landscape lighting design as an entry point for integrators into the revenue opportunity of home lighting. Check out our new resource for tips and best practices. Download "
Learning the Skill and Art of Landscape Lighting Design
" today!.
The response mirrors that of the effects of natural light vs. artificial light when it comes to productivity and comfort.
Nature is hard-coded in our DNA after a few hundred-thousand years of outdoor living.
"We can't resist our innate biological preference for nature," a narrator explains in a video for Habitat Soundscaping by Poly (formerly Plantronics). "It's why we have a profoundly positive response to natural light and intrinsically enjoy the sounds of nature."
Our "primordial sense of hearing is extremely well adapted to survival in the outdoors," the narrator continues.
Cave-dwellers had to be ever-vigilant for lions, tigers and other predators of yore … but not so much for today's office dwellers, which simply have to fight or flee pesky suppliers and colleagues.
More than half (53%) of non-executive employees say ambient noise reduces their satisfaction and productivity.
It would be nice if our brains could just shut out the ambient noise, but "our omnidirectional hearing is always on and especially sensitive to human speech," the Soundscaping narrator says. Back in the day, humans had to listen for every little psst uttered by their vigilant cohorts in the dangerous bush. You can't undo that biological necessity in the few hundreds of years we've been living indoors full-time.
*White Noise vs. Nature Noise: Resources
Mind-wandering and alterations to default mode network connectivity when listening to naturalistic versus artificial sounds (2017)
Tuning the cognitive environment: Sound masking with "natural" sounds in open-plan offices (2015)
Effects of Five Speech Masking Sounds on Performance and Acoustic Satisfaction. Implications for Open-Plan Offices (2011)