Best Buy Co., Inc. (NYSE: BBY) reported a solid quarter of holiday sales with increased emphasis on online purchases, but plans to make broad changes to continue to minimize its retail footprint, including closing stores, reducing store sizes, converting square footage to devote to shipping, and reducing its lease terms going forward. As a result, it announced an immediate layoff of 5,000 employees.
In total, Best Buy's results for its Fiscal Year 2021 Q4 ended January 30, 2021 showed an increase in sales of 12.6% to $16.9 billion in sales for Q4, up from $15.2 billion last year. In the U.S., domestic revenue was $15.4 billion, an increase of 11.2% versus last year. Profit was 20.9%, slightly lower than last year's 21.2% margin.
Not surprisingly due to the pandemic, the company's domestic online sales increased a whopping 89.3% to a record $6.7 billion. Online sales made up 43% of all of Best Buy's sales. Other strong data supporting the web-based sales were that 48% of all online sales were picked up by customers at stores, and Best Buy's ship-to-home volume was up 38%.
Same-day shipping volume was up 376% and Best Buy reported delivered more than 1 million units. For the full fiscal year 2021, revenue was $47.262 billion, up from $43.293 billion in FY 2020. The largest drivers being computing, appliances, gaming, virtual reality and home theater.
Best Buy 2021 Forecast Is Muted
But it was the company's outlook for its next fiscal year and its plans going forth that has the mainstream media and Wall Street reacting. Best Buy projects just a -2% to +1% range of sales growth for the next 12 months. Wall Street reacted negatively to the outlook, driving the stock down.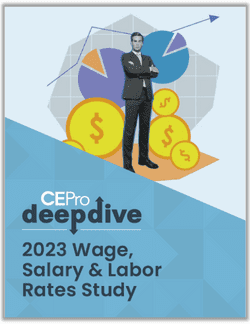 Discover the drastic difference a year can make when it comes to wage, salary, and labor rates in the custom integration industry.
Best Buy CEO Corie Barry announced the company is going to begin piloting a reduction in square footage of its stores, and converting portions of stores to be dedicated to shipping, not retail.
"During Q4, the company used 340 of its stores, or roughly 35% of locations, to handle about 70% of our total ship-from-store units," she says. "We believe that we can achieve similar results consolidating volume, using a smaller group of stores as hubs over time. In addition, in a subset of these stores, we plan to reduce the sales floor square footage and install warehouse grade packaging station equipment and supplies. As a result, we expect to drive both efficiency and effectiveness."
Barry says foot traffic inside stores was down roughly 15% during the holiday time period, including both in-store shoppers and customers picking up online orders via in-store or curbside.
"And while some traffic will likely shift back to our store channel in fiscal '22, like many retailers, we believe much of what we saw last year will be permanent," she adds.
The company has approximately 450 leases coming up for renewal in the next 3 years, or an average of 150 each year. Best Buy has shut down about 40 locations over the past two years and expects to close a higher number in 2021. It also plans to reduce its lease terms on locations going forward.
Best Buy entered its fiscal year 2021 with 123,000 employees, but already cut it down by 17% to 102,000 due to the pandemic. Given the continuing online-buying trends, Barry announced the company laid off 5,000 employees yesterday. At the same time, it hired 2,000 part-timers. All of these changes will result in $1 billion in cost cutting over the next year.
Barry also reported that the average hourly wage for Best Buy employees is now $17.67, and employees will be receiving "pandemic fatigue" bonuses of $500 for full-time and $200 for part-time.
Total Tech Support; Wellness Initiatives
On the support side, the company's Total Tech Support program continues to receive very strong customer rating, according to Barry who called it "a unique program that we believe only we can offer." The program had been "paused" during the initial stages of the pandemic, but Barry says membership growth recovered after the company reopened its stores more broadly.
"We continue to see significant opportunity over time to evolve all of our many customer memberships, which also includes our millions of My Best Buy customers. We purposefully pressed pause on this initiative at the start of the pandemic and are planning to roll out a pilot in the next few months that will leverage our learnings from the material evolution of customer shopping behavior over the past year," she adds.
Lastly, Best Buy plans to pursue a more proactive strategy addressing health and wellness gear, including in-home blood testing equipment and other telehealth items.
If you enjoyed this article and want to receive more valuable industry content like this, click here to sign up for our digital newsletters!