Amazon has announced a litany of new devices and technologies designed to improve the company's smart home offerings, including new AI capabilities for Alexa, automation capabilities, a new Alexa-enabled smart home control panel, a new smart home map feature in the Alexa app and several other devices and features.
The tech giant's announcements came during its annual Devices and Services Event, which has become known for making news in the smart home category. This year, many of the company's announcements centered around its AI assistant Alexa and how the company is making the service smarter with new large language models (LLMs) and generative Ai capabilities.
Enhanced AI Capabilities in Alexa
According to Amazon, the company enhanced Alexa with a new LLM to make controlling smart home systems easier, more intuitive, and more conversational. Alexa's new capabilities will be available via a free preview, with Amazon granting access in the coming months.
"The home is one of the most complex and dynamic environments to build for—the new Alexa LLM is capable of managing a nearly endless amount of variation, and it can understand how your specific home is set up to trigger the right APIs and actions," the company says in an announcement.
For example, instead of asking Alexa to turn up the heat, a homeowner could just say "Alexa, I'm cold," and the assistant will turn up the heat. Similarly, a homeowner could tell Alexa that the lights are too bright, and the AI assistant will dim the lights.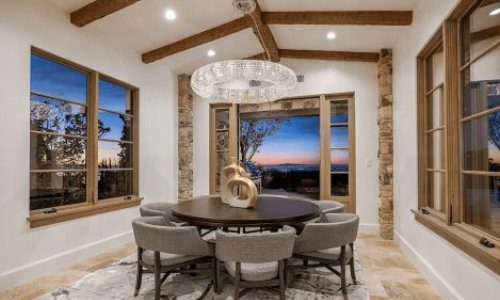 As a custom integrator, lighting is in demand. Effective communication, education and showcasing the value proposition of LED light fixtures in conjunction with integrative control systems are the keys to overcoming challenges and closing sales in this specialized market. Join us as we discuss the future of digital lighting and control with David Warfel from Light Can Help You and Patrick Laidlaw and Mark Moody from AiSPIRE.
Register Now! 
According to Amazon, Alexa will also be better at understanding context. For example, if a new smart light is added, a user can ask Alexa to "turn on the new light," and Alexa will infer what is meant.
The new AI capabilities will also make Alexa more conversational with a "new level of smart home intelligence," the company says. For example, users can combine multiple requests into one. They can also set up an Alexa routine using only their voice.
"You can do this by saying things like 'Alexa, every morning at 8 a.m., turn off my sound machine, open the blinds, turn on my bedroom lights, and make me some coffee.' Like magic, every day at 8 a.m., all those things will happen automatically. Then, you could say, 'Alexa, every night at sunset, make an announcement that it's bedtime for the kids, dim the lights upstairs, turn on the porch light, and switch on the fan in the bedroom.'"
These new Alexa capabilities will be available as a free preview, but users must request an invitation to try the new smart home controls.
Alexa AI Solutions for Device Makers
Amazon is also adding tow new LLM-powered solutions for device makers to build with Alexa, including Dynamic Controller to tell Alexa the unique things their device can do, and Action Controller, which lets device makers define the simple actions their devices support so users can be more conversational. The company says it is working with GE Cync, Philips, GE Appliances, iRobot, Roborock and Xiamoi.
New Alexa Automation Capabilities
Amazon also announced new features designed to help a user's smart home system be more proactive. According to the company, with a compatible Echo or motion and ambient light sensor, Alexa will be able to detect brightness level and activity in a room and decide to turn the lights on or off, so users won't even need to ask Alexa to control the lights.
Amazon is also adding new automation capabilities such as Featured Routines for Ring, which will bring pre-populated lists of routines to the Ring app. This will include actions like turning off lights when Ring Alarm is set, turning on porch lights when someone rings the doorbell at night, or having Alexa announce which door is opened. Similarly, Amazon is adding new morning routines designed to make waking up more fun for families.
A New Alexa-Enabled Smart Home Control Panel
The company also announced the Echo Hub, which Amazon calls its first Alexa-enabled smart home control panel designed to make connecting and managing smart devices easier and more intuitive. The panel can be mounted on the wall or placed on table-top stand. Users can talk to Alexa via the Echo Hub or use the 8-inch touchscreen to group, manage and view smart home devices.
The Echo Hub can be used to start a routine, arm a Ring security system, and view multiple camera snapshots or live views at once. When not in use, the display can show photos or information like weather and time.
Since it's a smart home hub, the $179.99 Echo Hub supports major smart home protocols, such as Zigbee, Matter, Thread, Bluetooth Low Energy and Amazon Sidewalk. The Echo Hub connects via Wi-Fi or Ethernet with a compatible power-over-ethernet converter.
Map View
To help users add more devices and manage a long list of devices, Amazon is introducing Map View, a new feature in the Alexa app that provides a digital representation of a home's floor plan. Users can pin and unpin connected devices to each room and choose which rooms are added to the map and select which devices show up.
Via the map, users can also control lights, adjust the temperature, view live feeds, check door locks and control volume of Echo devices. Map View will be available later this year through the Alexa app on compatible LiDAR-equipped iOS devices, and Echo Hub early next year.
eero Max 7
Amazon is also announcing eero Max 7, the company's first Wi-Fi 7 mesh system. According to Amazon, the system combines the company's TrueMesh networking technology with the latest Wi-Fi 7 standard to increase speeds, avoid interference from neighboring networks and improve mesh latency. Using 10 Gigabit Ethernet, the system can download a 4K movie in 10 seconds or a 50 gigabyte video game in less than a minute, the company says.
It will be available soon in one, two-, and three-packs starting at $599.99, the company says.
Fire TV Sticks, Search, Soundbar
Amazon is also announcing the $49.99 Fire TV Stick 4K 2nd Gen, which the company says is nearly 30% more powerful than previous models, and now includes support for Wi-Fi 6 for faster speeds and 4K Ultra HD streaming.
In addition, the Fire TV Stick 4K Max 2nd Gen supports Wi-Fi 6E and has nearly three-times the frequency bandwidth for lower latency, faster speeds and less interference from other wireless devices. The 4K Max supports Dolby Vision, HDR, HDR10+ and Dolby Atmos audio.
Previously only available on the Fire TV Omni QLED Series, the $59.99 4K Max comes with the Fire TV Ambient Epxrience, which turns a TV into a smart display by replacing blank screens with information such as a calendar, weather, reminders, or art.
Also new in Fire TV is a new search experience that combines generative AI with Fire TV's content and app library, and a new "Continue Watching" row on Fire TV that combines recently watched content across streaming providers, all in one place.
Also new for Fire TV is a new Fire TV Soundbar, a Bluetooth-enabled soundbar that supports DTS® Virtual:X and Dolby Audio.
Blink & Ring Cameras
In the company's Blink line of cameras, Amazon announced the Blink Outdoor 4 Floodlight Camera, which provides motion-triggered LED lighting. The camera is available for preorder for $159.99.
Amazon is also introducing the $49.99 Sync Module Pro, the company's first system hub to offer extended range for Blink Outdoor 4. The Sync Module Pro, available in spring 2024, uses a new proprietary wireless protocol integrated into custom-built third-generation silicon to extend the range of Outdoor 4 cameras up to three times further than the range of typical Wi-Fi.
For Ring, perhaps Amazon's better-known brand of security cameras, the company is announcing the new Ring Stick up Cam Pro, an indoor/outdoor camera that offers 3D motion detection and bird's eye views of the property.
The Stick Up Cam Pro is available for preorder for $179.99.
If you enjoyed this article and want to receive more valuable industry content like this, click here to sign up for our digital newsletters!