Beethoven's famed "unfinished" Symphony No. 10 was never completed, but it's still considered a masterpiece. Like Beethoven, custom integrators have some unfinished masterpieces of their own. On average, integrators report being unable to complete 13% of their projects in 2021 due to supply chain shortages, lingering pandemic-induced hesitancy from some clients, and an extreme lack of manpower. Yet, despite all that turmoil, the custom electronics industry still managed to grow a healthy 7.6% in 2021.
That growth rate is one of the key results from the exclusive CE Pro 2021 State of the Industry Survey conducted in November 2021. In all, the survey garnered 346 responses from the CE Pro dealer readership.
Breaking down some of the primary data points, the median custom integration company earned a total median revenue of $1,467,581 in 2021. As noted, that represents a 7.6% rise over last year's $1,363,363 total revenue figure.
Heading into 2021, dealers were predicting to boost revenues by 9.8%, so the 7.6% gain falls just short of that prediction; however, it should be noted that dealers routinely anticipate higher gains than they actually achieve every year. Meanwhile, the 7.6% increase in 2021 represents slower growth when compared with 2020's surprising growth rate of 11.5% in the midst of the pandemic.
Examining Revenue Sources for 2021

In all, 73% of dealers' 2021 revenue comes from the residential side of the business, while 20.5% of revenue comes from commercial work or crossover "resimercial" work. The remaining 6.5% of income comes via recurring monthly revenue (RMR) sources such as security monitoring, service agreements, remote managed services, cloud-storage fees and more.
Looking solely at the residential statistics, integrators performed a median of 37 residential projects in 2020. That is down from 55 residential installations in 2020; however, the median price point for a resi project soared to $29,184. That is up 73% from 2020's median residential project price point of $16,875.
Clearly, integrators wisely chose to focus on the more lucrative projects that they anticipated they could complete versus taking every job that came their way. At the same time, integrators report having backlogs of more than three months caused not just by the lack of electronic gear stuck in the supply chain mess, but general construction supplies for items like doors and windows that have ground projects to a halt.
The percentage of six-figure residential projects nearly doubled in 2021 (10% of jobs) compared to 2020 (6%). On the flip side, 10% of installations last year were less than $1,000.
For the first time in the annual survey, CE Pro asked dealers about their unfinished projects due to supply chain delays or other causes. On average, integration companies had six incompleted projects in 2021, which equates to 13% of their total 47 installations (37 residential plus 10 commercial). Presumably, CE pros have collected some revenue from those jobs, whether it be the upfront equipment money and/or in-progress payments. But even if the outstanding revenue is only a small holdback fee, it represents unrealized revenue in 2021 which would have made the growth rate even higher. The survey did not delve into the specific dollar amounts still outstanding.
Amazingly, 3% of integrators reported that EVERY project they worked on in 2021 was not able to be fully completed due to supply chain problems. On the flip side, 25% of integrators said they were able to complete 100% of their projects in 2021.
Drilling down into the commercial work, dealers report doing a median of 10 commercial/resimercial projects in 2021. That is one fewer than last year. The data reveals that perhaps the corporate, hospitality (hotel/ bar/restaurant), retail, and house of worship vertical markets are still suffering some lingering effects from the pandemic. More consumers are certainly traveling and dining out than they did in 2020, but commercial owners still might be watching their pocketbooks versus laying out cash for upgrades. Meanwhile, the work from home (WFH) trend continues, meaning many corporate offices remain partially empty, reducing demand.
Similar to the trend in the residential market, integrators focused on larger commercial projects. The average commercial installation was a whopping $30,073, up an incredible 41% from the average price point of $21,250 in 2020.
In terms of establishing solid recurring monthly revenue, integrators are still moving slowly on that front. In 2021, the average integration company earned $104,910 in recurring annual revenue, or $8,742 per month. That is down from last year's figure. It could be due to several factors.
First and most obviously it is because dealers are taking higher-priced projects so they are earning more revenue as a percentage of total revenue from the design, programming and installation portion of the project. Secondly, with the downturn in commercial business due to empty corporate offices, bars and restaurants, dealers likely lost some monthly maintenance fees associated with remotely managing the scheduling of corporate boardrooms. Also, with sales of existing homes being so hot, dealers might have had some longterm clients "cash out" on their high home values by selling; thus, eliminating their monthly service agreements.
Breaking out the RMR earned by the typical custom integrator, about 2% of the RMR is from service agreements, 1% is derived from security monitoring, 1% is remote managed services for commercial accounts, and the remaining 2.5% is from cloud-storage fees for video surveillance, remote power management, and other services like cleaning and cybersecurity.
Probably the most alarming statistic from this year's survey is the across-the-board drop in profit margins in every category. Dealers report earning 26% profit on their equipment in 2021. That is down from 37% margin the previous year. Why? It could be another sign of the influx of consumer brands that do not offer dealers the leeway to mark up the product substantially.
At the same time — and perhaps even more alarming — margins for all types of labor (installation, programming, service and design) fell in 2021. That is likely due to the higher salaries and hourly wages CE pros are being forced to pay to attract talent. If dealers did not increase their labor rates to account for the higher wages or if there was lost productivity due to new hires, then the labor margin logically would fall.
Heading into 2022, there are still so many unknowns with rising inflation, lingering coronavirus, continued supply chain woes and the ongoing labor situations. But despite all that, integrators remain an optimistic bunch. They are predicting a double-digit increase in revenue of 11.6% in 2022. That optimism has been a long-standing tendency. Even in the depths of the housing crisis in 2007 through 2010 when some custom integrators lost half their revenues, they were predicting positive revenue increases. Speaking of optimism, 10% of integration companies expect to grow revenues by more than 50% in 2022.
Still Cottage Industry, But Maturing
The custom electronics industry remains solidly a home-based business for a high percentage of dealers. Nearly four out of every 10 companies (39%) are home-based, meaning they either work from their home with no showroom, or they actually use their home to showcase technology to potential clients.
About one out of every three integrators (28%) has a commercial office location with no showroom, and a similar percentage (33%) have a commercial office location with a showroom that is either appointment-only or has a retail element.
Owning a custom installation operation remains a small lifestyle business for many; however, the industry is maturing. Still, 11% of all companies are one-person shops, with another 19% of companies having between two and four employees. Last year, the CE Pro State of the Industry Survey indicated a big jump in employment, with the median number of employees leaping from eight to 13. At the time, we suspected it was an outlier statistic; however, this year's study confirms it was not. The median number of employees per company once again is 13.
Meanwhile, larger companies are becoming much more common, with 28% of all companies having more than 30 employees. One reason for the growth trend could be an influx of larger commercial-based AV integration companies entering the residential market due to the softness in the commercial market from the pandemic.
The relatively small size of a typical custom installation company might also be why only just over one out of every three companies (38%) took advantage of the special government Paycheck Protection Program (PPP) loans available from the Small Business Administration (SBA) during the pandemic. In some cases, the loans had total forgiveness for being paid back.
Markets & Technologies Outlook
When the housing market crashed in 2008, integrators began focusing more of their energy on existing homes than new construction. That trend held true until 2020 when there was a surprising flip that saw dealers derive 55% of their revenue from new construction. But the long-term trend has once again taken hold in 2021, with CE pros reporting earning 54% of their residential revenue from retrofit projects compared to 46% from new home construction, which in many markets is slowing due to the supply chain situation.
Looking at the residential market more in-depth, new single-family, custom-built homes continue to be the sweet spot for a large percentage of integrators, followed by existing homes and then production homes. Production builders are typically isolated in the certain portions of the country, so it makes sense that dealers in the Northeast, for example, do not tend to work with production builders.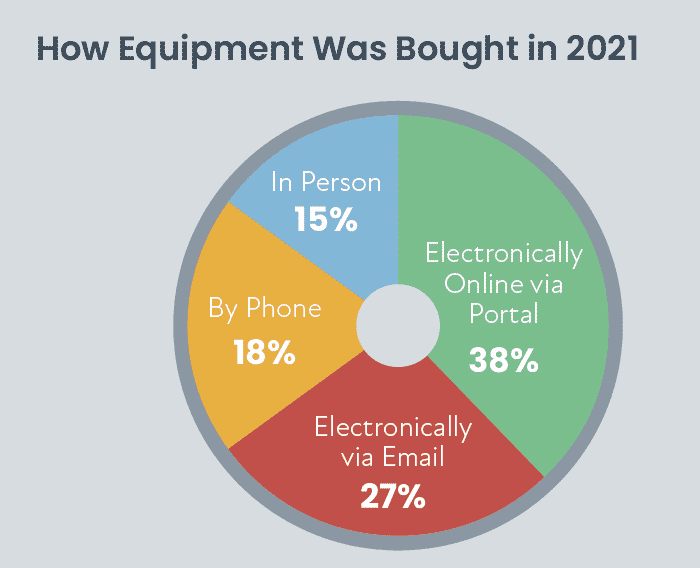 The multi-dwelling unit (MDU) market is expected to continue to grow in the coming years as housing becomes less affordable for Millennials. Currently, about one-in-three integrators works in the MDU space. On the commercial side, there was a big drop (down 10%) in the percentage of integrators working in new construction commercial facilities compared to last year. That makes sense given that the corporate office market is under stress due to the WFH trend.
In terms of hot technologies, video surveillance cameras are expected to be the biggest gainer, with dealers anticipating 9.1% growth in that category in 2022. Dealers anticipate cocooning to continue to grow as people look for solid stay-at-home entertainment options; thus, 4K/8K displays and home theater are among the technology categories where dealers expect growth. Other hot categories are voice control, video distribution, lighting fixtures and even smart appliances. It is unlikely that integrators will stock or resell smart appliances, but the expectation that they will be connected to the whole-house control system is growing and CE pros will likely become more involved in specifying smart washers, dryers, ovens and refrigerators.
Integrators continue to be the primary decision-makers when it comes to product selection; however, the influence of homeowners is growing. According to the data, 28% of the time the homeowner is now the "final decision-maker" for product selection. That is just behind the integrator at 33%. Designers, architects and builders have a certain amount of input also.
Lastly, CE pros foresee headwinds in 2022, namely from the supply chain shortages and lack of labor. Plus, new concerns have cropped up too: inflation and a sense that the economy is going to stall.
Click here to see more charts and information from the 2022 CE Pro State of the Industry report!
If you enjoyed this article and want to receive more valuable industry content like this, click here to sign up for our digital newsletters!