A short woman trips on the way to the podium of the first panel discussion at Connections 2018, produced by smart-home research firm Parks Associates. She snipes, "And I'm a morning person." You know it's going to be a lively affair.
That lady, Lisa Fetterman, founder and CEO of the sous-vide sensation Nomiku, would end up stealing the show with her snappy comments, endearing sales pitches ("Try it for just $49 with this special code* …") and superb insights about data from connected kitchens. But she had some competition.
The 22nd Annual Connections Conference was chock full of colorful comments and interesting insights from the who's who of IoT. Obviously I couldn't sit through all of the sessions — covering insurance, tech support, security, aging in place, voice control, utilities, AI, connected-home investments, and the rest of it — but I typed furiously through several of the keynotes and panel discussions, capturing a few gems in the process.
Maybe I got a few words wrong in these telling quotes, but they went something like this …
---
"We get insights from the fridge. It has a friggin' camera in it. … Wow, this guy really loves onions. He's Shrek! Let's give him more things with onions!"
Lisa Fetterman, founder/CEO, Nomiku, voted Most Exuberant Presenter at Connections, on the integration of Nomiku sous vide platform into Samsung Family Hub smart refrigerator
---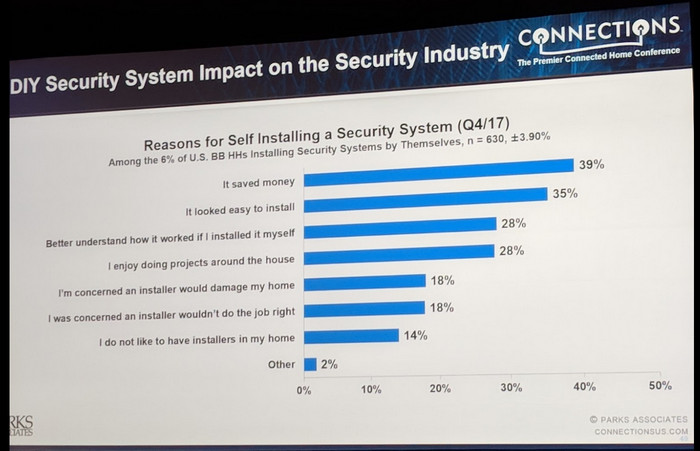 "Some products are too heavily promoted as DIY, then you see all the parts and it's 'Wait a minute, I don't think I can do that.'"
Richard Wolpert, co-founder/CEO, HelloTech, commenting on Parks Associates research indicating 35% of consumers who self-installed a security system did so because, "It looked easy to install" — the second most popular reason after "It saved money" (39%)
---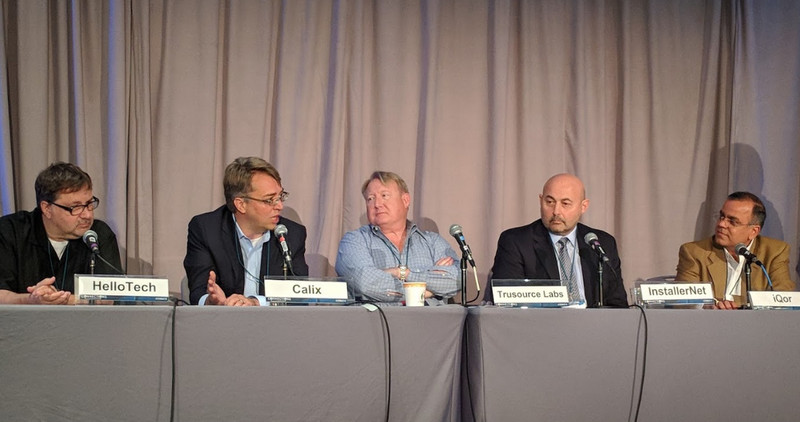 "It takes 25 minutes to resolve Wi-Fi issues vs. nine minutes for the average [tech-support] call."
Frank Ploumen, head of premises product management, Calix (with Richard Wolpert, HelloTech; Alton Martin, Trusource Labs; Tony Frangiosa, InstallerNet; Deepak Batheja, iQor)
---
"There are only two industries where the older the data … the better – archaeology and insurance."
Roel Peeters, CEO, Roost Labs
---
"Working with insurance is really a pain."
Eric Adler, co-founder/CEO, Flume, on the insurance industry's glacial pace of technology deployment
---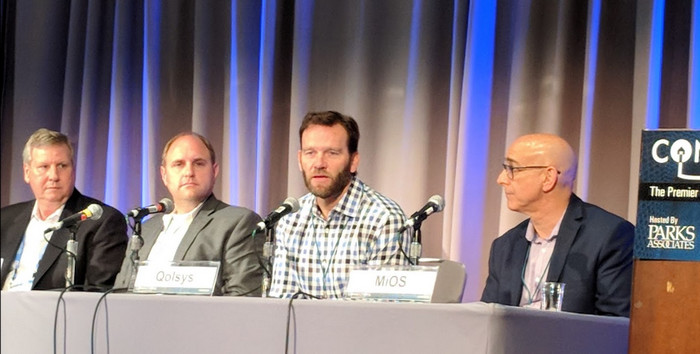 "I get asked: who is my competition? I answer 'good enough.' I lose to good enough way too often."
Mike Hackett, co-founder/SVP, Qolsys, on consumer mentality regarding security and home-automation systems (with Russell Vail, Alula; Jim Poder, Nortek; Lew Brown, MiOS)
---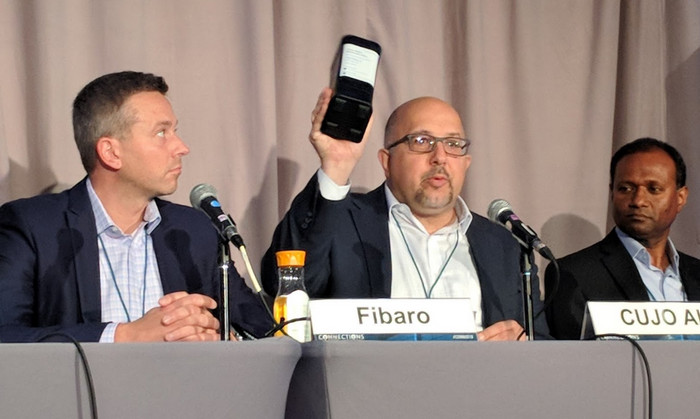 "The technology was developed for enterprises. It expects much bigger boxes than this. Yet this is the device that sits at the edge of the house – a $50 box vs. a $5,000 box in the enterprise."
Marcio Avillez, SVP Networks, Cujo AI, holding up an ISP-supplied router, with the user ID and password indicated as admin/admin (flanked by Rich Bira, Fibaro, and Sanjay Manney, Rambus)
---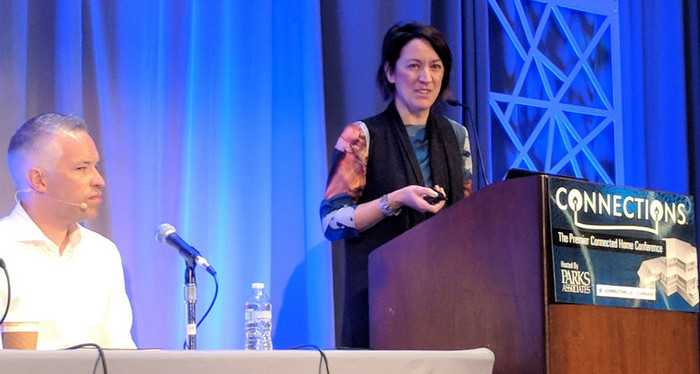 "Part of the challenge with older people is psychological: Should I get out of bed, go out of the house? What if I knew my friend Mary was playing bridge?"
Dr. Melissa Gregg, director of research for Intel Smart Home, Intel Corp., pushing the industry to think about more than just pill dispensers and pendants for seniors (with colleage and fellow keynoter Miles Kingston, GM, Smart Home Group, Intel)
---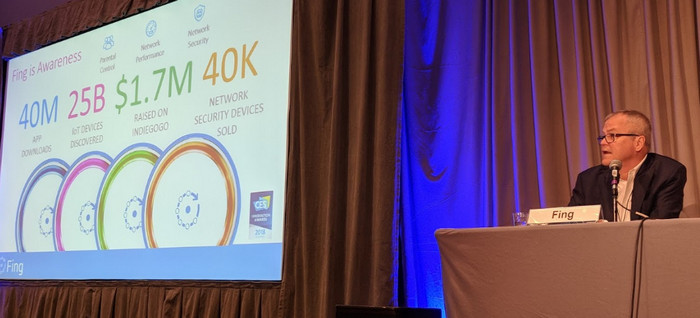 "We [manufacturers] think about devices. Families think about people. If I can manage people – who's using what – it helps keep the network secure."
Duane Paulson, VP strategic partnerships, Fing, on strategies to get consumers to adopt network-monitoring apps.
---
"It's up to the user to clean up devices. That shouldn't have to be the case."
Asaf Ashkenazi, VP IoT Security, Rambus, explaining how a reboxed Samsung TV purchased at Costco still had the previous user's Netflix account loaded in.
---
* After buying $49 in food