Lenovo Yoga 5G incorporates 5G Networking Technologies
The newly announced Lenovo Yoga PC supports 5G networking and comes with features such as a 14-inch screen and Dolby Atmos audio.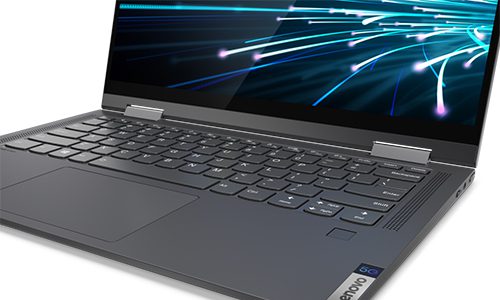 One of the biggest product announcements at CES 2020 was the launch of the Lenovo Yoga 5G 2-in-1 laptop PC.
According to Lenovo, the Yoga 5G is the first 5G-enabled PC. The company says the PC supports millimeter wave full-band and sub-6 GHz 5G networks to provide users with fast network connectivity to support activities such as file downloads and streaming video.
Lenovo says the travel-friendly 2-in-1 laptop is powered by the Qualcomm Snapdragon 8cx 5G Compute Platform to deliver 5G networking speeds that are up to 10 times faster than 4G, while also providing reliable Wi-Fi connectivity when the PC is used at home.
Yoga 5G Laptop is Loaded with Features
In addition to the PC's 5G connectivity options, Lenovo also designed the Yoga 5G 2-in-1 laptop with a full array of state-of-the-art features.
Weighing less than three pounds (2.86 pounds), the Yoga 5G offers features such as a hands-free infrared (IR) camera and an integrated fingerprint reader that can be used for login purposes. The PC also provides up to 24 hours of battery life, a 14-inch HD IPS display that produces up to 400 nits of brightness, and a Qualcomm Adreno 680 graphics card that supports high- quality images.
Lenovo also emphasizes that a pair of built-in, user-facing loudspeakers "powered by Dolby Atmos" round out the computer's multimedia user experience.
Referring back to the Snapdragon 8cx 5G Computing platform the PC utilizes, Lenovo notes that users can multitask using the Yoga 5G without consuming a lot of processing power, and when used with a digital pen, the PC's Windows 10 operating system (OS) is engineered to maximize users' productivity.
In addition to the Yoga 5G, Lenovo also introduced its Yoga Slim 7 laptop, the ThinkPadX1 Fold, the ThinkBook Plus, the IdeaPad Duet Chromebook, and IdeaPad Flex 5 Chromebook products.
MSRP for the Yoga 5G (known as the Lenovo Flex 5G) starts at $1,499.