To ensure a smart home system will perform at its best, integrators need a strong network at the foundation for every connected home installation. Simply put, when integrators get the home network right, they increase customer satisfaction – which leads to increased revenues and future business opportunities.
So, what are the top considerations integrators should keep in mind when designing a network?
As a result of the pandemic, clients not only spend more time working from home but also use streaming services more for entertainment. These trends put a new burden on networks and are showing few signs of reversing to pre-pandemic levels. In this context, the reliability of the home network has moved from becoming an important factor to mission critical on every installation. Now, and in the future, the home network has to work all of the time.
Along with reliability, getting the performance of the network right is critical. Networks typically host numerous applications which assume no limits when it comes to bandwidth and delay. Regardless of the number of internet-connected devices, bandwidth consumption or the quantity of audio and video content being streamed, the network must be able to handle the volume and traffic efficiently. Clients expect enterprise-grade solutions with the flexibility and the capability to deliver while adhering to the latest and greatest technologies.
Last but not least, integrators must consider serviceability. While they strive for a flawless network, sometimes products may require a fix or a reboot to get the system up and running again. Integrators must be able to resolve issues as quickly and seamlessly as possible to limit downtime. Since networks are critical, being able to deliver rapid, responsive and accurate service and maintenance is a prerequisite for any integrator.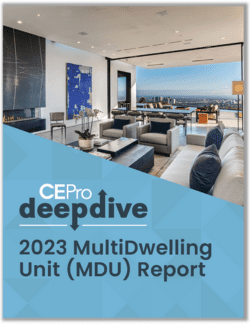 Discover why MultiDwelling Units (MDUs) have major appeal for custom integrators and what they're doing to address this market.
As networks become increasingly complex, installations inevitably become cumbersome with each access point requiring individual on-site configuration and updates. Through an advanced remote network management solution, integrators can remotely configure and deliver updates to entire networks with just a few clicks, including setting SSIDs, network names, broadcast frequencies, encryption methods, establishing passwords, priority networks, public networks and more. This cuts down on hours of setup time and offers granular control and access for even the most demanding residential systems.
With interface features, like custom grouping with multiple sites, device-specific identification and alerts, and improvements in determining the urgency of an issue, ensuring there are less false alarms and more actionable information than ever before is important. Combined with use-anywhere accessibility through online portals available on mobile devices, integrators should have the option of providing true 24/7 network management.
Greater insight and system control is not only an excellent problem-solver but also reduces costs, improves relationships between integrators and clients and generates revenue. Furthermore, many minor issues can be solved before clients are even aware they occurred. Seamless integration with an RMM platform is fundamental to the implementation of a reliable, high performance home network.
In support of this networking ecosystem, network training and education including guided, hands-on learning provides integrators the foundational knowledge of how networks function, how networks should be designed, and how they should be configured to make them more efficient and capable.
The future of smart home networking is moving toward larger, ever-more-powerful systems that can only perform as well as the home networks that support them. That's why integrators must pay special attention to reliability, performance and serviceability when creating robust and secure networks.
---
Snap One Sales Engineer Nick Bovill leads the integrator training for Snap One's networking solutions and the OvrC remote monitoring and management (RMM) platform.
If you enjoyed this article and want to receive more valuable industry content like this, click here to sign up for our digital newsletters!