$599 HP Chromebook Fulfills Public's Appetite for Chrome OS Devices
With more consumers embracing Chrome OS devices, the new HP Chromebook x360 14 provides consumers with hybrid computing solutions.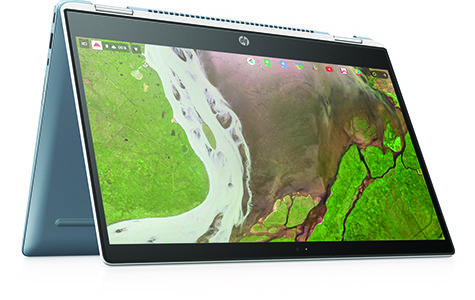 The newly announced and soon to be available HP Chromebook x360 14 convertible computing device provides Chrome OS users with a versatile and powerful compact computing solution with prices starting at $599.
Citing its own research, HP finds 47 percent of those surveyed said that Chrome OS devices were easy to use. Another 60 percent stated that hybrid computing products are, "more innovative, fun and relevant than traditional clamshell designs."
"As customers continue to embrace the Chromebook ecosystem, we have learned that they are often seeking the same design and features that make our other convertible devices so popular," says Kevin Frost, vice president and general manager, Consumer PCs, HP Inc.
"With the success of the HP Chromebook x2 earlier this year, customers have signalled they want premium choices and powerful experiences in their Chrome OS devices.
"We are excited to expand our Chromebook portfolio with the HP Chromebook x360 14 [to provide] an unparalleled Chrome OS experience with a head-turning design that delivers the power and performance our customers expect."
HP Chromebook x360 Features Modern Looks, Advanced Internal Components
The newest Chromebook from HP features the company's latest industrial design that includes a 3D stamped-metal keyboard deck and diamond cut trim along the touchpad.
The Chromebook x360's exterior also features an Advanced Electrodeposition (AED) application that is said to give the computer's cover a protective coating that creates a ceramic-like white finish.
Aesthetically, the HP Chromebook x360's anodized aluminum cloud-blue keyboard deck and matching keycaps are designed to provide the computer with an elegant appearance.
Through its convertible position options, users can deploy the x360 in a choice of four alignments to meet whatever usage application best meets their needs.
Related: HP Introduces Omen X Gaming PCs
Internally, the convertible Chromebook features up to 8th-generation Intel Core i3 and i5 processors and as much as 64GBs of solid-state storage.
The computer also incorporates 8GBs of DDR4 RAM, with battery life expected to last for approximately 14 hours of usage.
Partnering with Bang & Olufsen (B&O), the HP Chromebook x360 incorporates a pair of high-performance loudspeakers, and its video capabilities are highlighted by its 14-inch FHD touch display.
Connectivity options include a pair of USB Type C ports, a USB Type A 3.1 port, a Micro SD port and audio in/out jacks.
HP backs the Chromebook x360 with two years of Google Cloud storage (100GB) to allow users to backup and store photos, video, audio, and other important files.