Billed as the first major conference to focus solely on the health and well-being of people through improved buildings, technologies, products and more, the inaugural WELL Conference has been rescheduled to August 16-19.
The event, which is being produced by a collaboration of the International WELL Building Institute (IWBI), the American Society of Interior Designers (ASID) and CE Pro parent company Emerald, was originally set to be staged March 29-April 1 at the Fairmont Scottsdale Princess in Scottsdale, Ariz.
According to a statement posted to the conference website:
"The health and safety of each and every member of our community and staff are of utmost importance to us. After continuous monitoring and careful consideration of the most recent information provided about the coronavirus (COVID-19) by the Centers for Disease Control and the World Health Organization, and after consultation and deliberation with many members of our community, we have rescheduled The WELL Conference to August 16-19, 2020. The event will still take place at the Fairmont Princess in Scottsdale, Arizona, USA.
"We believe rescheduling our inaugural conference to the second half of the year is the best option at this time to ensure a successful event for attendees, speakers and sponsors alike. Though there are no current government-mandated travel bans in the US, many participants are honoring travel restrictions implemented by their companies exercising prudent caution."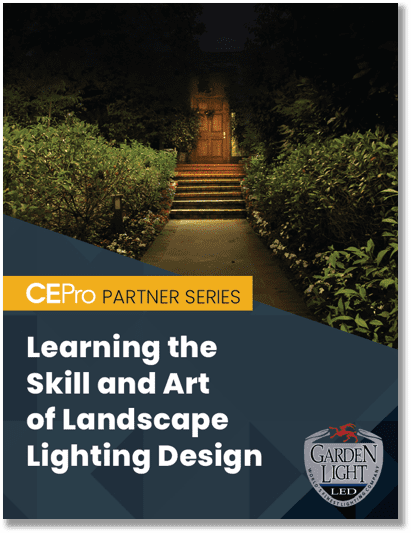 Experts recommend landscape lighting design as an entry point for integrators into the revenue opportunity of home lighting. Check out our new resource for tips and best practices. Download "
Learning the Skill and Art of Landscape Lighting Design
" today!.
Impressive Programs, Presenters Lined Up
The conference was announced last October, continuing on the momentum of the health and wellness trend in demand from various sectors of the commercial and residential markets.
It was organized to further education, awareness and promotion for attendees ranging from "traditional architectural, design and engineering communities, but also real estate developers, corporate officials engaged in advancing best practices in environmental, social and governance (ESG) protocols, public health practitioners, and technology companies who are playing an ever-greater role in the real-time monitoring of building and community infrastructure performance," according to the announcement introducing the event.
Along with an educational program and other events driven by the IWBI and ASID groups, including a full-day workshop for those seeking to earn the Wellness Accreditation Professional (AP) distinction, the WELL Conference features an impressive roster of keynote presenters.
Prominent on the list are Dr. Sanjay Gupta, CNN's chief medical correspondent and chief neurosurgeon, Grady Memorial Hospital in Atlanta; and Dr. Jerome M. Adams, surgeon general of the United States. Both have been particularly active of late addressing the national COVID-19 crisis.
Other scheduled presenters include Randy Fiser, CEO, ASID; Rachel Gutter, president, IWBI; Alexandria Villaseñor, founder, Earth Uprising; David Bouley, chef; Mark Hyman, head of strategy and innovation, Cleveland Clinic Center for Functional Medicine and founder, UltraWellness Center; and Stacy Shoemaker Rauen, senior VP, Design Group, Emerald and editor-in-chief, Hospitality Design.
"We remain extremely excited about the launch of The WELL Conference and look forward to bringing you the incredible experience we have been working towards for this event," the conference statement continued.
"We're working to keep the original schedule intact as much as possible and will keep you posted on all developments. In fact, we're hoping this shift forward will allow participation by additional members of our community who share our passion for better buildings, vibrant communities and stronger organizations that help people thrive."