In news that introduces another breath of fresh air into the smart home category, Schneider Electric, a prominent name in energy management and automation, has announced a collaboration with Sendal Inc. to help support better home air quality.
Readers of CE Pro online may already recognize Schneider Electric for the news the company had at CES 2023, where it introduced its massive home energy management solution, Schneider Home. The company also received recognition for upgrades to its Wiser energy monitoring app in the CES Innovation Awards.
Sendal, while potentially being the lesser known of the two, still boasts a familiar face within the industry. CEO and Founder Jim Carroll has deep roots in the custom integration business as co-founder and former president of Savant Systems, and he is most certainly continuing that work in the smart home space through Sendal.
The company provides intelligent home solutions that can learn and adapt to occupant behaviors in a variety of categories such as home security, energy usage and most recently home air quality. These closely linked functions are designed to help the solution provide stellar indoor air quality in demanding energy-efficient homes.
"At Sendal, we are excited to be working with Schneider Electric, a digital technology leader in smart, sustainable home innovation," said Carroll. "The suite of Sendal software solutions leverages Schneider Electric's best-in-class products to deliver a competitive advantage to home builders by helping them deliver healthier, more energy-efficient homes."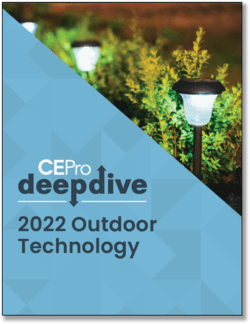 The 2023 CE Pro Outdoor Technology Deep Dive reveals unique set of impediments, including explaining pricing and interacting with outdoor-centric trades.
Get your copy now to take a "deep dive" into the trends and challenges of outdoor technology.
Download the report now!
Sendal Collaboration Provides an Energy-Efficient, Home Air Quality Solution
The partnership addresses a key struggle that many see forming in both commercial and residential spaces. As building envelopes become more efficient, more effort is required to bring air into said buildings. This, to many, adds a knock-on effect where to make a building more efficient, it therefore becomes less healthy for the occupants therein.
However, many advocates within the air quality space state that with proper monitoring combined with smart technology, this stops being an issue. In fact, many go so far as to say that proper air quality monitoring can make a building more efficient than it was before without sacrificing human health and wellness in the process.
"A truly smart, sustainable home provides an optimal environment for the homeowner, from the control and resiliency of the electricity powering the home, to the quality of the air inside that home," said Bradford Wills, Director – Strategic Customers & Programs, Home & Distribution US, Schneider Electric.
By combining digital air quality management through the Sendal intelligent home app and the electronic control of the ventilation system through Schneider's Square D X Series Connected Wiring Devices, Sendal's Breathe aims to provide that flexibility to ventilation strategies.
The core focus is better home air quality, but Sendal does also note that it is a solution built specifically for energy-efficient home builders. As a fully autonomous solution, Breathe is also designed to be added into the system and run with minimal input after installation.
"By collaborating with Sendal, we are supporting innovations that will help address challenges around the home to support home builders in delivering a better experience for homeowners."