Savant is conducting a livestream Savant Virtual Expo 2021 to showcase its booth and the various technologies it had planned to showcase at CEDIA Expo 2021 before cancelling its presence due to COVID-19 concerns.
"Our goal is to continue to be part of CEDIA Expo and be part of the excitement and enthusiasm that's our annual industry event," says Angela Larson, senior vice president of customer operations
To achieve that goal, Savant will be broadcasting live and sharing videos from a remote show floor to current and prospective Savant integrators across the globe from Wednesday, September 1 through Friday, September 3. Attendees will be able to tour the company's brand-new tradeshow booth featuring the latest Savant Entertainment, Lighting, User Experience, and Power solutions. Plus, attendees will get exclusive insights into new business-driving opportunities and view exciting previously unannounced products.
"With the exception of in-person and being on the show floor, this is the most engaging thing we could be doing," says Larson. "It's a little bit new and unique for us. We have actually set up our booth at an off-site facility and we will be livestreaming technology demos from the warehouse. We've got product managers coming in from savant, from GE Lighting, a Savant company, and from Savant Power. They'll be giving 14 technology demos that will be live streaming throughout the week."
But there's more… on Thursday, September 9, Savant will be hosting a full day of education sessions covering everything from Savant's award-winning UI, to new lighting solutions from GE Lighting, a Savant company, to energy monitoring and microgrid solutions from Savant Power. Every integrator who registers and attends this day of training will receive a free lunch on Savant.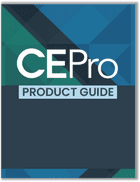 CE Pro's 2022 Product Guide showcases some of the latest and innovative solutions from manufacturers serving the custom electronics industry in a cross-section of categories.
Download the guide now!
"We had so much education backed into CEDIA Expo, we decided to do a full day of education… kind of like a CEDIA Expo education party on September 9," says Larson. She says the day of live training will go into a lot of detail on some of the company's new products and solutions.
Integrators can bookmark the Savant Virtual Expo 2021 hub for exclusive content and links to register for all of the events Savant is hosting this September.