Rayva to Reimagine Dedicated Home Theaters as Wellness Retreats at CEDIA Expo 2019
At CEDIA Expo, Rayva will demonstrate how its turnkey, high-performance, dedicated home theaters can be packaged as wellness refuges, with circadian lighting, immersive sounds and visuals of nature, other biophilic elements.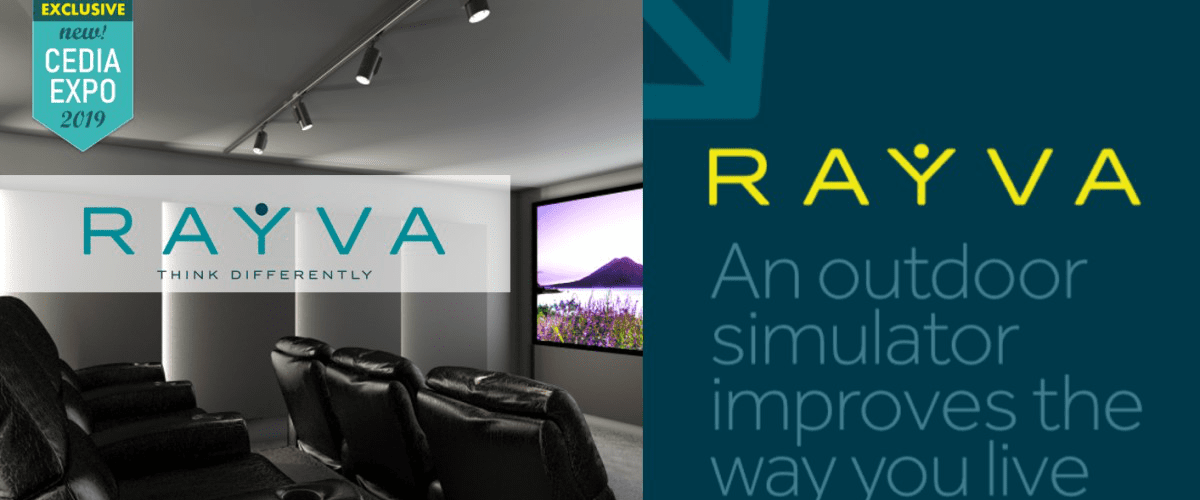 Remember when private home theaters were the ultimate retreat? Grab the family and kick back for a Friday night flick delivered through a system so pristine you could enjoy any movie "just as the director intended"?
The home-theater dream is still alive, but modern-day technology allows us to enjoy big, bright video and multichannel sound in wide-open spaces, where we also dine, do homework and shoot pool. A dedicated theater today is a nicety, not a necessity.
So what are we to do as an industry built on home theaters, with such great products and so many refined skills just begging for a dedicated space to present audio-visual perfection?For Rayva, developer of turnkey home theaters that offer "soul-stirring home entertainment in three simple steps," the answer has been to simplify the process and reduce the cost of delivering high-performance private cinemas.
Even so, the market for such luxuries is limited, especially at a time when we humans seem to be allocating more "free time" to serenity and self-reflection, rather than rom coms and shoot-em-ups.
So go with the flow, Rayva now suggests. Build the audio-visual havens as always, but tailor them to modern-day sensibilities. Think mindfulness, not just mystery and musicals. Relaxation and rejuvenation, as opposed to sci-fi and superheroes.
Introducing Rayva Wellness Spaces at CEDIA Expo
At CEDIA Expo 2019, Rayva will challenge the home-tech channel to "Think Differently" about the traditional home theater, which typically is reserved for special occasions.
Instead, consider the myriad other reasons to disappear into a dark, quiet space otherwise known as a "home theater." It can be a place of refuge to enjoy solo. Corporate offices are scrambling to build meditation rooms and other hideaways to relax or energize workers – it's the new "wellness" that used to be all about healthy snacks and discounted gym memberships.
In fact, a key principle of biophilic design – bringing elements of nature into built environments – is to create places of refuge where occupants can withdraw from regular activity into safe, protected spaces.
After all, humans evolved to live full-time in the great outdoors, where they could escape to river banks, bushes, and vast fields. We crave those same sanctuaries today in our built environments – be it the office or the home.
While Rayva will showcase a traditional home theater at the Origin Acoustics booth (#3837), the company will ask integrators to imagine all the other possibilities for the dedicated space, especially in the wellness category.
Rayva also has a kiosk in the Wellness Pavilion (#550) at Expo, where representatives will outline the company's plans to offer turnkey wellness solutions for dealers and consumers.
Rayva envisions its erstwhile home theaters as "outdoor simulators" that "improve the way you live."
The "wellness theaters" will include many of the same elements as a traditional Rayva theater – giant video screens, immersive surround sound, automated lights, and acoustical isolation, for example – but with a few biophilic twists.
Circadian lighting will put guests in the "time zone" of choice, while sounds and visuals of nature transport the occupant to a forest, ocean or other peaceful place. Instead of predictable rows of theater seating, the environment will support several configurations for those who prefer yoga mats, beanbag chairs, stationary bikes, or even desks for focused work sessions.
Rayva president George Walter describes below how the company evolved practically overnight from a maker of dedicated home theaters to a purveyor of wellness retreats … where you can also enjoy a great home-cinema experience.
---
How Rayva Went from Home Theaters to Wellness Rooms
BY GEORGE WALTER, RAYVA PRESIDENT
The concept of creating a wellness environment started with a call from Julie Jacobson [CE Pro founding editor, accidental biophiliac] a few months back. As she started describing the research that she had done on biophilia, it was like all these files in the back of my head that had been archived for years started opening up.
Craving the Outdoors
Since college I had come to realize that if I stayed indoors for prolonged periods of time, studying or working, I started getting depressed. Studying for exams would be counterproductive because I just wasn't processing. But I learned taking a break and getting outside, especially away from people and machines, reset my brain and attitude and I would be ready for anything.
So, when Julie was sharing her research – stemming from the fact that humans have spent hundreds of thousands of years living and working "outside" and only the past 100 years nesting indoors – I got it.
My DNA is heavily laced with "Got to be outdoors."
Lighting's the Way
Next came the issues of lighting. Office lighting has always driven me crazy. Several years ago, when I was at Digital Projection, we built a deck behind the office. We found that meetings were much more creative and productive on the deck than they were in the conference room.
When I started reading about circadian lighting, it was the perfect answer for why outdoor meetings were more successful and why I could fix jetlag with a long walk outdoors.
So, I knew we had to make circadian lighting part of our wellness design.
The Right Context
Then came the interesting part. I had worked on several big projects in my past with high-end simulator manufacturers. Flight simulators, train simulators, firearms simulators even driving simulators were applications that I had helped design display solutions for.
When speaking to the developers, the one thing they told me was that in order to achieve true natural responses from the users, you had to "trick" their brain into thinking the simulator was reality.
So listening to the conversation with Julie it became apparent to me that we had to create a room that truly "tricked" the brain into thinking it was outdoors – an outdoor simulator!
Home Theater as Wellness Room
After a little thought, I realized we have all the technology, it's just a matter of putting it together.
We need great video, and it needs to be big. We needed a screen WALL, not a screen WINDOW.
We now have brighter projectors and 4K+ resolution, HDR and expanded color gamut. It's all there, and integrators know how to use it.
And sound, we needed truly immersive sound. With a 9.4 speaker design, you hear the outdoors from 360 degrees and above your head! Perfect!
Don't forget proper acoustics. We can't build a room that replicates the outdoors and still allow the user to hear the kids playing in the next room. As it turns out, "acoustical comfort" is a key tenet of biophilic design – like sound isolation is for home-theater design.
Add some LED lighting that can be tied to a circadian controller and we are almost complete.
We still need some good nature content to immerse ourselves in the (virtual) outdoors. As research now suggests, simulated outdoor environments can mirror the therapeutic benefits of the real thing – and the more realistic the simulations, the more likely our brains will fall for it.
With a little research I found that there is content readily available to provide beautiful scenes of mountains, beaches, forests, streams and other natural habitats, all with very good immersive sound.
Musical Chairs
Seating for a traditional home theater is fairly straightforward – typically comprising rows of recliners, possibly allowing some space up front for beanbag chairs or other casual seating. In the rear of the room, we might have a bar table with stools for dining while viewing.
In our reimagined space that delivers both wellness and entertainment, seating will become more fluid.
If the customer wants to meditate, a yoga mat. Maybe they just want to sit and meditate? How about a massage chair? Or a recliner? Exercise? How about a Peloton bike? Or most likely, a variety of options that can easily be moved in and out. After all, this is still a perfect place to watch a movie or enjoy gaming (yet another type of simulation experience).
The Biophilia Business: Rethinking the Dedicated Theater
The final part, which is actually the most exciting, is what it means to our industry. For 20 years I've been helping dealers promote and sell high-end home theater. Through the good times and bad, one thing never changed: Home theater was a luxury. It was a way to spoil yourself by watching your favorite movies in the comfort of your own home.
As we know, a home theater is often the first thing cut out of budget because no one "needs" it. Even the very wealthy have a hard time justifying the expense of this folly.
A wellness room, on the other hand, can change your clients' lives for the better – which in turn changes the ROI calculation for a dedicated space.
I started thinking about the wealthy clients I had worked with over the years who had very stressful careers. They typically logged as few as 10 hours on their projector after the first year.
These clients were not concerned about the money – they had plenty of that – they just didn't have the time to use these beautiful theaters they had purchased.
I now think of those same clients who will start their days with 15 minutes in the wellness room, stretching, yoga, or just becoming aware of what was occupying their minds. 15 minutes in the morning, could change the way their entire day goes.
In the evening, 15 minutes will help them relieve the stress of the day and make time with family and friends more enjoyable.
The wellness room becomes a part of a lifestyle, something you use every day – something you depend on to start and end your day.
Offering a wellness room to your client is an opportunity to provide more than just something they "want," but something they "need."
The size of a wellness room is not important. It can be a very small room in a high-rise condo, or a multifunction room in a luxury estate.
The key to a successful space is to make users forget they're indoors. Proper acoustics are a must (projector buzz is a zen-killer). Electronics should be invisible. Stay focused on the fact that you are creating an environment that is natural, not enhanced.
There will be a time when the wellness room is the last thing ever cut from the budget.
Think Differently
As a summary, I want to make one plea to integrators and technology professionals: Think differently.
Take the opportunity to sell a wellness space, not a science project of electronics.
When it comes to home theaters, we have always urged integrators not to sell on resolution, watts and lumens, but to sell the experience. The advice applies even moreso to the wellness use case, but in many ways, it's an easier sell.
In one case, you're asking the client to imagine the feeling of being in a commercial cinema, but on a smaller scale – not necessarily an evocative exercise.
In the other, you're asking the client to imagine the feeling of watching the sun set over the ocean, or walking through a pristine forest, or lying beneath the stars on a clear night.
Help your clients understand the value of having an on-site retreat, where they can bask in the (virtual) outdoors that our bodies crave in the most fundamental way. Careful system design can ensure that clients benefit from the space, whether they come to energize, relax, contemplate … or watch an action-packed movie.
Let your clients trust that you will be the professional that makes this room work.