Trinnov Audio to Demo DTS:X Pro Immersive Audio at ISE 2020
At ISE 2020 in Amsterdam Trinnov Audio will demonstrate the new DTS:X Pro format at Hall One, Stand 1-N100.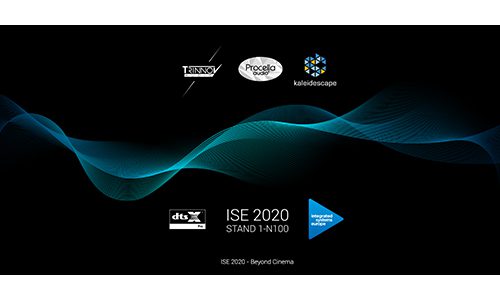 The high-performance home theater audio manufacturer Trinnov Audio is set to publicly demonstrate the new DTS:X Pro format at ISE 2020 in Amsterdam.
Trinnov's booth resides in Hall One, Stand 1-N100, and during the annual European trade event, which hosts exhibitors from the commercial and residential electronics markets, the home theater demo will feature a 15.3.10 immersive audio setup.
Leading up to the show, which takes place on Feb. 11-14, Paris-based Trinnov Audio explains that it has worked with DTS to setup the DTS:X Pro demo. The demonstration will be the first public showing of the format.
Other companies participating in the demonstration include Procella Audio and Kaleidescape.
DTS:X Pro Demo Utilizes Purpose Built Room at ISE 2020
Powering the immersive audio DTS:X Pro demonstration will be components such as a Trinnov Audio Altitude 32 processor and Amplitude8 amplifiers, along with 28 Procella Audio speakers and amplifiers.
The video portion of the demonstration includes a Kaleidescape Strato and a Sony VPL-W5000ES projector, and the entire system will support a 15-seat, purpose-built room.
Further supporting the adoption of DTS:X Pro, Trinnov Audio says that it is offering the market software upgrades to the state-of-the-art format for no charge.
Trinnov Audio points out that DTS:X is an immersive, object-oriented audio format that is designed to deliver high levels of spatial imaging and resolution.
According to Trinnov Audio, prior to the introduction of DTS:X Pro, DTS:X was limited to 11 channels and LFE. Typically this meant that integrators were limited to system configurations of 7.1.4. Trinnov Audio boasts that through its implementation of DTS:X Pro, integrators can deliver systems up to 30.2 channels.
The company claims the Altitude processor is the only consumer processor capable of discretely rendering the 26 unique channels for the ISE demonstration. Trinnov Audio says traditional consumer products are limited to 16 discrete channels.
Additionally, the company comments the Altitude32 processor is capable of delivering up to 32 discretely rendered channels for home theater, and as many as 64 independent channels that include multi-amplified speakers and multiple subwoofers when used with a separate Altitude 48.
Trinnov Audio Announces Immersive Audio Trailers
When show attendees visit the Trinnov Audio demo, the company says it will showcase two new bits of content.
At ISE 2020, Trinnov Audio will debut its new cinema trailer in its ISE theater, and later visitors will be able to download the content for use in their own theaters.
ISE 2020 show attendees will also get to experience Trinnov Audio's "Machine One" video, which the company says combines the images of an imagined music machine, along with a "dynamic soundtrack." Trinnov says this soundtrack will take advantage of immersive audio, using active objects via the DTS:X Pro format.
Some of the other activities that Trinnov Audio will participate in during ISE 2020—company chairman and CEO Arnaud Laborie will take part in a panel discussion called, "The Future of Immersive Audio."
The panel will take place on Thursday, Feb. 13 in room D201. The discussion will tackle topics such as the potential impact of MPEG-H, how the music industry is embracing immersive audio, and whether there are any differences required for the reproduction of music vs. movies.
Arnaud will be joined on the panel by Peter Aylett of Archimedia, Wilfried Van Baelen of Auro Technologies, Guillaume Le Nost of L-Acoustics, Sawan Nichani of MACBEE and Andreas Ehret of Dolby.