Integrated Systems Europe (ISE) has announced details of its extensive thought-leadership sessions, including seven separate conference programs, and training/certification programs from both CEDIA and AVIXA for 2022. ISE 2022 will take place at the Fira de Barcelona Gran Vía on February 1-4, 2022. The ISE Conference program runs from Monday, 31 January 31 through to Friday, February 4.
The rich content offering will help attendees delve into the issues affecting market verticals, get up to speed with the latest technology developments and discover what the future holds for the industry. With a packed schedule of conferences, wide-ranging education offerings from AVIXA and CEDIA, and show floor stages and networking lounges, ISE 2022 is designed to ensure that all attendees, whether from the AV channel or end-user community can empower themselves to "ignite the future."

Integrated Systems Events Managing Director Mike Blackman says, "A visit to ISE is much more than the exciting show floor. Not only do visitors get to see the latest innovations from world-class brands in pro AV, but there is also a huge choice in inspiring education and conference programs which uncover hidden gems, showcase a world of opportunities, and address vital issues that today's organizations face in getting back to business."

Seven conferences through the week of ISE will target key vertical markets served by the pro AV industry. Topics covered include creating safe, sustainable, smart buildings; innovations re-shaping the workplace; the new agenda in digital signage and exploring the strategies, learning models and trends that are driving the deployment of digital learning technologies in universities, schools, corporate bodies and training facilities.

Attendees will be able to learn about cutting-edge AV solutions and the latest industry trends at the AV Experience Zone produced by AVIXA. Presented in Spanish, this show feature will showcase flawlessly executed AV projects and present customer testimonials from talented and experienced professionals. This second edition of the AV Experience Zone is aimed at end users from major vertical markets, professional technicians, and includes sessions for students across its four-day program.

"AVIXA is excited for the return of the AV Experience Zone at ISE – a lineup of free sessions presented in Spanish throughout the week that will examine the latest trends in pro AV," says Sarah Joyce, Chief Global Officer, AVIXA. "We'll explore topics such as unified communications for the corporate and hospitality sectors, new experiences through creativity and digital signage solutions for retail, digital solutions for education, AV's role in the evolution of traditional broadcasting to new platforms, and much more."

CEDIA is also hosting a comprehensive Professional Development Program together with workshops and sessions. Matt Nimmons, CEDIA EMEA's Managing Director, explains, "The long-term success of our industry is reliant upon a well-trained and professional workforce. At ISE 2022, we have put together a terrific slate of sessions that will help our community grow their skills and make sure integrators can be at the top of their game, whatever technical or business challenges are coming down the line. Thanks to our All-Access Training Pass, these training courses are also great value for money."

Blackman concludes, "Our program is designed to provide inspiration and support for every level of the business. We cover all areas of the fabulous world of AV, from smart buildings, cities, homes and workplaces to digital signage, learning, live events and superyachts. There's so much to experience at ISE – I can't wait to see you there."
ISE 2022's 7 Distinct Conferences
On January 31, the Smart Building Conference will return to ISE 2022 with the theme of "Smart, Safe, Sustainable Building Technologies." Metisreal Owner Erik Ubels, Kathy Farrington, Global Lead for Digital Buildings Program and IOT Team Manager at Google, and Matthew Marson, UK Sector Director – Manufacturing + Technology at Arcadis, will be among those sharing their insight into the rapidly changing built environment.
A past session that has been hugely popular session at the Digital Signage Summit is when conference chair Florian Rotberg of invidis sits down with 'The Big Four'– heads of three top integrators and the top software company in digital signage – to tackle issues facing the industry. Other topics covered for 2022 include green signage, industry consolidation, best practice and the latest tech trends. Speakers include Alberto Cáceres, CEO at Trison; Valentina Candeloro, Director, International Marketing at Mood Media; Andy Bohli, CEO at Imaculix; and Christophe Billaud, CEO at Telelogos.
A packed agenda for the Control Rooms Summit will focus on designing a new purpose-built critical control room. Key themes to be covered include defining the scope of operations, ergonomics and human factors, and location, sizing and essential components of the facility.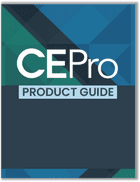 CE Pro's 2022 Product Guide showcases some of the latest and innovative solutions from manufacturers serving the custom electronics industry in a cross-section of categories.
Download the guide now!
Smart Workplace Summit is making its debut as a standalone event at ISE 2022 and highlights the innovations re-shaping today's workplace. No other conference brings together the three worlds that collide to make the smart workplace: AV, FM and IT. Companies and organizations need solutions that make their offices safe for workers and visitors, their remote workers more productive, and their employee experiences more attractive. The Smart Workplace Summit will provide immediately practical and implementable advice from workplace integrators.
With digital transformation happening at pace in the higher education sector, the Digital Learning Summit will take a timely look at hybrid learning. Zoom's Ted Brodheim and Maud Pols from Microsoft and the University of Amsterdam are among the high-level speakers.
There are also two new events for 2022 in the form of the Live Events Summit and the Superyacht Technology Summit. The Live Events Summit will focus on key topics in the world of pro audio. Peter Brandt of Remote Show Productions and Jamie Gosney of Sonosphere will discuss remote mixing; Phil Kamp of Klang technologies and Chris Jones from Southby Productions will talk immersive audio; FOH engineer Simon Thomas will offer his insight on the importance of networking in live shows; while a Touring Sustainably panel will feature Andy Land, Head of Sustainability at Focusrite.
The Superyacht Technology Summit will introduce delegates to the very specific technology requirements of this sector, reveal what's in demand right now, and what the future looks like. The Summit's Tech Talks will cover how to succeed in the industry and highlight how blue-chip companies can work successfully with superyacht R&D teams. The Superyacht Summit will also cover the future of technical management in the superyacht industry, with technology as a whole moving towards AI, automation and smart interactions. Participants include Derek Munro of Divergent Yachting, Kris Hogg from Samsung, and Feargus Bryan expanding on the new steering council for technology.
CEDIA, AVIXA Certification and Training at ISE
AVIXA will be holding a series of regional events for AV communities from France, Germany and Italy in Room CC3.13C and the AVIXA Women's Council will host a Shared Experiences Panel in the Projection Dome in Hall 5.
In addition, AVIXA CTS Testing will take place during the show in cooperation with Pearson VUE. CTS is accredited by ANSI to the ISO 17024 standard. For details contact AVIXA's EMEA Team at emea@avixa.org. Tests can be taken in English, Spanish and German language and for any last-minute questions ahead of the exam or to find out about CTS Prep courses, CTS walk-in sessions will be held in Room CC3.13C.
AVIXA will be also hosting an invite-only, pre‑show afternoon on January 31, 2022, where key industry executives will have the opportunity to discuss the state of change in the AV industry, including:
Supply Chain Disruption – logistics, component shortages
Growing but shifting opportunity – the rise of content production and streaming, and shifts in conferencing and collaboration
Shifting skill set needs – supporting the prevalence of AVoIP and the impacts to the AV employment landscape
To request an invite please email Lee Dodson, Vice President of Global Industry Engagement (ldodson@avixa.org)
CEDIA's Education Program covers professional certification, emerging tech, design and technical skills, and business success.
The CEDIA Tech Council will lead a special session based on its future-looking project The Integrator of 2027 with insights on how the market is changing and how integrators can be best placed to take advantage of the opportunities ahead. An immersive three-hour workshop will help delegates learn and practice an end-to-end Design Thinking process. Respected industry business consultant and CEDIA Fellow Leslie Shiner will lead a series of four courses exploring challenges with project management, job costing, ways to increase profitability and how training can grow your business.
Attendees will be able to earn their CEDIA Certified Cabling and Infrastructure Technician (CIT) credential, newly accredited by ANSI to the ISO 17024 standard. Integrated Systems Technician (IST) certification testing is available also. For information on how to prepare, contact mailto:education@cedia.org.
A workshop on the RP22 Audio and Room Design Recommended Practice facilitated by Peter Aylett and Rich Green will also take place at ISE 2022. Also, the CEDIA/CTA-RP28 HDMI System Design and Verification Recommended Practice session will be hosted by Jason Dustel of Murideo.
Attendees can purchase a CEDIA All Access Training Pass that provides unlimited entry to CEDIA education sessions during the show (excluding two-day courses in partnership with ISF and the Home Acoustics Alliance).