Lighting fixtures are certainly one of the hottest new product catgories for integrators. CE Pro spoke with WAC Lighting Director of Business Development – Integration Patrick Laidlaw about the company's plans for CEDIA Expo Virtual.
CE Pro: What can attendees expect in your CEDIA Expo Virtual booth?
Patrick Laidlaw: Some very exciting surprises for sure! WAC as a company has been around for over 35 years and has evolved to be a premier Manufacturer of cutting-edge lighting products. We were one of the first companies in lighting to move into LED product development as a whole and have not looked back. 
Although we have worked with various channel partners over the years, including integration, we have really focused on the direction of lighting and the connected environment in the building process.
Over the last two years we have spent an enormous amount of time listening to Integrators and installers in the Integration channel, even going so far as to installing three of the five major lighting control systems in our Headquarters in New York, with intentions of an additional two until COVID delayed our plans.
With all of this knowledge we have gained, we couldn't be more excited for what the integration industry is going to see in our booth. WAC will be staffing the booth with a variety of people including myself, our East and West U.S. sales personnel, and also engineering staff for access to direct feedback from the attendees.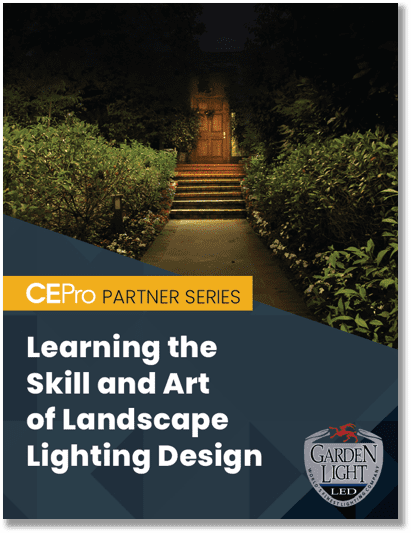 Experts recommend landscape lighting design as an entry point for integrators into the revenue opportunity of home lighting. Check out our new resource for tips and best practices. Download "
Learning the Skill and Art of Landscape Lighting Design
" today!.
WAC will also be featuring product videos on many of our "New for CEDIA" product launches where integrators can view the new introductions and in a few short minutes learn the basic highlights of those products. We will have an array of product video links available so integrators can spend just a few minutes, or as long as they'd like earning about our products and applications.
CE Pro: Tell us in particular about any new products or services?
Laidlaw: Well, one example is that we are launching an entirely new company/brand designed specifically for integrators! This initial launch of product is in direct response to Integrator feedback and industry needs. The new brand will be unveiled during the show and will feature lighting designed specifically for residential and light commercial applications. And this is only the beginning. There is already product being developed by our engineering team into next year and beyond as to designing and manufacturing products that will meet the needs of today's project designer and installer.
These are products such as:
Intuitive dim to warm for that cozy atmosphere when a budgets don't allow for tremendous programming hours;
Tunable White lighting with full visible spectrum features so it mimics sunlight and natural light as closely as possible;
Tunable and color changing full visible spectrum lighting that will give the homeowner not only the option of tunable white, but also "depth of white" for "crisper white" or "depth of colors" featuring controls like Hue and Saturation so you can have the bluest-blues or a soft pastel-style blue by having control over the "depth."
There are even full human-centric lighting programs for these fixtures already available by some of the control companies. We also feature this same light engine in our Landscape Accent, In-ground and Wall Wash lights available with full DMX control. Now you can paint your landscape—or the outside of your home—in "just the right light" for your client.
Let's face it, light has been around since the beginning of time and we are learning more and more everyday about its effects on the human body, as well as disinfectant uses, provider of information within how spaces are utilized, and so much more. Clients no longer have to settle for "off the shelf lighting" when it can be customized to their particular needs, wants, desires or best of all feelings. How they feel in the space is what Integrators are all about!
CE Pro: Tell us about any educational training you are offering?
Laidlaw: While we don't have any "scheduled trainings" for this Virtual event at the moment (we think we'll be quite busy launching the new brand, introducing the new products and systems, etc, we do have several resources and methods we have utilized that seem to work well.  We have a series of product training videos we have developed that range from seven minutes up to about 20 minutes on various categories of lighting we offer.  For example, we have a company background video so integrators can learn about who we are and how we manufacture our product; we have a recessed video, a track video, a landscape lighting video as well as a video on tape light and pixels. 
We can send these to the Integrator but what we really prefer to do is schedule a time with them so that we are available for questions and discussions after they have viewed them. Early on in the COVID world we conducted a great deal of 1 hour webinars for groups of integrators but we success now in what we are calling "Micro webinars" which focus on a  specific category of products that the integrator may want to incorporate or they may want to learn more about. 
For example, landscape lighting is one of the largest and easiest categories for integrators to get into:  it is low voltage, it is intuitive, and our products feature intensity control and beam control right on board so a great deal of knowledge is not required to get into this category of lighting. 
Plus, most times the contactor does not provide landscape lighting or is already gone off the job so there's little to no conflict with the integrator providing it. It's easy to design and add on to at any time, plus it adds value and security to a home besides the fact that people are spending more time outdoors—especially at their own homes due to the pandemic—than ever before.
Hope to see everyone at our Virtual Cedia Booth and we can't wait to share all we've been working on with everyone!