CEDIA Expo Virtual Experience Dates Announced
CEDIA Expo Virtual Experience is slated for September 15-17 and will feature keynotes, manufacturer training and CEDIA business and technical education.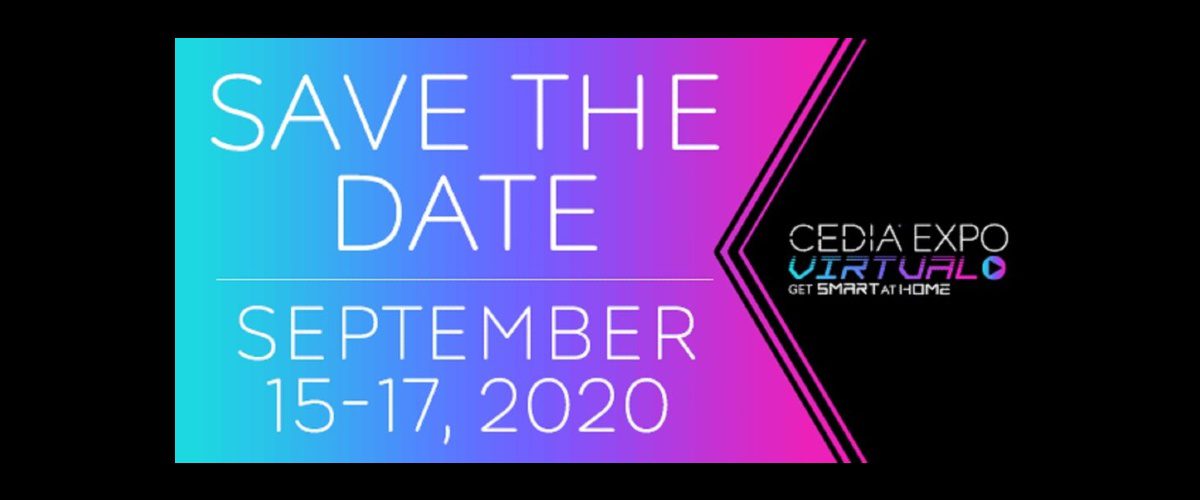 Mark your calendars… the dates have been set for the CEDIA Expo Virtual Experience, which will take place from September 15-17, 2020. That is one week later than the planned dates for which the now-cancelled physical CEDIA Expo was planned.
CEDIA Expo Virtual Experience is put on by Emerald, owners of CE Pro, along with the industry association CEDIA. Attendees will "enjoy high-impact, inspirational sessions covering the industry's hottest topics, have face-to-face meetings with brands, discover products, and most importantly, stay connected with your community!", according to a press announcement from Emerald.
During the first two days of the CEDIA Expo Virtual Experience, CEDIA will hold a keynote address and then host its education conference, covering a wide range of business and technical topics. While the classes will be virtual, the experience will be interactive. Also, September 15 will be the day that Manufacturers Product Training sessions take place.
On the following two days, September 16-17, CEDIA Expo Virtual Experience programming will take place and include a series of Tech Talks, Keynotes, Design + Connection track, CE Pro Fireside Chats, and TechBites. Among the keynotes planned is an exciting roundtable discussion with all the industry buying groups.
Exhibitors virtual booths in the CEDIA Expo Virtual Experience will be filled with online training, video content, new product announcements and downloads. Attendees will be able to make appointments with exhibitors, and likewise, exhibitors will have the ability to contact attendees in their booth for live conversations.
Following the three-day live event, the CEDIA Expo Virtual Experience content will be available on-demand through the end of 2020.
Registration will open in early August. There will be a registration fee for CEDIA Education. The remainder of the experience will be free to attendees and press. Full agenda, sessions, and speaker lineup will be coming soon.
CEDIA Expo at the Colorado Convention Center in Denver was cancelled on May 28 after the state of Colorado announced it planned to use the facility as a stand-by COVID-19 field hospital until December 31, 2020.
For more information, visit http://cediaexpo.com.