As always, the Launchpad area – formerly Innovation Alley – served as a great way for startups to take center stage at CEDIA Expo and this year was no different. For Launchpad exhibitor guardDog Solutions, it also led to a parting gift from CEDIA Expo 2021 of an oversized $5,000 check for winning this year's TechStarter program.
Cybersecurity specialist guardDog's pitch to the panel of judges proved impressive in the "Shark Tank"-like style event at the show, held Sept. 1-3 at the Indiana Convention Center in Indianapolis.
The Salt Lake City-based company's Kelly Ryan walked CE Pro through an overview of why she thought guardDog earned this year's TechStarter top honors and the features that differentiates its solution for custom integrators, who are still getting their feet wet in the cybersecurity category as a whole.
"We think we won because we have an amazing technology that fits into every home, office or commercial enterprise – everywhere from the luxury home, the everyday home to the FBI, the military, NSA and everybody in between," Ryan enthused during CEDIA Expo.
She highlighted how and why guardDog has approached the CEDIA channel, which won over TechStarter judges David Weinstein of Lutron, Tom Doherty of HTSA and Walt Zerbe of CEDIA.
The company's Protective Cloud Services (PCS) solution works with its Fido device to protect consumers, small business owners, and large enterprises against the ever-constant cyber threats, ransomware hacks, privacy matters and more.
She explains that company founder and CEO Peter Bookman brought high-level VPN (virtual private network) experience from his many years in the IT space to guardDog. The product's origins, she says, stem from a hack that happened to a financial institution that let its guard down, so to speak, during an international business trip.
"They got on a Wi-Fi network at a name-brand hotel and the Wi-Fi was hacked," Ryan recalls. "It ended up closing that firm and our CEO took it really personally. That was six years ago; we've commercially now deployed our products, and we are ready to hit the roads running to have dealers sign up."
guardDog Network Overlay Device, Cloud Service Provide Protection
Ryan outlines the company's cybersecurity product as an overlay device in the network chain, and notes that for the residential market in particular privacy is among the biggest things guardDog protects.
"I think that's the most important thing in today's technology world," Ryan says, noting that research finds the average home has 37 IoT (Internet of Things) devices.
That's a lot of potential traffic and open doors for today's hackers targeting the smart home sector.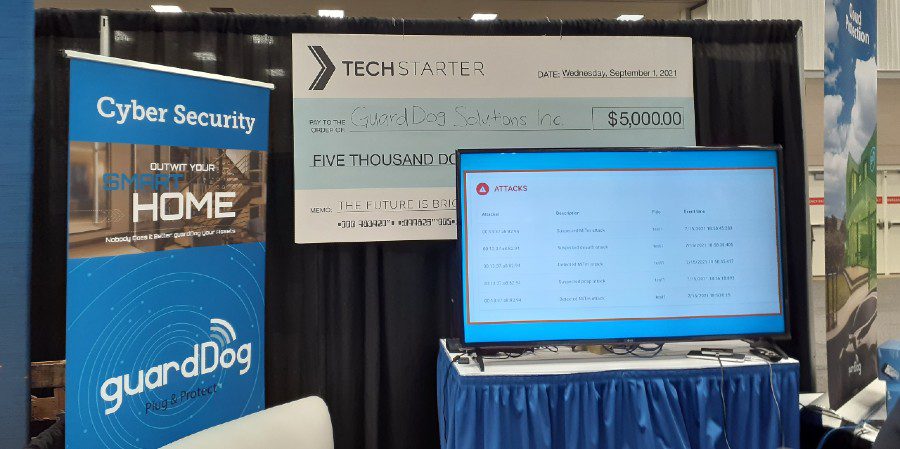 "We are the only company that protects IoT devices without anyone downloading any software or anything else," she says.
The device sits in an overlay that goes on a home's router, and once it's plugged in, "Within 15 minutes everything that's within 5,000 square feet of that router is going to be protected – your cellphone, your smart refrigerator, your smart vacuum, thermostats, lighting, whatever is connected as an IoT device."
Ryan says the user interface is easy to understand for the consumer, while at the same time guardDog has provided the same for the pro channel.
"We have a very sophisticated interface that our CEDIA pro dealers will be able to manage up to 50,000 consumers at any time," she notes. "So it's expandable, it's easy and it's inexpensive."
In the company's CEDIA Expo booth, Ryan showed attendees the simple dashboard navigation and cyber threat activity monitoring.
"This is showing you the analytics of the units that are working – we actually stop threats in milliseconds," pointing out a recent suspected attack that guardDog handled in 47 milliseconds. "That's how fast we're getting … it's crazy."
post